Bear in mind that some of the links in this post are affiliate links and if you go through them to make a purchase I will earn a commission at no extra cost to you. Keep in mind that I link these companies and their products because of their quality and not because of the commission I receive from your purchases.
UPDATE 8/11/2019: Liingo has since changed their home try-on program and the information below is outdated. I will be ordering the new home try-on kit and updating this article soon. You don't need to wait for me though, you can try on 5 frames for 5 days absolutely free here. 
I am actually super excited to do this review of Liingo Eyewear, who is a relatively new player in the world of online prescription eyewear. But for a company that was just started a few years ago they have made some big splashes in a short period of time.
Liingo Eyewear Review
Liingo Eyewear was just Founded in 2016 and is based out of Draper, Utah. The interesting thing about Liingo Eyewear is that they were only operating for a short period of time before being acquired by 1800Contacts at the end of 2017.
Liingo was built on the foundation that eyewear shouldn't be considered a correction of a physical ailment or a medical necessity, but they should be a way for someone to be able to express their personality. They wanted to be able to give everyone a way to create their own unique style through their eyewear, but be able to do it at an affordable price.
Liingo only carries in-house designed and manufactured frames and does not carry and designer brand eyewear therefore if you are looking for designer brands you will have to look elsewhere.
One of the problems with buying prescription eyewear online is the fact that you are not able to try on the glasses before you make your purchase. This makes it hard for you to see how the frame might feel or fit when you are actually wearing them. Some glasses may look great in the photo, or you think you like the design but when you actually try them on you don't like them.
The one thing that makes Liingo awesome is their home try-on program. I know there are many home try-on programs out there including the company that pioneered the home try-on program, Warby Parker. But believe it or not, there are still retailers out there that do not offer any type of home try-on program.
Liingo Eyewear In-Home Try-On Program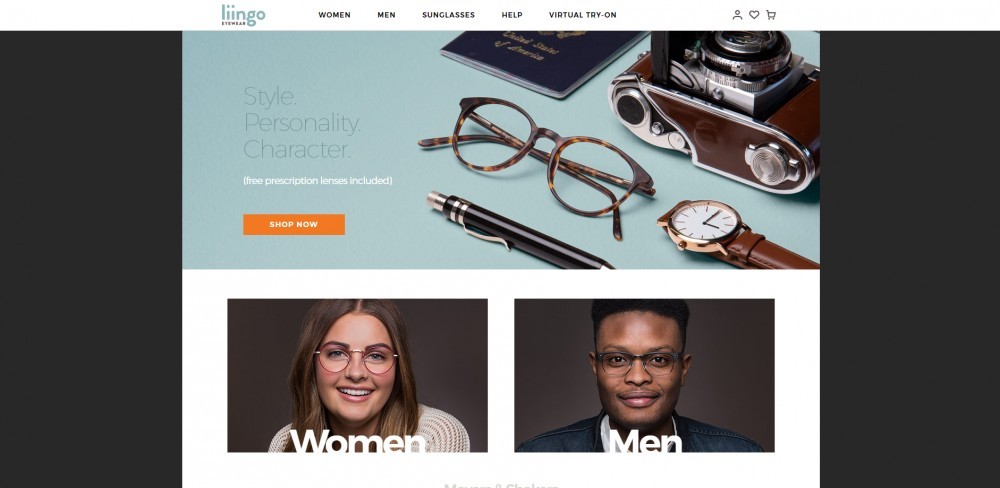 While there are plenty of programs that send you the frames to try on, Liingo takes it to the next level by sending you two frames of your choice WITH your prescription lenses in them. You read that right, they send you the glasses WITH your prescription already fitted.
After you receive your glasses you have 10 days to try them on before having to return them back. The best thing about all of this, it's FREE! There is no charge whatsoever if you end up not liking the glasses and sending them back.
I had to give this home try-on program from Liingo Eyewear a try.
[Order Your Own In-Home Try-On Pair Of Glasses today for free!]
Ordering Your In-Home Try-On
Since Liingo is a fairly newer company their frame selection is not quite as large when you compare them to the rest of their competitors, but they carry a healthy selection of men and women's frames, as well as a little over a dozen sunglasses for you to choose from.
So I navigated my way over to the men's section to see what frame I wanted to try on at home.
Choosing your frame
For me picking out a frame for my prescription glasses was always tough. The problem that I always had was that frames were always too small on my face and I have always needed wider fit frames. Whenever I would go out to look at frames at an optical shop I always had a hard time finding frames that would fit.
Purchasing eyewear online makes it a bit easier to narrow down your choices by applying filters. At Liingo the two main filters you can apply are the size of the frame and the color. This will narrow down your choices to frames that you know will fit, and the frame color preferences that you want. I mean there is no reason for you to see a red frame if you dislike the color right?
I really didn't have a particular color in mind so I just selected my usual average and large fit filters and looked through the frames.
After you know which frame you want you would select "Add to Cart" and then you will move on to selecting your lenses.
Pick your lenses
The selection of lenses that is offered through Liingo eyewear is very simple and straight forward with no surprises. They offer two types of lenses for you to pick from. Which type of lenses you will ultimately decide to go with will depend on your prescription and personal preference. Here are your options.
Single Vision – These lenses are lenses in which have a single power throughout the entire lenses. You would use these if you need your glasses for distance OR reading but not both.
Progressive Bifocal – These are also known as a no-line bifocal, or blended bifocal. Progressive lenses are for individuals who need a prescription to be able to see far as well as up close. These lenses provide you with multiple viewing ranges that start with distance at the top and gradually blends down to an intermediate-range which is to read things that are at a computer distance away and from there it gradually blends down to your reading area. The one major difference between a progressive bifocal and your standard lined bifocal is the lack of the visible line.
Luckily for me, I do not need a progressive lens just yet so I just picked a single vision and moved on. From there I had the option to stick with the free polycarbonate lenses that are already included with the price of the frame or I had the option to upgrade to high-index lenses.
High-index lenses are generally upgraded to based on your prescription needs. I have always generally recommended anyone who has a prescription with a power that is stronger than +/- 3.50 to upgrade to high-index lenses to make the lenses thinner and lighter weight. Keep in mind that this is a recommended upgrade but if you are on a budget you don't have to upgrade.
There is also a DuraSeal HD coating upgrade if you want double the protection from scratches and better smudge and dust resistance.
Currently, Liingo is having a promotion where you can get all of the lenses upgrades 100% free! That means, progressives, high-index lenses as well as the DuraSeal HD Coating all free! Go here and use promo code: FREELENSES Expires: 7/21/2019
Arrival
Since Liingo's in-home try-on program includes your actual prescription lenses you can't realistically expect your order to get there immediately. I had placed my order for my in-home try-on kit on December 28th and they shipped out on January 9th. It did take about 11 days for them to ship it out but considering I ordered it across a holiday that isn't too bad.
The bad thing was that UPS lost my package and it got delayed an additional 4 days before it arrived at my house. Of course, that isn't Liingo's fault the shipment got lost. The package ended up arriving on January 15th a whole 4 days after it was supposed to arrive but it wasn't a big deal to me. The time you have to try on the glasses doesn't start until you receive that eyewear anyways.
The package arrived in two boxes that have appeared to be taped together and has Liingo's logo on the ends. Each box opened up individually revealing a tube inside that I assume have my glasses inside.
Inside the tube held an eyeglasses case as well as a cleaning cloth. There was also a packing slip inside that detailed the contents of the box as well as a personalized thank you message with your name on it.
The Glasses
For my in-home try-on order I picked out two different colored frames. I picked out a rectangle blue frame as well as a clear more wayfarer style frame.
Before I tried these glasses on I double-checked the prescription on the lenses using a lensometer to make sure they are made correctly according to my prescription. Both pairs of glasses that I received from Liingo had the correct prescription and did not exceed the standards listed by The American National Standards Institute (ANSI). 
The blue frame that I ordered felt good and the prescription felt good. The frame felt comfortable but after wearing for a bit and asking the opinions of my significant other we ultimately decided was a bit too narrow for my wide face. My other complaint about these blue frames was the color itself. The image that is on Liingo's website shows a blue that is much brighter and vibrant than the one that was received. Not a total deal-breaker for me if the frames fit correctly, but I can see where the color could bother some people.
The other pair that I order from Liingo was a clear pair, and I really liked how this frame looked on me but the issue I had was that this frame came in completely out of adjustment. The frame was extremely wide and would just fall off whenever I looked down. While this is a minor issue for me as I have tools to adjust my own glasses, but can be a problem for other people. Most optical places will have no problem adjusting the glasses for you, but it can just be a hassle to do. Especially since the reason why this frame is out of adjustment is that the lenses made the frames widen out. This could have easily have been fixed after the lenses were mounted by the lab technician, a bit carelessness on their part there especially since on their FAQ pages they say they "pre-adjust" your glasses.
The anti-reflective coating was included with these glasses and it worked as advertised. I am not sure that you need the double coating Duraseal HD add-on that is offered.
Refund Policy
If you ordered your glasses as the free in-home try-on kit you will have 10 days from the time that the glasses are delivered to your door to try them on, go hang out with your friends with them on and gather your opinions. If you like your in-home try-on glasses then great! There is nothing left for you to do just keep the glasses and you will be charged for them after 10 days.
If you end up not like either one of the two glasses that you got you can log into your account at Liingo Eyewear and you will see your order that you have placed. When you click on the order you will have the option to select if you would like to keep or return each individual glasses.
Additional to the 10-day return window that is provided with the in-home try-on if you decide to keep your glasses they offer a 60-day Delight Guarantee in which you could return your glasses for any reason and they will refund you your money back. Which means you have 50 more days AFTER you decide to keep or return your in-home try-on kit.
Final Thoughts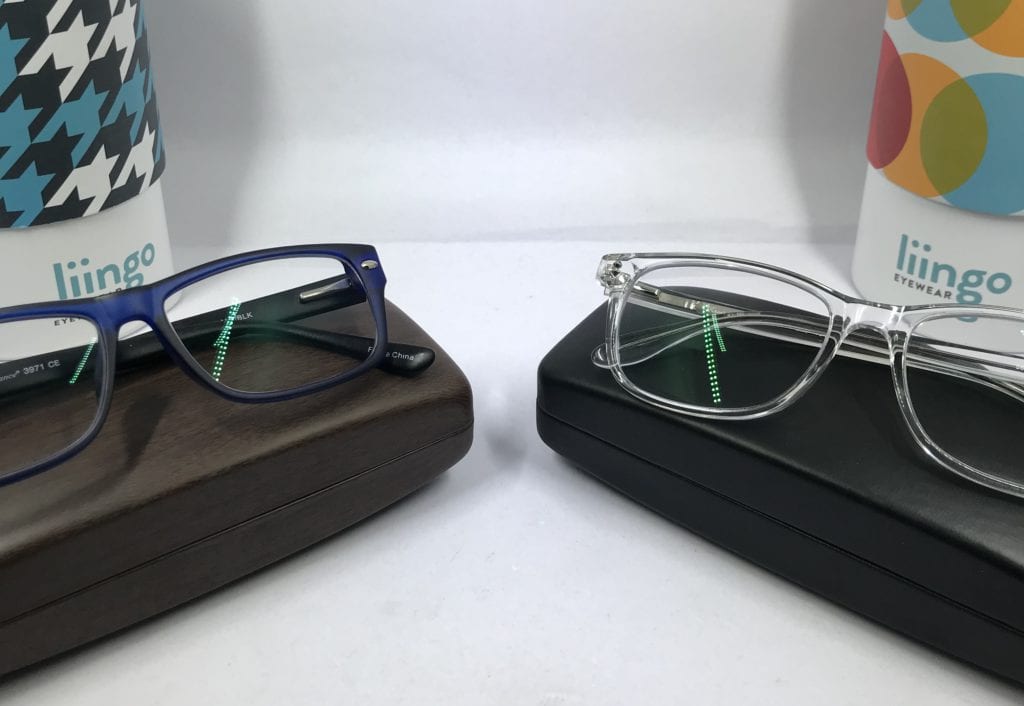 Is Liingo Eyewear worth checking out? Most definitely! They started a one of a kind in-home try-on program and with their recent acquisition by 1800Contacts, they are partnered up with one of the most well known online contact lens retailers out there.
Currently, Liingo is having a promotion where you can get all of the lenses upgrades 100% free! That means, progressives, high-index lenses as well as the DuraSeal HD Coating all free! Go here and use promo code: FREELENSES Expires: 7/21/2019
If you want to give them a shot try out their in-home try-on program, and get some glasses that have your prescription in them
What do you guys think of Liingo Eyewear and their in-home try-on program that comes with your prescription included? Let me know your thoughts below!
If you enjoyed the article don't forget to share it through your favorite social media channels with the buttons located right below, thank you for your support!
RELATED REVIEWS FROM EYE HEALTH HQ