Bear in mind that some of the links on this website are affiliate links. If you go through them to make a purchase we will earn a commission at no extra cost to you but helps support our website. Keep in mind that we link these companies and their products because of their quality and not because of the commission we receive from your purchases.
Today, we are going to be taking a look at Liingo Eyewear, who is another direct to customer eyewear brand that isn't affiliated with Luxottica (You know that company that basically owns a majority of all the designer brands and the reason why prescription glasses are so expensive).
This means they design and manufacture their own frames, so if you are looking for designer eyewear you're going to have to look somewhere else.
Liingo Eyewear Review
So let's take a look at what Liingo eyewear offers, how it works, and how you could try on some frames from your home for free!
Liingo Eyewear was just Founded in 2016 and is based out of Draper, Utah. The interesting thing about Liingo Eyewear is that they were only operating for a short period of time before being acquired by 1800Contacts at the end of 2017.
Liingo was built on the foundation that eyewear shouldn't be considered a correction of a physical ailment or a medical necessity, but it should be a way for someone to be able to express their personality. They wanted to be able to give everyone a way to create their own unique style through their eyewear but be able to do it at an affordable price.
The one thing that makes Liingo awesome is its home try-on program. I know there are many other home try-on programs out there including the company that pioneered the home try-on program, Warby Parker. But believe it or not, there are still online retailers out there that do not offer any type of home try-on program so whenever that is an option, it's awesome.
Is Liingo Eyewear Legit?
With so many new eyewear retailers online it is definitely understandable to be cautious, but with Liingo eyewear you don't have to worry. As I mentioned above, Liingo Eyewear was only operating for a short period of time before they were acquired by 1800 Contacts at the end of 2017.
1800 Contacts was founded in 1995 and over the years 1800 Contacts have been owned by multiple different companies and was at one point a public company and listed on the NASDAQ with the symbol of CTAC.
Today, the company is owned by AEA Investors and Thomas H Lee Partners which are companies that solely focus on investing in companies that are growth-oriented
Free Liingo Eyewear In-Home Try-On Program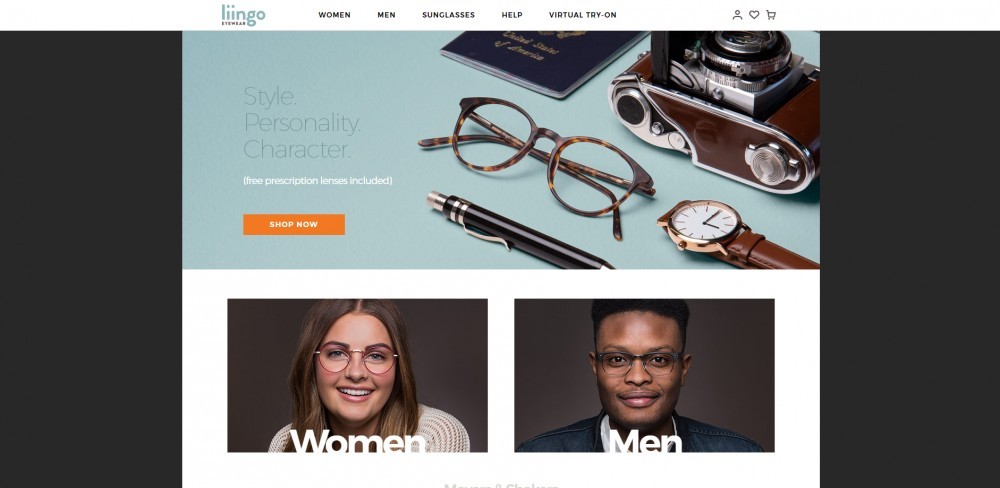 At one point in time, Liingo Eyewear was doing a different home try-on program in which they allowed you to pick two frames and upload your prescription and you would be able to try out those glasses with your prescription for 10 days. I am sure that wasn't the most cost-effective way of allowing your customers to try on frames so it has since been replaced by a new home try-on program that is very similar to Warby Parker's home try-on program. This new home try-on program with Liingo allows you to pick 5 frames and you are allowed to try those 5 frames on at home for 5 days.
After you receive your glasses you have 5 days to try them on before having to return them back. The best thing about all of this, it's FREE! You do have to put a credit card on file, just in case you decided not to return the frames.
I decided to give this new home try-on program a try just to see how it is.
How to order Liingo In-Home Try-On
Since Liingo is a fairly newer company their frame selection is not quite as large when you compare them to the rest of their competitors, but their frame collections are getting bigger, slowly but surely. I navigated over to the men's selection and near the top of the page, you can select to show all of the frames that are available for the home try-on program.
Choosing your frame
One feature that I always look for on websites that sell glasses online is the ability to narrow down your frame selection using filters. For me personally, I need larger fit frames, I don't need to be shown any small narrow frames. Just like if you were looking for a pink frame, you should be able to narrow it down so that you only see pink frames.
So using the filters, you are able to narrow down your frame selection by size, frame shape, face shape, and color. To me, being able to filter out the frames by size is the most important feature, I mean the frame has to fit. Overall, you have to like the frames you pick, and being able to narrow down the choices to features you want is very useful.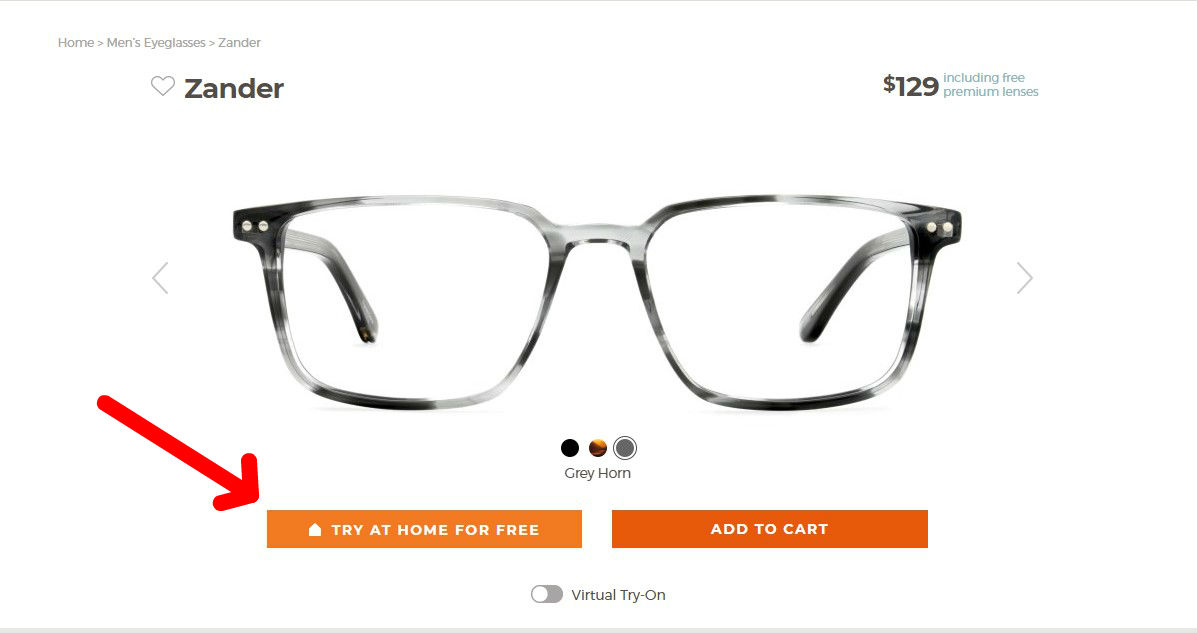 After you find a frame that you want, you simply just click the button that says "Try at Home For Free" and it will add it to the list of frames that you are going to want to try at home. Once you have 5 frames you can proceed to checkout and you will enter your information all you will have to do now is just wait for your frames to try on.
Once you get the frames in the mail, you have 5 days to try the frames on, show your friends, ask for opinions, and make your decision. Once you are done trying on the frames, simply put the frames back in the box and use the provided prepaid shipping label to ship the glasses back. If you decide to order a pair of glasses you will have to select your lenses.
Liingo Eyewear Lenses
The selection of lenses that are offered through Liingo eyewear is very simple and straightforward with no surprises. They offer two types of lenses for you to pick from. Which type of lenses you will ultimately decide to go with will depend on your prescription and personal preference. Here are your options.
Single Vision – These lenses are lenses that have a single power range throughout the entire lens. You would use these if you need your glasses for distance OR reading but not both.
Progressive – These are also referred to as a no-line bifocal or blended bifocal. Progressive lenses are for individuals who need a prescription to be able to see far as well as up close. These lenses provide you with multiple viewing ranges that start with distance at the top and gradually blend down to an intermediate range which is to read things that are at a computer distance away and from there it gradually blends down to your reading area. The one major difference between a progressive bifocal and your standard lined bifocal is the lack of a visible line.
Lenses Add-ons and Upgrades
High-index lenses are available and generally are recommended based on your prescription needs. I have always generally recommended anyone who has a prescription with a power that is stronger than +/- 3.50 consider an upgrade to high-index lenses to make the lenses thinner and lighter in weight. Keep in mind that this is a recommended upgrade but if you are on a budget you don't have to upgrade. There is also a DuraSeal HD coating upgrade if you want to double the protection from scratches and better smudge and dust resistance. Here are all your options.
Thin & Light High Index – These are 1.67 high-index lenses which are about 30% thinner than polycarbonate and are lighter as well. If you have a prescription stronger than +/- 3.50 you could consider these lenses. UV protection, anti-scratch, and anti-glare are included with these lenses.
DuraSeal HD – The DuraSeal HD coating is a premium anti-reflective coating that is more scratch-resistant, smudges less, easy to clean, and superior at reducing glare.
Bluelight + DuraSeal HD – This is the same as the DuraSeal HD lens but in addition to having that premium anti-reflective coating, this lens also filters out blue light which could help reduce eye strain and fatigue if you spend a lot of time in front of digital devices such as computers or tablets which emit artificial blue light.
Liingo Eyewear Shipping & Return Policy
Liingo offers free standard shipping with all of their orders and you can expect to receive your glasses in the mail within two weeks of placing your order. I did not see an option for expedited shipping when I was going through the ordering process, but you may be able to call them and work something out if you really need your order quicker.
As far as the return policy, Liingo offers a 60-day Delight Guarantee and you have that timeframe for any returns, exchanges, or replacements for any reason.
If you are doing the frames home try-on, shipping is free of charge both ways and it has to be returned within 5 days of you receiving them.
Liingo Eyewear Home Try-On Kit Arrival
The Home Try-On Kit that I ordered arrived fairly quickly and came in a small and thin cardboard box and Liingo's logo on the outside so it is fairly easy to recognize when you see it. My box gave me a sweet compliment.

Upon opening the box you will see a piece of paper with a photo of each pair you picked, the name, and the price of the glasses. Below that, all of the lens options that you are able to select from are shown. Underneath that, you will find the glasses that you picked all ready to be tried on. Once you are done with trying the glasses out all you have to do is put the frames back in the box, tape the box up, and get it returned. The return shipping label can be found on the box under the shipping label used to send you the frames. All you have to do is pull the little tab and take the old label off the reveal the return label, easy as that.
Liingo Eyewear Glasses
It is worth mentioning that I have ordered glasses from Liingo Eyewear in the past and I really never had any issues with them. It has been about a year since I ordered my glasses and I haven't had any problems with them and things have only gotten better since.
Final Thoughts
Is Liingo Eyewear worth checking out? Most definitely! They started a one-of-a-kind in-home try-on program and with their recent acquisition by 1800Contacts, they are partnered up with one of the most well-known online contact lens retailers out there.
If you want to give them a shot try out their new and improved in-home try-on program.
What do you guys think of Liingo Eyewear? Let me know your thoughts below!
If you enjoyed the article don't forget to share it through your favorite social media channels with the buttons located right below, thank you for your support!
RELATED REVIEWS FROM EYE HEALTH HQ