Bear in mind that some of the links on this website are affiliate links. If you go through them to make a purchase we will earn a commission at no extra cost to you but helps support our website. Keep in mind that we link these companies and their products because of their quality and not because of the commission we receive from your purchases.
With so many online retailers that sell contact lenses these days, it can be hard to pick a retailer to go with. One retailer that I recently stumbled upon is Contacts Direct.
A quick glance and browse through the website shows that they only carry contact lenses and do not carry prescription glasses. Therefore if you are looking for somewhere that is more of a one-stop-shop you will have to look elsewhere. Places such as  AC Lens, or Coastal can provide you with your contact lenses as well as your prescription glasses as well along with other accessories.
Contacts Direct Review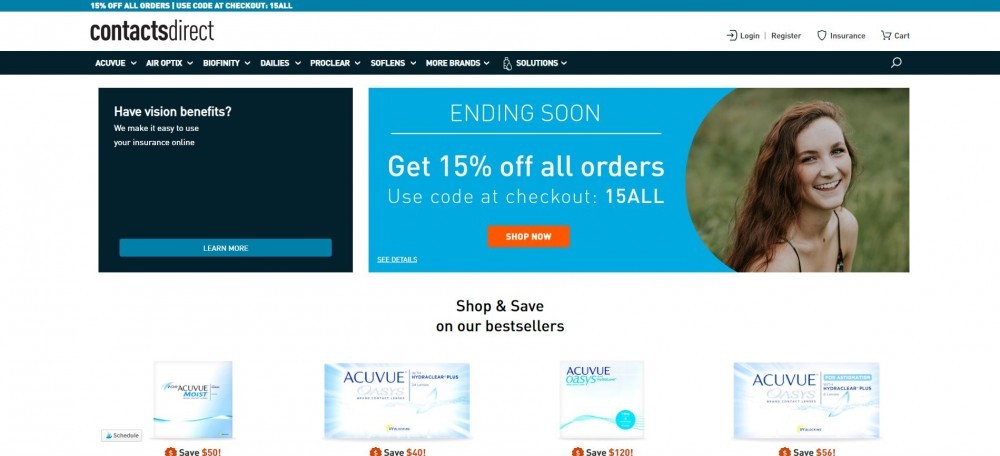 Like most online retailers for contact lenses, Contacts Direct carries the most popular brands of contact lenses that are available on the market today. You will be able to find the most commonly prescribed brands such as Acuvue, Air Optix, Biofinity, Dailies, Proclear, and SofLens listed right in their menu, but you will be able to find other brands such as Clariti, Biomedics, and Freshlook on their website as well.
The website is simple and pretty easy to use and navigate around. If you are ready to place your order, placing an order is quite simple. They even accept a wide range of vision insurance plans in which you will be able to apply your benefits directly on their website, more on that later.
Contacts Direct is a Luxottica Group website, you may know them from their retail stores such as LensCrafters, Target Optical, Sunglass Hut, and they basically own or license a majority of the top designer brand eyewear products.
How to order contacts at Contacts Direct
Ordering your contacts is easy, but first, before you can order your contact lenses you will need to make sure that you have a valid contact lens prescription. Just like other reputable online retailers, Contacts Direct will not place orders for you for contact lenses if you do not have a valid prescription or an expired prescription. Most eye doctors write their contact lens prescriptions with an expiration date of one year from the date of your exam. After you have a copy of your valid prescription you're now ready to place your order.
Order Contacts Online with Vision Insurance
One of the amazing things about getting your contact lenses from Contacts Direct is the amazing fact that you might be able to apply your insurance benefits direct onto your order. Of course, it depends on who your specific vision insurance provider is, Contacts Direct is in-network with a few in which you will be able to apply directly to your order. These insurance providers include:
EyeMed
SuperiorVision
Aetna
Anthem BlueCross BlueShield
Humana
If you have insurance with any of these providers, how it works at Contacts Direct is quite simple. You would simply find the contact lenses in which you are prescribed, add them to your cart and head to the checkout.
You will from there access your insurance benefits after you enter in your information after that Contacts Direct will take it from there. You will only have to pay the out-of-pocket cost if there are any and Contacts Direct will bill your insurance for the rest.
If you have a different insurance provider that might be out-of-network that doesn't necessarily mean you can't purchase your contacts from Contacts Direct if you want to, but you will just have to pay out-of-pocket and submit your itemized receipt into your insurance provider for reimbursement.
Shipping cost and time
Contacts Direct currently only ships orders within the United States including Hawaii and Alaska. Keep in mind that your contact lenses will not ship out until they are able to verify your prescription with your eye doctor, a process in which takes anywhere between 1 to 2 days. After they have verified your prescription, your contacts will ship out with one of the following shipping options.
Standard | 7-10 business days – FREE
3-Day | 3-5 business days – $11.99
Overnight | 1-2 business days $19.99
Standard Puerto Rico | 7-10 business days – $7.00
Contacts Direct return policy
Contacts Direct has one of the more flexible return policies out there. They allow you to return unopened, undamaged, and not defaced in any way boxes of contact lenses as long as it has been purchased within 1 year.
This is useful especially if your prescription changes within the year and you still have unopened contacts from your previous prescription you could get them returned and your current prescription.
If you have opened your box of contacts and you found your contact lenses to be defective you can contact the customer service department and they will be able to assist you. You wouldn't be able to get a refund if the box is opened, but your defective lenses will be replaced.
Contacts Direct price match guarantee
Contacts Direct does not have a price match guarantee listed anywhere on their website, at least I couldn't find one listed when I was looking through the website.
I did reach out to customer service to ask if Contacts Direct had a price match guarantee and I was told that they price match the following 5 trusted retailers, 1800Contacts, Coastal Contacts, Wal-Mart, Walgreens, and Costco (with a valid membership).
This is far from being one of the best price match guarantees, but at least it is something. There are some retailers out there that do not have price match guarantees at all.
Conclusion
Is Contacts Direct worth taking a look at? Absolutely! The added benefit of being able to apply your insurance benefits directly to your order is a great way to help you save money right away without having to pay out-of-pocket and worrying about submitting your receipt to your insurance to get reimbursed.
You should be able to find most brands over at Contacts Direct, although their selection is on the smaller side when compared to other online retailers they have most of the popular brands that are currently being prescribed by most eye doctors, therefore, the chances of you having the contact lens brand they do not carry is quite slim. If you are curious if Contacts Direct carries your contact lenses, head over to their website and take a look for yourself.
As always thank you for stopping by Eye Health HQ and if you have any questions, feel free to drop a comment below or you could utilize the contact us page to send me an email. If you enjoyed the article, don't forget to share it through your favorite social media channels with the buttons below.
RELATED ARTICLES AT EYE HEALTH HQ: