Bear in mind that some of the links on this website are affiliate links. If you go through them to make a purchase we will earn a commission at no extra cost to you but helps support our website. Keep in mind that we link these companies and their products because of their quality and not because of the commission we receive from your purchases.
There was once a time when if you wanted stylish prescription glasses that looked good and had decent quality, you were going to pay top dollar for those glasses. That was all because one company-owned or licensed a majority of those designer frame brands you see sold at a majority of optical retailers. These include brands such as Ray-Ban, Oakley, Coach, Versace, and many more. This gave them the ability to keep prices for their products artificially high while giving you, the consumer a false sense of choice. You can see their full profile of brands right on Luxottica's website.
But recently thanks to companies such as Zenni and many others you are now able to find stylish and high-quality glasses at an affordable price. This has given people that wear prescription glasses the ability to purchase multiple pairs to match different outfits or situations. Gone are the days when you are stuck with your one pair of glasses for a year or even years because the frame itself costs hundreds of dollars.
Revisiting Zenni Optical: I checked back in with Zenni and they seem to be doing better than better. They have partnered up with big names such as Rashida Jones, NFL Tight-End George Kittle, and fashion designer Cynthia Rowley. Even with collaborations with big names, Zenni still holds true to its mission of giving people stylish, good-looking eyewear that they could afford.
Zenni Glasses Review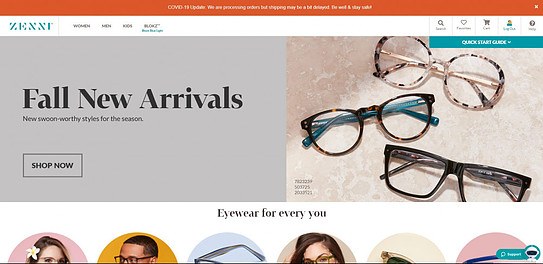 Founded in 2003 and based in San Francisco, California, its main mission is to provide its customers with affordable and high-quality eyewear that makes you look good without putting a dent in your bank account.
To be 100% honest I was one of those opticians that doubted Zenni when I first heard of them way back in the day. I was still fairly new to the optical industry back then, but I knew how important trying on frames was when picking out a pair of glasses. I just couldn't wrap my head around the idea of an "online eyewear retailer". I thought about some of the other things you need to place certain prescription glasses orders such as the pupillary distance measurement, optical center, and segment height and it makes it that much more complicated.
I thought for sure this business model was just something that wouldn't work online. At the time there were plenty of online contact lenses retailers such as 1800-Contacts, Coastal, and AC Lens, but selling contact lenses and prescription glasses online was two very different things.
Boy was I wrong. I never anticipated that companies would launch innovative home try-on programs and that advancements in technology would allow things such as virtual try-on (some of them are surprisingly quite accurate) to become a thing. Technology has even given us the ability to do telemedicine and provide virtual eye exams in some areas where the law allows it.
But here we are 17 years after Zenni was first born they are thriving and better than ever. Starting as just a little online company back in 2003, today you can find a wide variety of prescription eyewear including safety goggles, kid's glasses, sunglasses, and much more.
After all these years I decided that I was going to order my first pair of Zenni glasses.
Zenni Optical
Zenni is an online-only optical retailer that offers stylish yet affordable eyewear for men, women, and children. Since its opening, Zenni has grown into one of the most prominent online eyewear retailers. Whenever the topic of affordable eyewear comes up, Zenni is always in the mix.
Glasses start at a mind-blowing $6.95, and that comes with a standard index lens that includes a scratch-resistant coating and filters out 85-90% UV or you could pick a mid-index lens that offers 100% UV protection.
If you have a stronger prescription and would like to upgrade your lenses to a thinner and lighter material you could most definitely do so. Zenni's prices for its lens upgrades are all very affordable when compared to other retailers.
They also have upgrades such as their Blokz blue-light blocking lenses, photochromic lenses, better anti-reflective coatings, as well as prescription sunglass lenses.
Why Are Zenni Glasses So Cheap?
Zenni is a direct-to-consumer brand which means they are able to give you some extraordinary prices compared to other retailers. Zenni has been able to keep its prices ultra-affordable by designing and manufacturing all of its eyewear in-house as opposed to licensing other brands.
Along with that, they also have state-of-the-art production facilities that include some extremely advanced labs that produce prescription lenses and edge lenses.
They are also an online-only company, which substantially reduces the overhead cost of having physical locations.
Zenni Glasses
As I mentioned earlier, I finally decided to order a pair of Zenni glasses. I figured If I am going to give an honest opinion about these glasses, I had to give them a try.
With blue light being a hot topic lately since so many people are working remotely as well as many children doing distance learning, I ordered my pair from Zenni with their blue light blocking lenses.
Ordering Glasses From Zenni
Ordering your glasses from Zenni is a fairly simple and straightforward process. The first thing you need to do is pick out and decide which frame you are going to want. Frames at Zenni start as low as $6.95 and they have quite a large selection for you to pick from. All of the frames are designed and manufactured in-house and come in a wide variety of materials, colors, and styles.

Zenni's website makes this process a bit more simple by including a filter that you could use to select things such as color, shape, material, and size to narrow down the selection to features that you want, leaving out features you don't want out of the search results.
Filters such as those are useful, after all, you wouldn't want to fall in love with a frame only to find out that the frame is too small for you.
Zenni Virtual Try-On Tool
Since Zenni is an online-only store there isn't a way for you to physically try on their glasses. However, Zenni has developed a 3D Virtual Try-On tool in which you could upload a short video of yourself to get a super realistic 180-degree view of how the frames are going to fit.
Alternatively, if you do not want to upload a video Zenni also offers a 2D try-on tool which is called Zenni Frame Fit which you only need to upload a photo. Zenni Frame Fit isn't as accurate as the 3D Virtual Try-On tool but it could still give you a basic idea of how the frames will look on you.
If you have a camera that could record video I definitely recommend the 3D Virtual Try-On tool, if you could only upload a photo the Zenni Frame Fit could give you a pretty good idea as well.
Will Zenni Put Lenses In Your Frames?
Currently, it does not appear that Zenni offers the ability for you to replace lenses in your own frames. That also includes frames you may have purchased in the past from Zenni. If you want glasses from Zenni you are going to have to get new frames and lenses.
Do Zenni Prices Include Lenses?
After you decide on what kind of frames you want, the next thing is to figure out what kind of lenses you need. Standard single-vision lenses are included free with every frame. If you need bifocal or progressive lenses there is an additional cost depending on what kind of lens material you pick.
Depending on your prescription you will be deciding between single vision, bifocal, progressive, non-prescription, or frame only. Here's a brief explanation of each.
Single Vision – This is the most common prescription lens type. With single-vision lenses, you can either have glasses to see distance, intermediate or near but not combined in any way shape or form. With single vision lenses, your entire lens is a single power to see distance, computer, OR near but not combined in any way shape, or form.
Bifocal – These lenses give you the ability to see far as well as near in a single pair of glasses. With bifocals, the area in which your reading power is on your lens is clearly visible on the lens.
Progressive – A progressive lens is essentially a multifocal lens that does not have a visible reading area like how the standard bifocal does. The progressive lens starts with your distance power at the top of the lens and gradually blends down to your reading area. In between the distance and reading area lies an intermediate range which is good for things that are about an arm's length away such as computers.
Non-prescription – If you want to wear Zenni's glasses strictly for fashion, Zenni does give you the ability to get non-prescription lenses on your frames.
Frame Only – If you want to only purchase the frame to take to your doctor's office to fill the prescription you could do that from Zenni as well using the Frame Only option.
After you pick your lens type you will be asked to enter your prescription, as well as the pupillary distance.
Do You Need A Prescription To Buy From Zenni?
Generally, you should visit your eye doctor once every two years for a comprehensive eye exam. Keep in mind that when you go get your eye exam the doctor not only checks what prescription correction you need to see better but also checks the overall health of your eye.
Zenni strongly recommends that you get an eye exam every two years, or more frequently if you notice that your vision has changed.
Although, throughout my ordering process I was asked to enter in my prescription at no point did Zenni ask me to submit a photo to verify if it was still valid.
How Much Do Zenni Glasses Cost With Prescription?
If you are purchasing single-vision lenses all of Zenni's frames come included with standard or mid-index lenses at no additional cost. That comes included with UV protection and an anti-scratch coating with every single pair.
There are lens upgrades available depending on what you are looking for and how strong your prescription is you may benefit from some of these upgrades. Not every upgrade is available with every single frame so depending on which frame you pick, some of these may not be there. Here are the glasses upgrades that are available.
High-Index – If you have a stronger prescription and you don't want the lenses to stick out of the frame too much or your glasses to be too heavy then high-index lenses could benefit you. High-index lenses give you more compressed, thinner, and lighter lenses that are more scratch-resistant than standard lenses. At Zenni, high-index lens upgrades start as low as $9 and could be as high as $34.95 depending on which index you pick.
Lens Tint – If you want your lenses to have a tint that is dark enough for you to use as a pair of sunglasses you could do that, or if you want to customize the tint to be lighter so you could use your glasses indoors but still have some protection while outdoors you could do that as well. Lens tint will cost you as low as $4.95 for a Standard Lens Tint, or $7.95 if you want the Gradient Lens Tint which it is darker at the top and lighter at the bottom.
Blokz Blue Blockers – These lenses help filter out the harmful blue light that emits from digital devices such as computers, tablets, smartphones, and televisions. Having to blue-light filtering lenses can help with the side effects of looking at these devices for extended periods of time such as tired eyes, headaches, and eye strain. These lenses are virtually clear so you can use them all day, every day. Keep in mind that blue light doesn't only come from digital devices, as a matter of fact, the Sun is the biggest producer of blue light so you definitely are not doing any harm by wearing blue-light glasses all the time. You can get Blokz blue light-blocking lenses starting at $16.95 for standard-index and could be as high as $59.95 with high-index and photochromic lenses.
Polarized Sunglass Lenses – Polarized sunglass lenses not only give you 100% UV protection but also filters out unwanted glare that might be reflecting off of horizontal surfaces such as the ground, water, the hood of a car, or snow. Polarized lenses are great for water and snow activities as well as driving by reducing unwanted glare giving you sharp, clear vision. Polarized sunglass lenses start at $32.99 for standard-index lenses and could go as high as $102 if you want a high-index lens.
Photochromic Lenses – These are the lenses that darken when they are exposed to UV rays from the sun. Commonly referred to as Transition lenses, which is actually a brand of photochromic lenses and probably the most well-known. The major downside to photochromic lenses is when you are driving they don't darken due to modern cars having UV filters on the front windshield, while you're outdoors though they work great. You can get photochromic lenses from Zenni starting at $69 for standard-index lenses and it could go as high as $169 for thin and light high-index lenses.
Anti-Reflective Coating – This coating helps reduce glare from various light sources and can be particularly beneficial while you are driving at night by reducing the reflections from oncoming car headlights and traffic lights. If you have astigmatism it is highly recommended that you have an anti-reflective coating for nighttime driving. You can get a standard anti-reflective coating from Zenni starting at $4.95, and it could go as high as $14.95 for the premium oleophobic anti-reflective coating that is also oil and fingerprint-resistant. You could also choose to not have an anti-reflective coating put on your lenses.
Polarized Clip-Ons – If you are not purchasing sunglass lenses you have the option of purchasing a fairly inexpensive polarized clip-on that you could use with your glasses. This could be a great option if you are on a budget but would like to still be able to protect your eyes from the bright sunlight. Depending on your frame these clip-on either slide over the top of your glasses or attach magnetically to the front. The polarized clip-on sunglasses range between $3.95 to $5.95 depending on the clip-on lens color. They even offer a 3D clip-on for watching 3D movies.
Custom Engraving – Zenni offers an engraving service that allows you to customize and personalize your glasses with text or a fun icon or the inside or outside of the temple arms. This is great if you have multiple pairs with different prescriptions such as a reading pair and a distance pair. Also, a great way to add a bit of cool personalization for kid's glasses as well. Depending on which frame you pick you will have the option of engraving inside the temple arm for $1.95 or outside of the temple arm for $3.95.
How Long Does It Take To Recieve Glasses From Zenni?
Zenni ships glasses worldwide, so how long it takes the glasses to get to you will depend on where you live and what shipping option you pick. On average, most people that order glasses from Zenni say they get their glasses in about 2 weeks.
For the order I placed with Zenni, I elected to go with standard shipping and the glasses arrived to me exactly 13 days from the day that I ordered it and I live in the United States.
Zenni does offer expedited shipping if you need your glasses to arrive faster. Keep in mind that expedited shipping only speeds up the shipping part, prescription glasses still need to be made so it still takes time to process the order at the lab before shipping out.
Does Zenni Accept Returns?
Compared to other online eyewear retailers Zenni's return policy is interesting, to say the least, but they do have a return policy.
You have 30 days from the day that you receive the glasses to contact them for a return. They will either issue you a 50% refund to the payment form that you used, or you can get a return of 100% of your order in the form of store credit. I am not the biggest fan of this return policy, but that's what they offer.
Of course, if there is a manufacturing error Zenni will remake your glasses at no cost to you.
Does Zenni Offer Prescription Safety Glasses?
If you are in need of safety glasses for work, Zenni does offer a small selection of safety glasses. Some employers require you to wear safety glasses due to working around things that could be a safety hazard to your eyes.
If you already wear prescription glasses it can be hard to put on just any pair of safety glasses so this is where prescription safety glasses come in. These glasses give you glasses that have impact-resistant frames as well as impact-resistant lenses that meet or exceed ANSI standards for workplace safety.
Currently, Zenni only offers safety glasses for single-vision prescriptions or non-prescription lenses only.
Does Zenni Accept Vision Insurance?
Zenni is considered an out-of-network provider, which means they do not bill any vision insurance directly. They can however provide you with an itemized receipt that you could submit to your vision insurance provider to be reimbursed.
This would work with the majority of vision insurance plans as most of them have out-of-network benefits. If you are not sure I recommend calling your vision insurance provider and asking if your plan has out-of-network benefits. If you have out-of-network benefits then great! You can essentially buy your prescription glasses anywhere and just submit in your itemized receipt. If you don't have out-of-network benefits then you are going to have to go to a retailer that accepts and could bill your insurance plan directly.
If you have flexible spending accounts (FSA), or health savings accounts (HSA) Zenni does accept those as long as your FSA or HSA card has a Visa or Mastercard logo on it. You will be able to request a receipt that you will be able to submit to your FSA or HSA plan provider.
Final Thoughts
If you are looking for affordable prescription eyewear and are not worried about having designer eyewear then Zenni is a great option. Because of how inexpensive their glasses are, you are able to purchase multiple pairs so you have a backup, or even get prescription sunglasses.
Their virtual try-on gives you a pretty good idea of how the glasses would look on you and they offer pretty much all of the lens options that your local optical retailer would offer.
Overall, Zenni isn't too bad, and if you have some time give the virtual try-on a go to see if there are any glasses you like. If price if your main concern, you will be hard-pressed to find another retailer that could compete to Zenni. I mean, no one is going to be able to beat $6.95 for some frames with standard single-vision glasses.
Have you purchased from Zenni before? I would love to hear your feedback in the comments below!
Zenni Optical
Pros
Most Affordable Prescription Eyewear Retailer
Frames Designed and Manufactured In-house
Wide Variety Of Styles and Designs
Virtual Try-On Tool
Cons
Confusing Return Policy
No Designer Eyewear (If that's your thing)
Shipping is Slightly Longer Than Average