Bear in mind that some of the links on this website are affiliate links. If you go through them to make a purchase we will earn a commission at no extra cost to you but helps support our website. Keep in mind that we link these companies and their products because of their quality and not because of the commission we receive from your purchases.
Coastal is one of my favorite places to buy contact lenses online. A couple of weeks ago I took a look at Coastal but at that time I only took a look at what they offered for prescription eyeglasses. Today I wanted to take a look at the contacts side of Coastal, which is actually what they first started selling before they started with eyeglasses.
Coastal was founded in 2000 and was exclusively an online prescription contact lens retailer until 2008 when they started offering prescription glasses as well. I have always loved their mission, which was to get prescription eyewear to people that found it to be out of reach.
Before you get started with anything, in order to order prescription contacts online you will first need to grab your prescription. If you already have a prescription then great! Grab it. Remember your prescription will need to be current as well. Contact lens prescriptions generally are valid for a year in the United States.
If you don't have a valid prescription then you will need to visit your eye doctor for an exam and get a new prescription before you can order. Routine eye exams are important as they check for more than just your prescription and could detect hidden health concerns. After you have your prescription you're ready to go.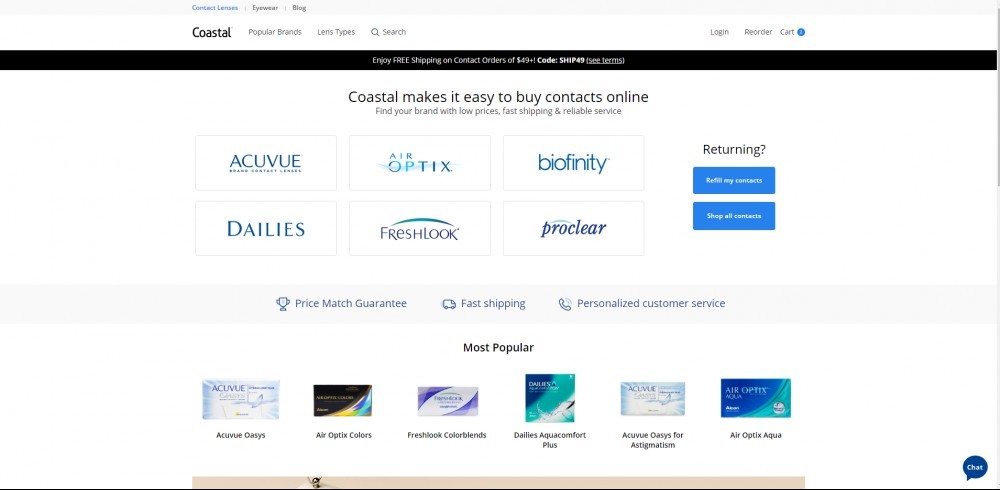 Coastal is a bit unique compared to some other online retailers and they keep their eyeglasses and their contact lenses pages separated, which does make it much more user-friendly. You can select which page you want to access in the upper left and corner of their homepage. For this review, I will be heading to the contact lenses page.
Once you land on the main contacts page you will see some of the most common contact lens brands right on the front. Coastal carries quite a large selection of brands, with over 30 for you to pick from.
You will be able to find all of the most common lens types here at Coastal including daily, weekly, monthly, toric, multifocal, colored and RGP contact lenses. With the colored contact lenses, you will find the standard prescription colored contact lenses, but you won't find any Halloween or cosplay colored contacts here.
You will find contacts from leading brands such as Acuvue, Air Optix, Biofinity, Dailies, Proclear, and much more. Once you find your brand you would simply enter in the values as it is shown on your prescription and add the contacts to cart.
Shipping Cost & Time
If you live within the United States there are a few different options you can go with for shipping depending on how fast you need your contacts. If you have ever read my articles on how to save money on your contact lenses, I always mention that waiting until you run out of contact lenses and overnighting your contacts is a waste of money. But I do understand emergencies and paydays don't line up sometimes so sometimes you must overnight contacts. Here are your options.
Parcel Shipping (4-5 Business Days) | $5.95
Priority Shipping (3-4 Business Days) | $8.95
UPS Overnight (1 Business Day) | $14.99
International shipping is available for many countries and cost depends on where you live.
Return Policy & Customer Service
As with purchasing anything online, it is always a good idea to take a look to see what the return policy is. At Coastal Contacts they offer 30 days from the date of the delivery for returns, you can contact them to request a complimentary shipping label that you can use to ship your products back.
Keep in mind that if you order Rigid Gas Permeable (RGP) lenses, those are custom made and are not refundable or exchanged.
Coastal has customer service available 24 hours a day, 7 days a week by phone, chat, or email. If you send them an email you can expect a reply within 4-12 hours.
Price Match Guarantee
If you enjoy doing your business with Coastal and you find contacts from another online authorized retailer for a lower price, Coastal will price match for a discount maximum up to $100 per order.
There are a few stipulations though, any cached and third party links, limited time offers of less than 48 hours, "limited box quantity" offers, clearance sales, and ended promotions are not valid.
Conclusion
Coastal is definitely one of the more affordable places to shop for your prescription contact lenses, and you can rest assure that you are getting quality contact lenses as they are a reputable company and their parent company is very large and reputable French lens manufacturer Essilor.
The only downside to Coastal is their 30-day return policy for their contact lenses does come up short compared to some other retailers, but despite this Coastal is definitely worth checking out for your contacts and even for your eyeglasses as well.
Thank you for stopping by Eye Health HQ and If you enjoyed the article don't forget you can support us by sharing this article through your favorite social media channels with the buttons located right below, thank you for your support!
OTHER ARTICLES AT EYE HEALTH HQ: