Bear in mind that some of the links on this website are affiliate links. If you go through them to make a purchase we will earn a commission at no extra cost to you but helps support our website. Keep in mind that we link these companies and their products because of their quality and not because of the commission we receive from your purchases.
Coastal is one of the leading providers for a prescription contact lens in North America but they are one of the largest sellers of prescription eyeglasses online worldwide. Their parent company is the very large French lens manufacturer Essilor. I was intrigued by what they had to offer and I wanted to take a closer look at what they had.
Coastal was founded in 2000 and was originally exclusively an online prescription contact lens retailer all the way up until 2008 when they decided to start offering prescription glasses as well. Their mission was to get prescription eyewear to people that found it to be out of reach.
Coastal Glasses Frames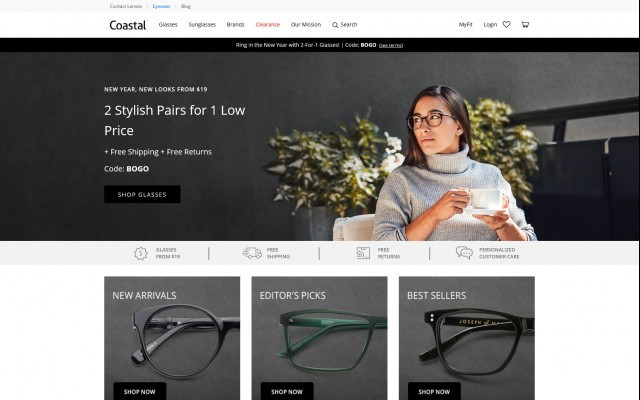 Coastal carries thousands of different frames ranging from in-house designed frames to many well-known designer brands. You will be able to find frames in a variety of different frame materials, colors, shapes, and sizes.
They carry many well-known designer brands such as Fendi, Dolce & Gabbana, Calvin Klein, Gucci, Lacoste, Michael Kors, Nike, and many more.
Their frames start off as low as $19 for their in-house frames and could go as high as $245 for their top designer brand frames. They have practically any style that you can imagine from vintage round all the way to modern rectangle style frames.
Coastal, unfortunately, does not have an in-home try-on program so you are not able to try on the glasses until you get them unless you have tried on the particular frame you are purchasing already somewhere else. Coastal does have a MyFit feature on their website in which you could enter the measurements from your current glasses and you will be only shown frames that will fit you.
Lens Options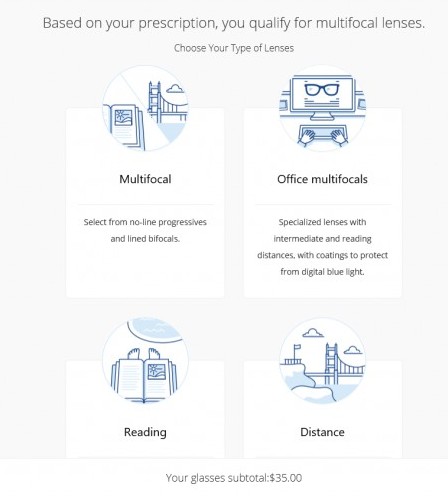 Having Essilor has their parent company really gives Coastal an edge when it comes down to lenses. They carry a large selection of different types of lenses so you are sure to find something that will fit with your prescription needs.
Lens Types
At Coastal they have more lens types compared to other online eyewear retailers out there so I wanted to take the time to explain each one so you have a better understanding of the options that are available to you. That way you can make an informed decision about what type of lenses you want.
Single Vision – This is the most common type of lenses that most people need. These lenses have a single power throughout the entire lens. Anyone that needs glasses for distance OR reading will be able to go with single vision lenses. Anyone that has a prescription written out for computer distance could also get single vision lenses that they could use on the computer.
Standard Bifocal – Anyone that needs glasses to be able to see far as well as up close and wants both powers in the same pair of glass this is one of their options. The standard bifocal has a distinctive visible line that separates the power difference between distance and reading. The drawback of using a standard bifocal is if you are planning on using a computer that could prove to be a bit difficult.
Progressive Bifocal – This would be your other option if you wanted your distance and reading power all in one pair of glasses. With the progressive bifocal there is no visible line on the lenses and is actually optimized for distance, intermediate as well as reading. With the intermediate area, you are able to see things at about an arm's length away, which is usually about the distance that your computer screen is usually at.
Office Progressives – This is a lens that is designed to be optimized for intermediate and reading. This lens is great for individuals who work for extended periods of time in front of a computer. This lens makes it easy for you to switch between working on the computer and looking at things up close seamlessly. This lens is a progressive lens, therefore, there is no visible line between powers.
Luckily for me, I am still about a decade away from needing a prescription for reading glasses, so anytime I have ordered glasses I go with single vision. Not looking forward to the day that I need a prescription to read! Anyways, Coastal has a couple of different upgrades and add-ons that you are able to get if you choose to.
Upgrades and Add-ons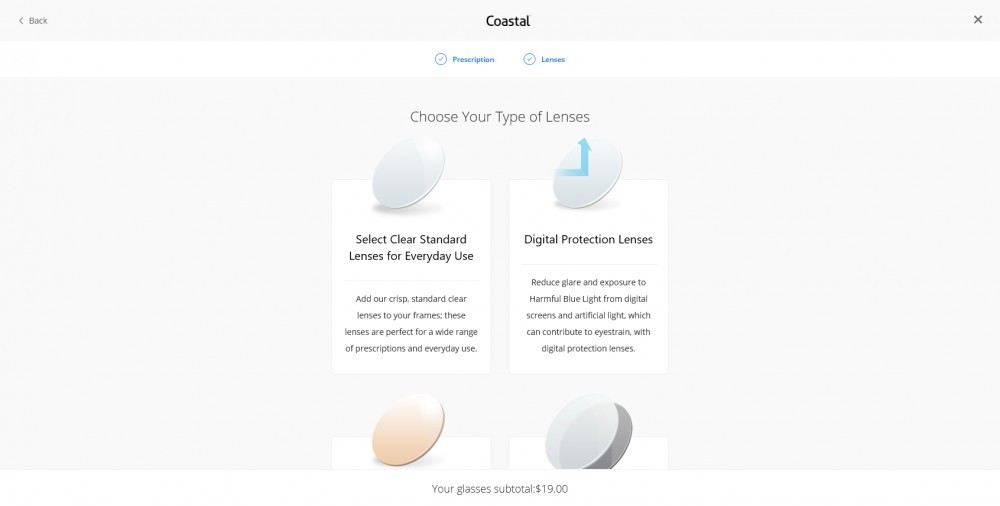 Unlike retailers such as Liingo and Warby Parker, Coastal's standard lenses do not come with anti-reflective coating and it does need to be added on. Lens add-ons and upgrades are never mandatory, but some upgrades and add-ons can provide many benefits.
Anti-Reflective Coating – Also known as Anti-Glare or AR Coating, this coating helps to reduce the glare from the front as well as the backside. This helps reduce the distracting reflections that will occur on the lenses and help reduce eye strain.
Thin Air Lenses – The Thin Air lenses upgrade through Coastal gives you the thinner high-index lenses. This is ideal for anyone that has a stronger prescription such as something that is higher than +/- 3.50. High-index lenses help makes the lenses thinner and therefore more comfortable to wear.
BlueReflect Coating– Coastal's BlueReflect lenses are lenses that help filter out high-energy visible (HEV) blue light. In today's day an age, it is quite important to have protection from blue light. The single biggest source of blue light is from the sun, but artificial sources such as smartphones, tablets, computers, televisions, and LED lights all emit blue light. There have been studies that show that exposure to blue light overtime could accelerate untreatable conditions such as age-related macular degeneration.
Photochromic Lenses – You might know these lenses as Transition lenses or light adaptive lenses. These are lenses that are sensitive to UV rays and turn dark whenever exposed to them. Photochromic lenses are great for anyone who spends a lot of time indoors as well as outdoors and wants protection from the sun but does not want to carry around multiple pairs of glasses.
Tinted Sunglasses Lenses – These are non-polarized sunglass lenses that have UV protection coating. These lenses will give you adequate protection from the harmful UV rays from the sun as well as provide a more comfortable viewing experience with the tinted lens.
Polarized Sunglass Lenses – Polarized lenses give you the most optimal protection from the sun by not only protecting you from the harmful UV rays but also giving you protection from any glare that may be reflecting off of horizontal surfaces. Polarized lenses are beneficial for anyone who likes to spend extended periods of time around water or snow. These lenses will clear out the glare reflecting off of the surface of the water, giving you the ability to see underneath the surface and can be beneficial for anyone who goes fishing.
Flash Mirror Coating – This is a coating that you can get for your sunglasses that provides an additional fashion statement as well as protection from glare that is reflecting off of various surfaces. That, in turn, helps reduce eye strain. It is recommended to have a backside no-glare applied with flash mirror coatings.
Shipping Cost & Time
Shipping is free if you live within the United States. If you live in another country shipping cost varies depending on where it is going.
Depending on how complicated your prescription is your glasses could take anywhere between 2-9 business days for your lenses to be custom crafted and mounted into the frame of your choice. After it ships out, it will take anywhere between 5-7 days to arrive at your home.
Return Policy & Warranty
Coastal has a very simple and straight forward 14-day return policy. This is your no questions asked returned policy, but they must be returned in new condition.
They also offer a 365-day warranty which would cover you from any manufacturer's defects.
Final Thoughts
Is Coastal worth checking out for your prescription glasses? Most definitely, they have a great selection of frames, Good options when it comes to lenses, and with free shipping. If you change your mind, they have customer service ready to help and that that 14-day return policy just in case.  That makes Coastal is a great choice when it comes to buying prescription glasses online.
Have you purchased from Coastal before? I would love to hear from you, drop a comment below!
If you enjoyed the article don't forget to share it through your favorite social media channels with the buttons located right below, thank you for your support!
---
OTHER ARTICLES AT EYE HEALTH HQ: