Bear in mind that some of the links on this website are affiliate links. If you go through them to make a purchase we will earn a commission at no extra cost to you but helps support our website. Keep in mind that we link these companies and their products because of their quality and not because of the commission we receive from your purchases.
This post was most recently updated on May 24th, 2020
Being able to get affordable prescription glasses should be easy, but this is often times not the case.
At times it could cost you $100 or more for just the frames alone, that isn't mentioning the cost of the lenses that will be on top of that. So what happens when things are too expensive locally, we turn to the internet. 
Inexpensive Prescription Glasses Online
These days, there are no shortages of online retailers for prescription glasses, and with there being so many who should you go with? We spent hours looking through many of the top online prescription glasses retailers, to see which retailer provides you with the best inexpensive prescription glasses online. We looked at factors such as how affordable their frames were, how the frame selection was, and we took into consideration how expensive the lenses and their coating add-ons were.
In our research, we concluded that Zenni provided you with the most inexpensive prescription glasses online if your not looking for designer frames, and we choose Coastal as the runner-up and the best inexpensive option if you're looking for designer frames. Below you will find a list of online retailers where you will be able to find the most affordable glasses on the internet today.
---
1. Warby Parker [My Favorite]
Even though Warby Parker's lowest costing complete pair of glasses starts at $95, that is still half of the average cost of prescription eyewear. That complete pair comes with polycarbonate lenses with anti-reflective coating.
If you're looking to upgrade they have the thin high-index lenses that you can get for an additional $30.
Warby Parker also doesn't have designer eyewear, but their frame styles are always current with the latest trendy styles, and their frame quality is higher than some of the other inexpensive retailers. Plus they have that amazing free home try-on program.
OR
[CHECK OUT OUR FULL REVIEW OF WARBY PARKER HERE]
---
2. Coastal
Coastal is a company that started out as a contact lenses retailer, but these days they are up there with the rest of the top eyeglasses retailers as well. They have complete pairs of glasses starting as low as $19, coming with standard polycarbonate lenses for free.
If you want to add an anti-reflective coating or blue light, the anti-reflective coating is only an additional $15, and the blue light protection lenses are an additional $45.
Coastal has a great selection of inexpensive eyewear, as well as designer eyewear for those who choose to purchase them
---
3. EyeBuyDirect
EyeBuyDirect is another retailer that provides very inexpensive frames as well as lenses options. Standard plastic lenses start at $6.95, and if you want anti-reflective coating added to that then it is an additional $6.95.
Alternatively, you can upgrade to the polycarbonate lenses that already have an anti-reflective coating for $18.95. They also have a blue light protection lens that starts at $19.
EyeBuyDirect also does not carry any designer frames, so if you are looking for those you will be disappointed here.
---
4. SmartBuyGlasses
If you are looking for a great deal on designer prescription glasses with a prescription than SmartBuyGlasses is your place. You can get anything from a cheap inexpensive complete pair with standard plastic lenses with no coatings for as low as $29. You can add anti-reflective, scratch resistance, and UV coating for an additional $39.
If you are looking to get better lenses you can get aspheric polycarbonate lenses with anti-reflective coating for only an additional $59.
One downside about SmartBuyGlasses is that we couldn't find an option to add blue light protection. They do sell blue light protection glasses, but there doesn't seem to be an option to add it to your prescription lenses.
---
5. 39DollarGlasses
At 39DollarGlasses, you can get many of their glasses for, well $39. They have a great large and inexpensive frames to choose from with many trendy and stylish designs. The awesome thing about 39DollarGlasses is that the standard lenses that come free are polycarbonate without an anti-reflective coating.
If you are looking for anti-reflective or blue light protection, you can add anti-flare for an additional $24.95 and blue light protection for an additional $44.95.
Just like Zenni and EyeBuyDirect, the downside to 39DollarGlasses is their lack of designer eyewear.
OR
[CHECK OUT OUR FULL REVIEW OF 39DOLLARGLASSES.COM]
---
6. GlassesShop
GlassesShop is another great place for looking for inexpensive prescription glasses, with a complete pair starting as low as  $14.95. They offer a large selection of in-house frames for you to choose from, and free standard plastic lenses to go with it. You can add an anti-reflective coating to your standard lenses for an additional $4.95.
If you're looking to upgrade you can get mid-index with anti-reflective coating for an additional $19.85. They also offer a blue light protection lens starting at $22.90.
Just like Zenni, EyeBuyDirect, and 39Dollar Glasses, GlassesShop doesn't have any designer eyewear for you to pick from.
---
7. Liingo Eyewear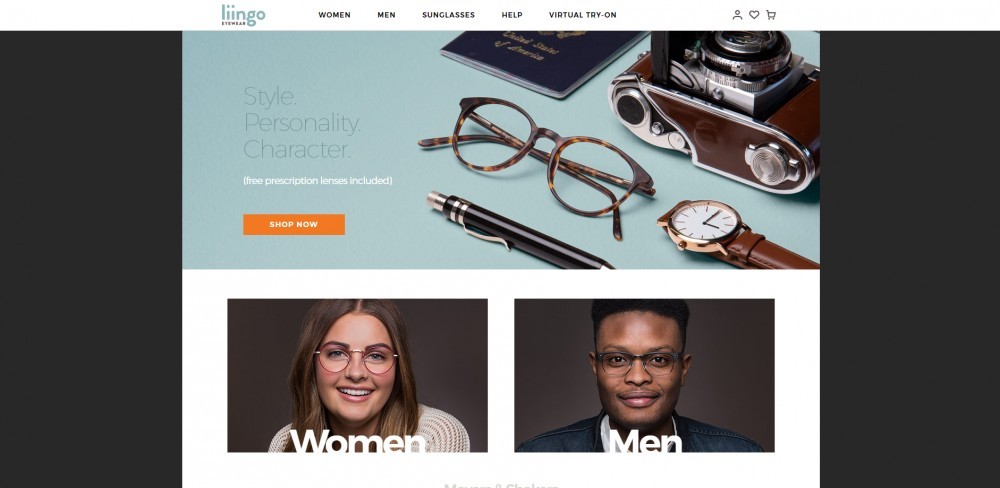 Liingo Eyewear is one of the newer online eyewear retailers, but have already made a big splash by being acquired by well-known contact lens retailer 1800Contacts only after operating for a year. Liingo's lowest priced complete pair of glasses starts at $79 and comes included with polycarbonate lenses with anti-reflective coating.
If you wanted to upgrade to high-index lenses to have thinner lenses that are available for an additional $49.
Liingo only carried in-house designed and manufactured frames but have a nice selection of current and trendy styles. They also have a one of a kind in-home try-on program in which you could pick two pairs of glasses and they ship the glasses to you WITH your prescription lenses.
They are also limited on their lenses selection only offering single vision and progressive lenses similar to Warby Parker.
OR
[CHECK OUT OUR FULL REVIEW OF LIINGO EYEWEAR HERE]
---
8. Zenni
If you are looking for inexpensive prescription glasses, there is no other online retailer better than Zenni Optical. Zenni offers a complete pair of glasses for as low as $6.95, and that is the price with the lenses included! What is even more amazing is that not only do they offer the standard plastic lenses for free, but they also offer polycarbonate composite mid-index lenses for free as well.
If you are looking to upgrade your lenses Zenni's prices for upgrades is very reasonable as well with blue light blocking lenses starting at $16.95, and standard anti-reflective coating for an additional $4.95.
The only downside to Zenni is that they do not have any options when it comes to designer eyewear. Although that isn't a big deal to many people, it would be nice to have some to choose from if you wanted to.
---
Buying Prescription Glasses Online
Purchasing prescription glasses online is a great way to save money, most of the time you'll pay must less than going to your traditional local retailers. At many of these online retailers, you can get a complete pair of glasses for less than you would spend on a meal at a sit-down restaurant.
When you order your glasses online the one thing to consider is that lack of having an optician to help you. When you go to your local retailer, your optician can help you with anything from the frame fit, to explain what the different lenses options are so you know what you are getting.
Therefore, without having an optician to help you, there are a few things you should keep in mind so you get the pair of glasses that will be everything you wanted.
Frame Fit – Understanding how frame measurements are listed is very helpful when looking to order your glasses online. If you already wear glasses, you might be able to look on the side of your frame for the measurement. Check out this article to understand more about frame measurements.
PD Measurement – If you are ordering glasses online you are going to need to know your PD measurement. This is the pupillary distant measurement, it is the measurement of the distance between your eyes in millimeters. Sometimes the PD might be listed on your prescription if it is not listed most of the time you are able to request it from your eye doctor's office. If you aren't able to get it from your doctor's office, watch this video provided by EyeBuyDierct on how to measure your PD.
Prescription – This is a must-have if you're going to be ordering online. You will need a current copy of your prescription, some online retailers offer services where they will contact your doctor's office for you to verify the prescription, but not all of them will do this. If you want to have your glasses processed and made as fast as possible then having your prescription in hand is best. That way when prompted you can upload the copy of your prescription, this cuts out the time it would take the doctor's office to verify your prescription. Remember by law your eye doctor is supposed to give you a copy of your prescription after your exam without you having to ask for it.
Who is this for?
Anyone who wears prescription glasses could always benefit from an inexpensive pair of glasses. Getting glasses online is much cheaper than going to your local big box retailer, optometrist office, and instead of having just a hundred frames or so to pick from you have thousands. Here are some people who would benefit from purchasing prescription glasses online.
Tight Budget – If you don't have a large budget to purchase your glasses, you will definitely benefit from purchasing your glasses online.
Backup – Many people like to have a cheaper inexpensive backup pair of glasses. This is definitely recommended for anyone that have stronger prescriptions and would have a hard time if they were to not have their glasses. This is not limited to only anyone with strong prescriptions though, anyone that wears glasses should have a backup pair.
Multiple Pairs – Anyone who likes to have multiple pairs of glasses to match various different outfits would benefit from purchasing their glasses online. You would have thousands of different styles and colors of frames to choose from, and them being inexpensive makes it much easier to purchase multiple pairs.
Save Money – If you don't have a tight budget, but you would rather just spend less money on your prescription glasses than you would benefit from purchasing your prescription glasses online. 
Finding Frames that Fit – For anyone that has a hard time finding frames that fit at your local retailers, you would benefit from purchasing glasses online as well. The best advice we can give here is once you find a frame that fits, take a note of the size of the frame so that you will always know what your frame size is. This makes it a lot easier when you get online to order your glasses since many of the online retailers have options for you to search for specific frame sizes. Online retailers as a whole have a much larger selection of frames than your local retailer.
Why You Should Trust Us
We are on a mission to help people more people find affordable prescription eyewear. Taking our experience in the optical industry we spend hours picking apart retailers' websites, looking through their frames, comparing different lens options, using the available tools to look at frames, and looking through customer feedback to make sure it is safe to order from these websites.
Takeaway
If you are looking for inexpensive prescription glasses all the retailers listed above are great options. If you are not looking for designer eyewear, then we definitely recommend going through all the different retailers that do not carry designer eyewear, as they all carry various different in-house designed and manufactured frames.
Keep in mind when you are looking for your frames that if you are looking for a lens with blue light protection, not all of the online retailers have that coating so be sure to pay attention to that.
Have you purchased prescription eyewear on the internet before? How was your experience? Let me know below! If you have any questions or comments, don't hesitate to leave it below.
---
RELATED POST FROM EYE HEALTH HQ
---