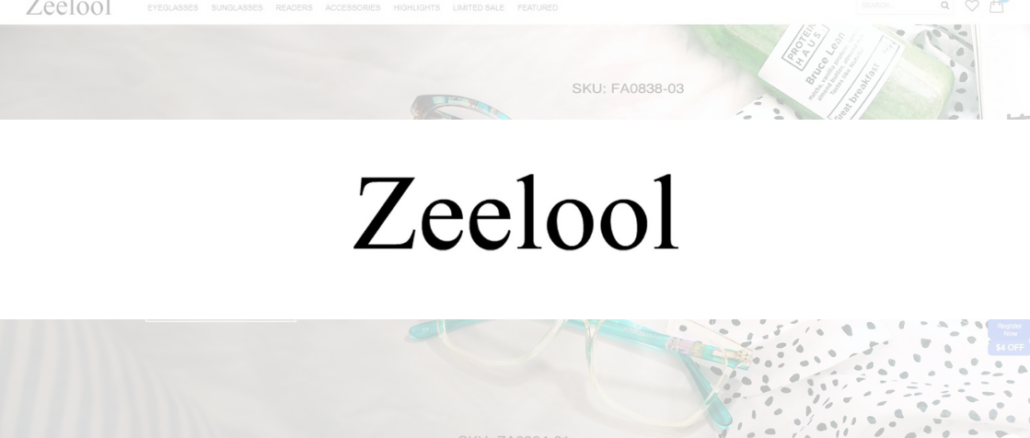 UPDATED: March 3rd, 2019. (After personally knowing a handful people that has actually successfully ordered eyewear from Zeelool this is an updated review that is more in line with the rest of the reviews, you can still find the old review below from my first impression of Zeelool a few months ago. But they have since made many improvements to their website, and have made a reasonable effort to address customer concerns on major review websites)
After a couple of months of watching the progress of this very young site, I have decided that I should really give Zeelool a proper review. This very young startup has caught the attention of many by their selection of very unique, and bold frame designs.
Zeelool does not carry any designer eyewear, and all of their eyewear is all in-house designed and manufactured frames. You will find frames here in styles that you won't find at any other online retailer, including a wide range of geometric and cat-eye shaped glasses.
After a few of my colleagues and friends successfully ordered glasses from Zeelool I wanted to get a first-hand experience for myself to check out the overall service of Zeelool. So I decided I was going to place an order so I could truly assess the quality of the eyewear, the shipping time, and the customer service if needed.
To start my journey by trying to figure out which frame I wanted to order.
Picking Out My Frame
One thing that I noticed while I was trying to decide which frame I wanted to purchase from Zeelool was the fact that their frames were organized a bit interesting… I found myself thinking "This is a men's frame?" with some of the frames that were available for me to pick from on the men's page.
Nevertheless, I continued to go through the frames. If you read my reviews here often you will know that they only thing that matters to me when it comes to frame selection is the ability to sort frames by sizes. After all, why would you want to see frames that wouldn't fit correctly? Zeelool gives you the ability to be able to filter the selection of glasses by gender, type, price, shape, material, lens type, and size which makes it easier to eliminate the types of frames that you don't want to see.
Zeelool has a lot of rather unique frames in their selection, many of which I wish I had the face shape to wear. I already have a round shape face, so round shape glasses just do not look good.
After I put in my usual large frame filter, there were about 5 pages of frames for me left to go through. After going through an interesting selection I settled on a large aviator style frame that was clear. I have a facination for clear frames but have always had a hard time finding some that fit correctly so I had to pick the clear ones. This was actually my second choice of frames, there was a frame that I had my eye on since January but the frame was out of stock forever and then they pulled it because of quality issues. So I settled for the clear aviator frames, off to select the lenses.
Lens Options
After you have your frame picked out, next you would select what type of lenses you are going to need. At Zeelool they have a couple of different options here depending on what you are looking to do. Just like other online retailers, you will need to have a valid prescription to be able to purchase your glasses. You do also have the option to order magnified reading glasses from Zeelool if you were just looking to get reading glasses without a prescription. As for the lens type, you have the following options.
Single Vision – These are the most common type of lenses, generally for everyday use. Single vision lenses have one power throughout the entire lens and can be made for distance, intermediate (computer), OR reading but not combined in any way.
Progressive Bifocal – These are your no-line bifocals, which you are able to use to see far, computer, as well as reading all in one pair of glasses. Progressive bifocals provides you with a seamless blend between your distance power to your reading power, with the computer distance in between.
Reading – You can choose to get reading glasses that are prescribed if you have a prescription for reading glasses from your doctor, or you can order magnified readers which are similar to what you would be able to purchase instore except with these you can pick your favorite frame.
Non-Prescription – For anyone who just likes the frame styles offered by Zeelool, you can order them with a lens that doesn't have a prescription so you can wear them for cosmetic purposes.
After you have your lens type selected and have entered your prescription in you will move on to selecting the lens materials and lens add-ons.
Lens Types & Materials
When you get to the next screen you will see a number of different options when it comes to your lenses. Whether or not you need any of these additional features is completely up to you and ultimately depends on what you do day to day. Here is how they can benefit you.
Standard – The standard lenses are your clear lenses with no additional coatings or features to them. If you don't need anything too fancy and just want to see, these are for you.
Blue Blockers – This lens coating helps reduce the amount of high-energy visible (HEV) blue light from reaching your eyes. These lenses are perfect for anyone who spends extended periods of time in front of digital devices which as computers, smartphones, tablets, or televisions all of which emits artificial blue light.
Photochromic – These lenses are clear while you are indoors, and darken when they are exposed to UV light outdoors. Commonly referred to as Transitions, these lenses are perfect for anyone who spends a good amount of time outdoors, but doesn't want to carry multiple pairs of glasses around.
Polarized – These are polarized sunglass lenses and remain dark all the time whether indoors or outdoors. The polarization on the lenses makes it so your prescription sunglasses not only protect your eyes from the harmful UV rays from the sun but the harsh glare as well. Polarized lenses are perfect for anyone who spends a lot of time doing outdoor activities, and are particularly beneficial for anyone fishing.
After you decide which lens feature you are going to go with, next will be deciding on what actual lens material you are going to want with your glasses. The better the lens material you go with will provide you with lenses that are thinner, lighter, and more resistant to scratches. I have to say I am a bit disappointed that there is no option for free CR-39 standard plastic lenses, but definitely not a deal breaker. Lenses at Zeelool start with the 1.57 index material which is a composite material that is thinner than standard plastic but not as thin as 1.59 polycarbonate. And then, of course, you have the high-index lenses which start at 1.61 high-index lenses up to 1.74 high-index lenses which are the thinnest.
Generally, when I order prescription glasses I generally get 1,67 high-index lenses, but for this review, I will be ordering the 1.57 index lenses with the blue blocking coating. The last screen offers an anti-reflective coating, but the blue blocking lenses I selected should already have an anti-reflective coating so I passed on it.
Shipping Cost & Time
Standard shipping is free if your purchase is over $69. If you don't meet that threshold, standard shipping worldwide cost $4.95 and take 10-15 days to arrive. Express shipping is available, and price varies depending on where you live.
Those are only the shipping times, if you ordered prescription glasses it could take 3-7 days for processing for them to be made depending on your prescription and what type of lens you ordered.,
Return Policy & Warranty
The refund policy at Zeelool is quite complicated, but from what I can understand there is a 90-day warranty that covers any manufacturer defects of your glasses. This does not cover if it was accidental damage or caused by improper care.
There is a 30-day refund policy but there are rules for every different situation. You can find the full refund policy here.
Zeelool Coupon Codes
If you do end up making a purchase at Zeelool, there are a few coupon codes available depending on what you end up purchasing and your order total. Check them out below.
First-time customers can get $4 off any purchase: Click Here and use code: Coupon4
$6 off a purchase of $69 or more: Click Here and use code: Coupon6
$10 off a purchase of $109 or more: Click Here and use code: Coupon10
$15 off a purchase of $149 or more: Click Here and use code: Coupon15
$20 off a purchase of $189 or more: Click Here and use code: Coupon20
Final Thoughts
I officially placed my order today on March 3rd, 2019. If you want to know when I receive the glasses follow Eye Health HQ on facebook, I will be posting my update with a full assessment from my glasses from Zeelool, including everything from the frame quality to the accuracy of the prescription.
My collegues that have ordered glasses from Zeelool did not have any complaints so far, but they did mention that although they didn't have any issues with their prescription on their glasses ordering prescription eyewear from so far away would have their drawbacks if you did have an issue with your prescription. Their advice would be to order the frames if you like the frames and have the lenses made locally, but that depends on your budget as Zeelool's lenses are priced fairly reasonable for what they offer.
Stay tuned for my update when I receive the glasses! In the meantime, if you were planning on ordering frames and having the lenses put in at your local retailer the coupon codes above do work on frames only and same goes for their free shipping above $69.
Old Review
Today more and more people are turning to the internet seeking out more affordable eyewear than their traditional local optical retailers and private doctor's offices. Which opens the door for new start-up retailers that are trying to disrupt a market that has largely controlled by one company. When you are purchasing prescription eyewear you want to make sure you have a reputable retailer that will make your prescription eyewear correctly, as well as provide the best customer service if you were to have any issues with your glasses.
I wanted to share with my readers a new online eyewear retailer called Zeelool optical who has been slowly gaining popularity. A quick glance over onto their website shows a very nice website with
very elegant looking in-house designed frames and For this month they are even promoting Breast Cancer Awareness month, seems alright so far.
But are they really truly legit?
I sure hope so! those are some beautifully designed frames that they have shown there. I truly had to find out if this website is truly a reputable retailer so I dug in, checking how it looked visually, how old this website was, the overall website content, and looked for any reviews there may be.
---
UPDATE 1/22/2019: I decided that I was going to place an order for a pair of glasses just so I could document the wait time and see how the glasses are when they arrive. Since I am going to be testing them I have decided to go with one of the more weird and wild geometric shapes that are offered on Zeelools website. In addition to that my prescription is completely crazy too and is quite strong so I am curious to see how well these glasses are going to be made.
Unfortunately, the frame that I wanted is currently out of stock. I used the chat feature on the website to talk to someone to see when the frame might be back in stock and was told the end of January. That is only like a week away so we'll see how it goes. The person that was running the chat feature on the website was quite helpful and was professional. I'll keep you guys updated, subscribe to our mailing list or follow us on social media for the next updated.
---
At a first glance this website looks great, but if you dig deeper you will find some red flags. The categories on the top are neatly done. They have a nice scrolling homepage showing off their latest collections. Looking down towards the bottom of the page you can find the usual company information, their policies, social media, and some helpful information.
Taking a look at their return and refund page it shows that you receive glasses that are incorrect, damaged, defective, or any other reason you would be able to request a replacement or a full refund within 30 days of the receipt of the glasses.
They do state that they would not be covering the return cost. This is strange all in itself, most reputable companies would offer you a return shipping label. That is the first warning sign right there. I can't remember the last time I returned something I purchased online and had to pay my own return shipping.
Anyways, usually the first thing I usually do when I am checking out a website is taking a look at the About us page, this page should usually give you a better idea of who the company is and what they're all about. It is the chance for a company to show themselves off pretty basic.
---
UPDATE 1/22/2019: Since the time of this article writing Zeelool has updated their return policy and now depending on the situation they might remake the glasses or offer coupons to get new glasses through them.  There is a list of different specific return situations and ways they resolve those specific situations listed on their return policy. The return policy is still 30-days from the receipt of your glasses.
In my recent research, I have found a couple of reputable companies that also do not cover return shipping.
---
Want to Try on frames from the comfort of your home? You can, for FREE through Warby Parker's Home Try-On Program
Or see 17 Alternatives to Warby Parker that also have home try-on programs.
---
Who Are They?
Well according to their About Zeelool page, they are a professional E-Commerce wholesaler and retailer. They are a brand that is dedicated to offering a wide range of fashionable high-end eyewear.
They claim that they want to help people be able to see clearly, provide fashionable, innovative and high-quality eyewear, with fast delivery at affordable prices and exceeding your expectations every time.
So I am just going to stop right there and post a screenshot of their About Zeelool page. This page was my first red flag about this website.
As you can from the above screenshot, that their About Zeelool page is very poorly written. I am sure you can go through our website here at Eye Health HQ and find plenty of grammatical and spelling errors, because hey we aren't all perfect. But some of the things on that page up there hardly even makes sense.
This page seems like it could've been run through a translator, or someone with poor English wrote it. I am sure it doesn't cost that much to pay someone to proofread your work. An about us page is important, but not a make or break issue, moving on.
---
UPDATE 1/22/2019: It looks like they have updated their About Zeelool page and it definitely looks a lot better and much more professional than a few months ago. Everything seems to be written much better than it was before as well.
---
Looking for Designer Eyewear? Check out our 5 picks for the best retailers to buy designer eyewear.
---
Our Analysis
So I headed next over to the Zeelool Blog to see what they have got to say about glasses or eye health. After skimming through their 11 blog posts, out of all the posts the one that caught our eye was the one titled "What Exactly Is Bluelight". With all of the information that has been released from the University of Toledo's study on the effect of blue light recently, I was interested to see what this page had to say. What I found was a well-written article on blue light explaining the difference of the blue light that we get from the sun as oppose to the artificial blue light from sources such as computer screens and television screens.
However, when I took a look at the other articles that were posted, we found the same poorly written English that was written on the About Zeelool page. This doesn't look so good for the trustworthiness of Zeelool, It doesn't end there, however, upon further research, we actually found that article on blue light word for word on another website, take a look below.
Above I have included the screenshot of the article as posted on Zeelool. Below is the article as found on Innovative Eyewear, which appears to be a website based out of Germany, and has been around for much longer than Zeelool.
As you can see the article that is posted on Zeelool is the same exact article from Innovative Eyewear. How can a company be a reputable company if they can't even publish their own unique content? To be honest, after seeing these I wouldn't even bother purchasing our eyewear from here, but for the sake of digging up for information for you readers, on to reviews.
---
UPDATE 1/22/2019: The article is being referenced correctly now. Good sign.
---
Zeelool – Customer Responses, Reviews, or Complaints
I turned into the internet to look for any potential Zeelool reviews that there may be out there. While I didn't find too many reviews, The reviews that are out there raises some question marks about the company.
Some customers who have ordered their glasses from Zeelool have reported that have been waiting for over 2 months and still haven't received their glasses yet. These customers also reported that Zeelool's customer service is basically useless, and the tracking numbers they provide do not work.
Other customers have reported that when they have tried to refund their glasses, Zeelool does not provide a shipping label, but have you pay to ship your return back to them. The worse thing about it is the return shipping goes to CHINA, which you can only imagine the cost to ship it over there. Take a look below at some of the reviews over at TrustPilot.com.
As you can see from the reviews from TrustPilot there has been a wide range of complaints against Zeelool. Complaints range from them doctoring the reviews on their site (It's true, just go click on some frames you can totally tell the reviews aren't authentic), Terrible customer service, making the prescription incorrectly, some people haven't received their glasses after 2 months, one person even said their glasses came in broken and they are having a hard time getting them replaced.
UPDATE 1/22/2019: The reviews haven't gotten better…BUT I have seen more people with glasses from them.
Are They Legit?
Zeelool Optical has many warning signs and red flags and might not be a company that you would want to give your credit card information to. The website alone would make me not want to order from them, between the poorly written articles, and the blatant theft of an article from another website doesn't show to us that they are a reputable company.
Maybe if you perhaps liked their frames styles you can always order the frame and take it to your local optical retailer to have them put the lenses in. The wait time seems excessive, and if their shipping and returns are based out of China then I definitely would not risk ordering my prescription lenses there and having them come in incorrectly.
I wouldn't call Zeelool a complete scam, but they are going to have to fix many things before they can truly be a legitimate online optical retailer. There is nothing wrong with glasses being made in China, mas a matter of fact many frames are made there. But with anything that has to do with prescription eyewear, the company you purchase from should be able to provide you with top notch customer service and help you fix your problems in a quick and efficient way.
---
UPDATE 1/22/2019: I am going to place an order for glasses through them just to check the quality and speed of the service, subscribe to our email list or follow our social media channels for the next update.
So, what do you think about Zeelool? If you have any experience with Zeelool I would love to hear from you! Comment below!
If you have any questions, or comments don't hesitate to leave them below, I always try to respond to every message!
---
RELATED POST FROM EYE HEALTH HQ