Bear in mind that some of the links on this website are affiliate links. If you go through them to make a purchase we will earn a commission at no extra cost to you but helps support our website. Keep in mind that we link these companies and their products because of their quality and not because of the commission we receive from your purchases.
With the cost of prescription eyewear becoming increasingly more affordable it is not uncommon for someone to have multiple pairs of eyeglasses. Some people have a pair of everyday glasses, and a pair of sunglasses. Other people have multiple pairs of reading glasses laying around.
Best Multiple Eyeglass Storage Case
If you are like me, I have multiple pairs of prescription glasses ranging from regular prescription glasses to glasses with Transition lenses, and you can't forget about my prescription sunglasses. Whenever you go to purchase glasses your optician should be telling you that if you aren't wearing your glasses you should be putting them into the case. But if you have multiple pairs of glasses, having a bunch of cases holding one pair of glasses each would be annoying, to say the least.
With it being 2020 and glasses being so affordable I knew there had to be a solution for people with multiple pairs of glasses and so the search began. Here are some of my favorite cases that I found that could hold multiple pairs of glasses.
RELATED: Wear Contacts? Take a look at where you can order contact lenses online with total peace of mind
DecoreBay Glasses, Watch, Jewelry Organizer
This is definitely my current favorite travel organizer. This organizer features 4 slots for watches, 3 compartments for prescription glasses or sunglasses, and small padded rows that you could use for small jewelry. Dividers are removable and can be used for extra storage space.
This is a perfect all-in-one travel case that could be easily stored into any luggage and helps keeps your belongings safe during transport. The exterior features a black leatherette with detailed stitching and a soft red suede interior. The zipper enclosure helps keep the items in place and a divider separates the watches from the glasses.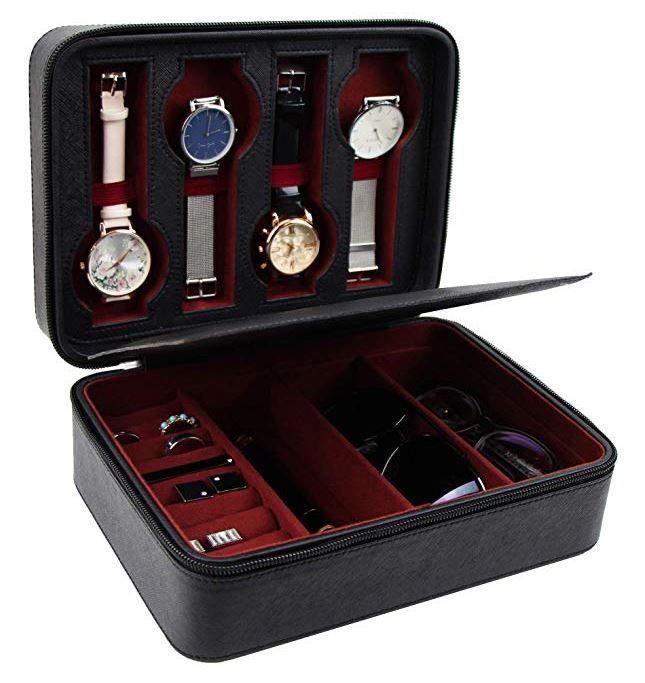 Dimensions: 6.5″ x 10.5″ x 3.3″
Parker Travel Case
The Parker Travel Case by Warby Parker is the one that inspired my search for eyeglass storage cases that can hold more than one pair. I saw my colleague with this case and I was super fascinated with it because I always find myself carrying around multiple cases for my various pairs of glasses.
This travel case doubles as a storage case when you aren't on the road with your eyeglasses. It is made with a Faux leather outside and a polyester liner on the inside. It can safely store up to 3 frames and opens and closes with a zipper.
While this is a very nice case and I do own one for traveling I knew there had to be other options out there when it comes to storage cases, something that could hold more than 3 frames. Also, it is worth noting that there are other color options at a Warby Parker retail location if you are near one.
Dimensions: 6.5″ x 7.5″ x 2.0″
Siveit Eyewear and Watch Organizer
This has to be one of my most favorite cases that I found out there. This 12 compartment case can hold not only 12 pairs of eyewear but it has a third drawer in which holds 12 watches as well. As someone who also has a decent watch collection, I found that having it all in one place was very convenient
The outside of the case is made with carbon fiber and inside is lined with a soft material to help protect the glasses.
Dimensions: 13.2″ x 7.6″ x 7.5
6 Compartment Glasses Organizer
This 6 compartment glasses organizer can keep up to 6 pairs of oversized glasses keeping each of them in a separate compartment to keep them protected and free of scratches.
The inside of the case is lined with faux suede to help further protect the glasses from being scratched while sitting in the storage case. The case also comes with a lock and key to offer increased security if you choose to use it.
Dimensions: 10.5″ x 15″ x 3.25″
8 Compartment Glasses Organizer
This nicely designed case has 8 separate compartments for your glasses and the case has a closing latch. Even though this case can hold up to 8 pairs of glasses and is wonderful for home storage, it is also still small enough to be able to be used during traveling.
The outside has a cherry wood surface, and the inside is lined with felt to help protect your eyeglasses from scratches. The clear glass on the top makes it easy to be able to see which pairs are inside your case.
Dimensions: 9.75″ x 13.75″ x 4″
12 Compartment Case With Drawer
This one is one of my favorite cases that I found. This 12 compartment case has 6 on the top and an additional 6 in an extra drawer right below the top row. This is a perfect case to complement your nightstand, desk, or dresser and has the storage space for you to store more than just your glasses.
What I really like about this case is the beautiful black carbon fiber outside, and the inside has a faux suede lining to help protect the glasses and add that luxurious feel.
Dimensions: 10.75″ x 14.625″ x 6″
18 Compartment Three Level Case With Drawers
This is definitely not a case that would be very practical to use for traveling. This 18 compartment case has three levels of 6 compartments each. This will be a fine accessory to whatever surface you decide to keep it on.
This case also is carbon fiber on the outside with an attractive soft faux suede lining to help protect the glasses and give the case a more luxurious feel.
Dimensions: 10.75″ x 14.625″ x 8.75″
24 Compartment Four Level Case With Drawers
This thing is just a monster, surprisingly enough I do know some people that could fill at least 20 of those compartments with some sort of eyewear whether it be sunglasses or regular eyeglasses. This 24 compartment case has four levels of 6 compartments each.
The case is black carbon fiber on the outside and the inside has soft faux suede to help protect the glasses against any scratches and also gives it a more luxurious feel.
Dimensions: 12″ x 14.75″ x 14.75″
5 Compartment Foldable Travel Organizer
This case definitely caught my eye when I was in search of a case. This 5 compartment case can easily fold up for quick traveling. Each pair of glasses has its own independent compartment to prevent your glasses from rubbing up against each other and damaging them. This case is also suitable for hanging and can be unfolded and hung up to store and display your glasses at home.
This case is black leather on the outside and the inside is lined with a soft red flannel material to protect your glasses.
Dimensions: 7″ x 3.1″ x 4.7″
Final Thoughts
There you have it, a bunch of different cases to help keep your growing collection of eyewear organized and free from accidental damage. There are a number of things that could happen to your glasses if you do not store them correctly, ranging from your dog chewing them to someone accidentally stepping on them. So, the best practice when you are not wearing your glasses is to put them in a case.
What did you think of these cases? Drop a comment with your favorite one below!