Bear in mind that some of the links on this website are affiliate links. If you go through them to make a purchase we will earn a commission at no extra cost to you but helps support our website. Keep in mind that we link these companies and their products because of their quality and not because of the commission we receive from your purchases.
With summer just right around the corner and the sun shining bright, some of you have asked me if Warby Parker offers Transition Lenses or also known as photochromic or light-responsive lenses. Transition lenses refer to a specific brand of light-responsive lenses, but since Warby Parker actually uses Transition lenses I will just refer to them as Transition lenses to keep it consistent.
If you are someone who wears prescription glasses, Transition lenses can be a great alternative to having to deal with the hassle of carrying around both your prescription glasses as well as sunglasses. Although Transition lenses do generally won't be as dark as sunglasses they are still a great option especially if you spend a lot of time outdoors.
Take a look below to see what your options are if you are looking to get Transition lenses from Warby Parker.
Warby Parker Transition Lenses
I often get asked if the frame choice mattered when you are interested in purchasing Transition lenses and no, your frame choice does not matter. Transitions can be applied to any pair of glasses, what causes the lenses to darken are trillions of little molecules in the lenses that change structure when exposed to UV light.
So if you are interested in Transition lenses, the first thing you have to do is figure out which frame you want to pick and if you are like me that is the hardest part.
Warby Parker makes purchasing your prescription eyewear online a smooth process by offering you the ability to try on the frames on their website through their home try-on program or if you have a newer phone you could use the new AR technology and use the virtual try-on through Warby Parker's app.
Warby Parker eyeglasses
For me picking out the frames when it comes to my prescription glasses is always the most challenging part. I have a larger than average head and frames are always so small. Warby Parker does a great job of organizing the frames by narrow, medium, and wide to help select the frames a bit easier.
Whenever I select frames that I plan on putting Transition lenses in I generally will pick a frame that is a larger fit to give it more of a sunglass feel. That is something that is not a requirement when purchasing Transition lenses, that is just a personal preference of mine.
After a long and hard decision process, I settled on Gilbert in the color Mission Clay Fade. I thought this particular frame style with the dark on the top and lighter tone on the bottom could potentially look nice with Transition lenses so I went for it. After all, Warby has a very hassle-free 30-day return/exchange policy just in case I didn't like the glasses so there really isn't much to lose.
Selecting your lens type
There are a couple of different lens types that are offered in Transition lenses. Which one you will ultimately go with will be determined by your prescription needs and how strong that prescription is. Here are your options:
Single Vision Lenses – This is the most common lens type and the one most people will be in. Single vision lenses provide you with one field of vision throughout your entire lens. They can be made tailored to your personal distance, intermediate, or reading power. Warby Parker frames with single vision lenses as well as Transitions start at $195.
Progressive Lenses – This type of lens is for those who need prescription glasses to be able to see far as well as up close. Progressive lenses provide you with a bifocal lens that is seamlessly blended and provides you with three fields of vision, distance, intermediate, and reading. Warby Parker frames with progressive lenses as well as Transitions start at $395.
1.67 High-Index – A high-index lens upgrade is available for both single-vision as well as progressive lenses. 1.67 high-index could provide you with a lens that is up to 20% thinner compared to polycarbonate lenses. These lenses are great for anyone with a stronger prescription and are looking to thin out their lenses to help reduce weight and be more cosmetically appealing. Are Warby Parker high index lenses worth it? Most definitely if you have a strong enough prescription. You won't find another retailer with a high-index lens upgrade for this affordable of a price. You can upgrade to 1.67 high-index on either single vision or progressive for an additional $30.
Light-Responsive Lenses
When going in to select that you want Transition lenses, Warby Parker has it listed as light-responsive lenses. Warby Parker only currently offers grey as the only color option for Transition lenses.
UPDATE: Since the time this article was written, Warby Parker has added more color offerings to their Transition lenses and you can now get them in Brown as well as Green lenses.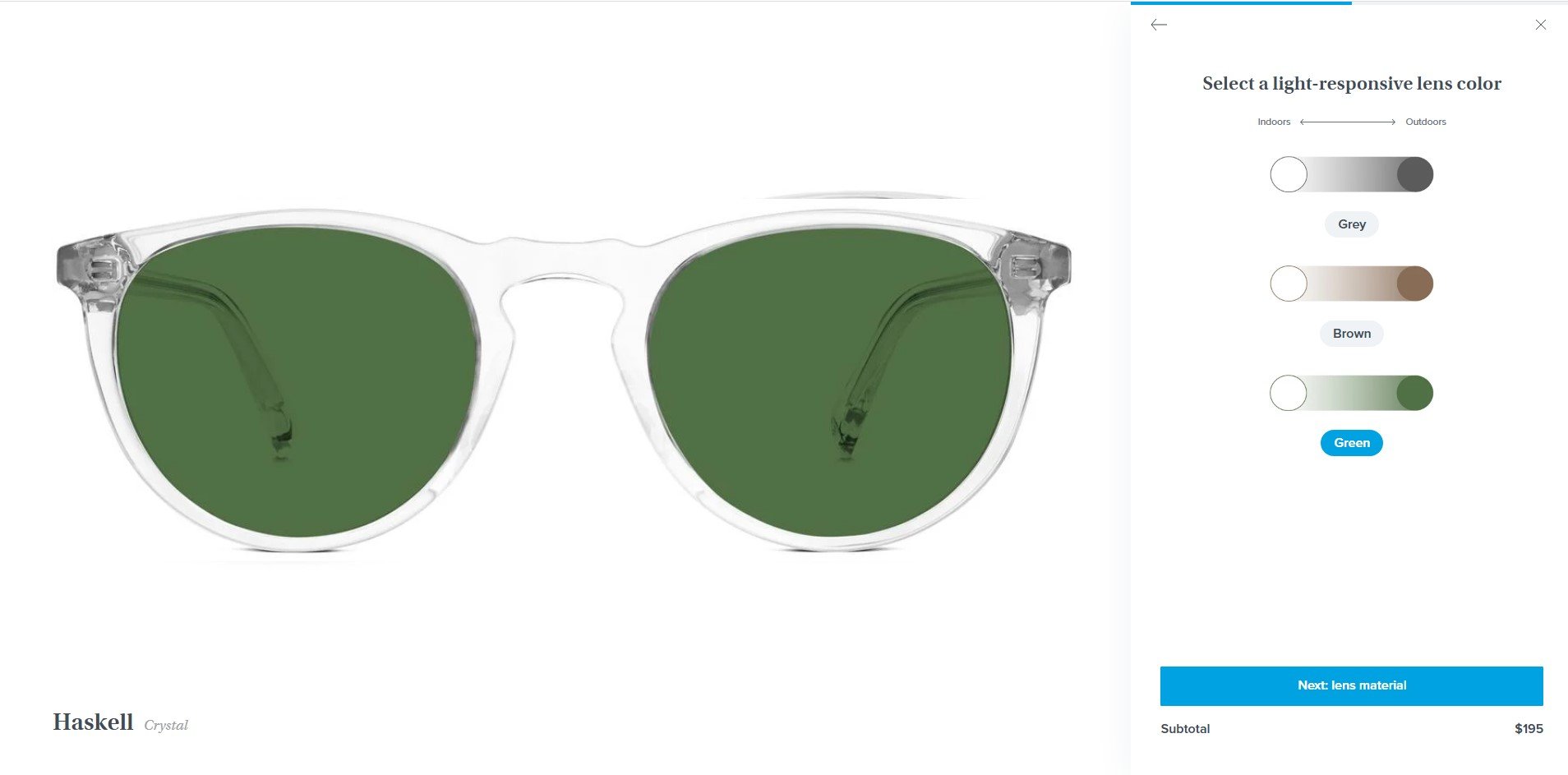 RELATED: New Acuvue Transitions contact lenses review
Benefits of having Transition lenses
There are many great benefits to having Transition lenses. These auto darkening lenses help provide a much more comfortable viewing experience when you are outdoors. The lenses darken gradually as it is exposed to UV, for me the best way to describe it is as if someone just turned the brightness down on the sunlight. The change is so subtle that many people don't even realize that their glasses have gotten dark, but to someone else looking at you, they are dark. (Check out my Gilbert's with Transition lenses below)
That being said, Transitions can provide you with some great benefits, let's take a look at some.
Glare Reduction – This was the whole reason why Transitions sounded interesting in the first place right? The sun is just too bright and Transition lenses help provide you with a more comfortable viewing experience by reducing the glare shining from the sun. This, in turn, will help reduce any eye strain you may experience from the harsh glare.
UV Protection – Having Transition lenses are also beneficial by acting as sunblock for your eyes by filtering out 100% of UV-A as well as UV-B.
Blue Light Protection – One of the lesser-known benefits of Transition lenses is that it also helps filter out harmful blue light. This is a great added benefit for anyone who spends the majority of their day working in front of a computer or tablet. Having the blue light filter could help reduce any eye strain you may experience from prolonged exposure to these devices.
Not Carrying Multiple Pairs – This one was an important one for me. It can be inconvenient to carry around multiple pairs of glasses at times, so having one pair that I can use indoors while still having protection from the sun outdoors is fantastic.
Saves Money – If you are opting to go with Transition lenses instead of prescription sunglasses then you would be saving some money because you wouldn't have to pay for an additional pair, just a lens upgrade. Although I generally recommend still having prescription sunglasses as Transition lenses are not dark enough for driving, to me anyway.
Whether or not you would benefit from Transition lenses ultimately depends on your occupational and or lifestyle. If you work or spend time outdoors, having Transition lenses would help you from having to switch back and forth between regular glasses and sunglasses.
Cons of having Transition lenses
There aren't too many disadvantages of having Transition lenses, but you should definitely know about them. Some of these situations bother some people more than others.
Not Dark Enough – One of the number one complaints whenever someone uses Transition lenses is the fact that they never seem like they are dark enough. The technology for Transition lenses has definitely gotten better over the years and they are almost as dark as prescription sunglasses.
Doesn't Change In The Car – One of the main reasons why people want dark glasses is to be able to wear them while they are driving. Unfortunately, since the interior of old cars got destroyed by UV, modern cars have windshields that filter out UV light and therefore your Transition lenses will not be very dark while you are driving. This is the reason why I always have a pair of prescription sunglasses to use for driving.
Outdoor Photos – One of the other major issues with Transition lenses is the fact that whenever you want to take a photo and you are outdoors, your lenses are always dark. Therefore it is always good to have a backup pair of glasses without Transition lenses that you can use for outdoor photos.
They Don't Change Fast Enough – This was never an issue for me personally, but this was one of the common complaints I would hear from people I had talked to that used Transition lenses. They do take a minute or so to lighten up from dark once you are back indoors, and some people found that to be annoying.
Final Thoughts
The Transition lenses that Warby Parker offers are the same Transitions that most people are familiar with today and they come with the same pros and cons. Transitions could provide you with a more comfortable viewing experience by cutting down the glare from the sun. So if you are someone who spends some of your time outdoors, Transitions could benefit you.
I honestly love my Transition lenses, I have them on a few pairs but I always make sure to have a pair of glasses that I could use that do not have Transition lenses. I found that if you are at an outdoor event and you are trying to take pictures, your glasses will always be dark if you have Transition lenses. So It is good to have a pair that doesn't have Transition lenses for situations like these.
Do you use Transition lenses? How do you like them? Let me know in the comments below!
If you enjoyed the article, don't forget you can support us by sharing the article through your favorite social media channels using the buttons below. Thank you for all your support.
---
RELATED POST FROM EYE HEALTH HQ