Bear in mind that some of the links on this website are affiliate links. If you go through them to make a purchase we will earn a commission at no extra cost to you but helps support our website. Keep in mind that we link these companies and their products because of their quality and not because of the commission we receive from your purchases.
Having fogged-up glasses is not only frustrating to deal with but can be quite dangerous especially if the glasses or goggles you are using are being used for safety purposes. If your glasses fog up when you're driving or operating other dangerous equipment it could cause serious injury.
If you have to take your glasses off to remove the fog, you could be putting yourself in the way of the hazards you are trying to protect your eyes from.
With the recent COVID-19 pandemic, we folks that wear glasses have had to deal with more fog than usual due to wearing the recommended face mask. Which somehow conveniently directs all the air I am breathing out onto my glasses, causing fog.
Best Anti-Fog For Glasses
So what are your options when it comes to keeping fog off of your glasses? Luckily there are plenty of products on the market that range from sprays, pastes, and drops that can be applied directly onto the lenses on your glasses to help reduce or eliminate fog buildup on the lenses. Here are some of our favorite and best anti-fog for glasses.
| Name | Manufactuer | Type | Rating (As of 8/16/2020) | Price (Vary by quantity or size) |
| --- | --- | --- | --- | --- |
| Anti-Fog Treatment | Optix55 | Spray | 4.3/5 | $15-$38 |
| Super Strength Anti-Fog Spray | SafetyGlassesUSA | Spray | 4.5/5 | $7.99 |
| Anti-Fog Spray | Splaqua | Spray | 3.3/5 | $8-$25 |
| DEFOG it | Clarity | Drops | 3.9/5 | $15.99 - $43.55 |
| Quick Spit Anti-Fog | Just Add Water | Spray | 4/5 | $6.92 - $36.95 |
| Cat Crap Anti-Fog | EK EKcessories | Paste | 3.8/5 | $9.36 |
| Z Clear Lens Cleaner & Anti-Fog | Z Clear | Paste | 3.5/5 | $15.99 |
| Fog Gone | Optix 55 | Spray | 3.8/5 | $10.55 - $20.55 |
| Scope Dope Anti-Fog | EK Ekcessories | Paste | 3.8/5 | $9.59 |
| Sea Drops Anti-Fog | Gear Aid | Drops | 3.9/5 | $6.16 |
---
Clean My Lens Kit with Anti-Fog by Warby Parker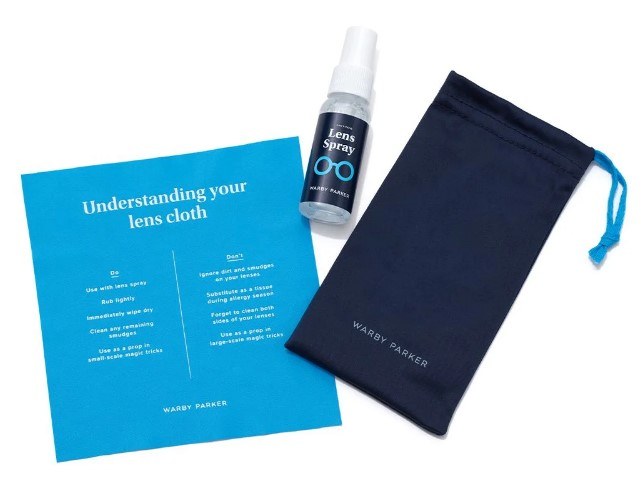 You all have heard about Warby Parker, right? They are that private eyewear retailer that revolutionized the online eyewear industry by innovating the Home Try-On program which allowed people who try on 5 eyeglass frames from the comfort of their own home for free.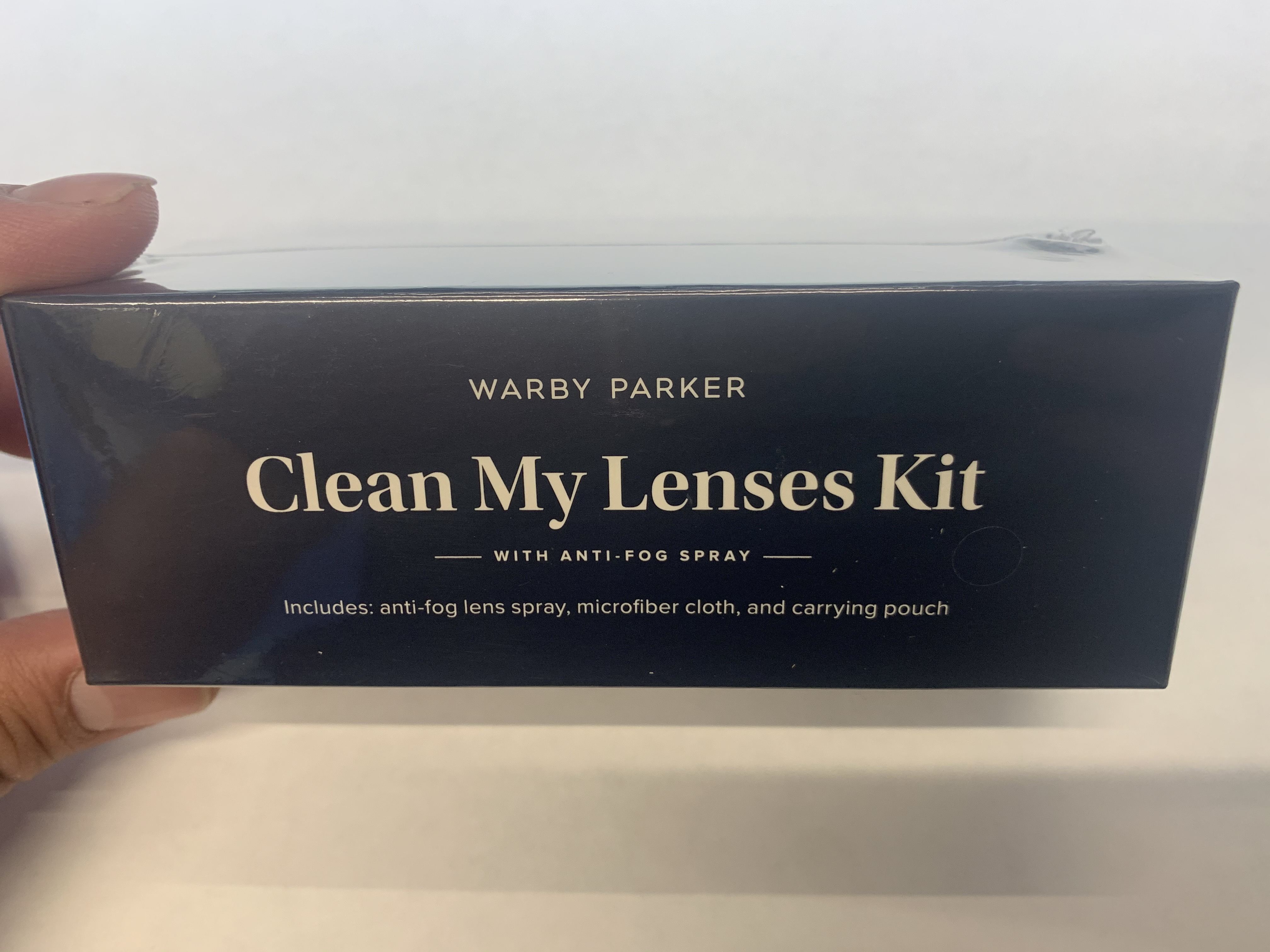 Last week while browsing on Warby Parker's website I noticed that they quietly switched the eyeglass cleaning kit on their website to one that included anti-fog, and since fog has been a hot topic as of late I had to give this new product a try.
There isn't much information available on this cleaner, but after reaching out to Warby Parker's customer service I was able to confirm that this lens cleaner with anti-fog is safe for and effective when used on lenses with anti-reflective coating.
This cleans my lens kit comes with a bit more than most other anti-fogs and comes included with the lens spray, a microfiber cleaning cloth, and a microfiber eyeglass pouch.
This product is fairly new so there aren't many other opinions about it out there but it worked pretty well for us and is very easy to use. We applied this anti-fog by using the spray just like you would any other eyeglass lens cleaner by just spraying it on both surfaces of the lenses and drying and polishing the lenses with a microfiber cloth.
---
Anti-Fog for Anti Reflective Lenses by Optix55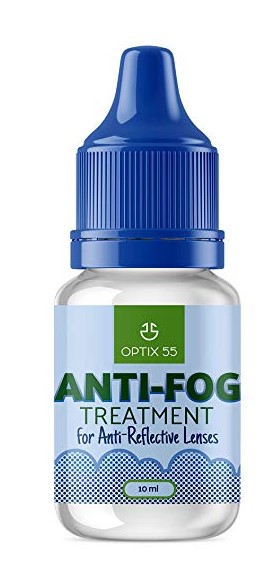 This anti-fog treatment is specially designed for those of you that have anti-reflective coatings on your glasses. Manufactured in the United States, this patented product can help keep fog off of not only your glasses but can be used on various types of goggles, and snorkel masks. and even ski masks. This product is backed by a 30-day guarantee so you can see for yourself how effective the product is.
Most users have had great success with this anti-fog treatment with some even using the product on their camera lenses to help with fog during rainy and stormy weather. Another user mentioned that they used this product on the camera of their Ring doorbell which had a tendency to fog up and it worked great. Other users mentioned it worked great on their glasses and goggles for all of those winter activities.
The best thing is that this product is extremely easy to use. All you need to do is ensure that the surface you want to keep fog off of is clean, use 1-2 drops, spread evenly with a soft cloth, let air dry for 15-20 seconds, and gently wipe the surface clean.
---
Super Strength Anti-Fog Spray by SafetyGlassesUSA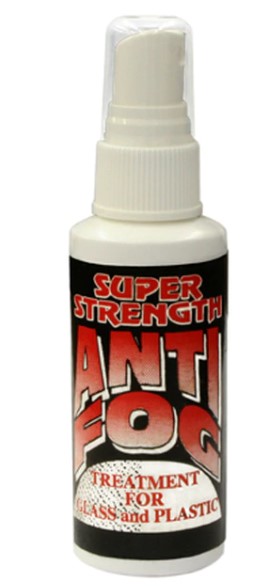 This anti-fog spray is a concentrated formula that is up to 3 times stronger than other anti-fog sprays and will keep your glasses free of fog for longer periods of time.
Even though this anti-fog was more than likely designed for safety glasses it has many applications and you could use it on sunglasses, face shields, reading glasses, sports goggles, motorcycle helmets, mirrors, fridge windows, car windows, and much more. The overall feedback for this anti-fog spray from customers has been pretty much all positive and some users mentioned the effectiveness lasting up to 2 days. I did reach out to SafetyGlassesUSA to see if the is spray works on anti-reflective coatings and they said it does work on some but there have been some reports of it not working on some anti-reflective coatings.
This anti-fog spray isn't instant like some other sprays but the process is still fairly simple and fairly short. Start by giving the bottle a good shake to make sure everything is mixed together well. Spray a light coating on both sides of your lenses and let set for 60-90 seconds or until dry. After it's dry wipe and polish it with a microfiber cloth.
---
Anti-Fog Spray by Splaqua
This is currently one of the best-rated anti-fog sprays available on the market today and helps eliminates fog on your glasses, goggles, or facemask. This spray also doubles as a lens cleaner and will remove dirt, smudges, oils, makeup, or anything else that could be stuck to your lenses. This spray isn't only limited to glasses but also works well on mirrors or windows to reduce fog as well.
Most users have had a good experience with this anti-fog spray however many users report that if you don't let the product completely dry before wiping it off the anti-fog effects may be short-lived. This spray has been reported to be successful on motorcycle helmets, swimming goggles, prescription glasses, paintball mask, and much more.
For this spray, you are supposed to be able to just use it as a normal lens cleaner to clean your glasses. But as I mentioned above, some people did mention that to get the best anti-fog results, you should spray it on and let the product completely dry (could take a couple of hours) and then polish with a microfiber cloth.
---
Defog It by Clarity
This anti-fog is a little bit different compared to the other ones on this list. Instead of being a spray or a paste Defog It is a concentrate used as drops and it comes included with a microfiber cloth. If you are looking for something that is dependable and could give you long-lasting fog reduction this is what you need. During controlled tests, lenses that were treated with Defog It didn't fog while being held over hot steam for 60 minutes and were able to resist fogging up when being moved between hot and cold environments up to 100 times.
Many users of Defog It have had great success using it on face shields on helmets but some users did mention that it was best on a brand new face shield that hasn't gotten any contaminants such as bug splatter or skin oils. Some people found it to work really well on glasses with anti-reflective/anti-glare coatings compared to other products. Defog It is so reliable of a product that it is commonly used by the military worldwide. This concentrate is perfect for safety glasses, goggles, dive masks, prescription eyeglasses, face shields, and much more.
The drops are simple to use, you just add a few drops to your lenses and you use the provided microfiber cloth to rub the product onto your lenses.
---
Quick Spit Anti-Fog by Just Add Water

Quick Spit anti-fog spray will work on just about anything that could fog up and works great on anything that is glass or plastic. This anti-fog spray can be used for any wet or dry applications and is a natural, biodegradable, and non-toxic formula.
Some users have found success using them for eye protection they use for gardening. Other people did find success using this spray on their swim and diving goggles however many users cautioned that you should thoroughly rinse the inside of the goggles when going through the application process. Some users that failed to rinse the goggles properly before using them reported burning eyes. Most users report success in reducing or eliminating fog when used according to the instructions.
The manufacturer does not recommend it for use on prescription eyewear, more than likely due to prescription eyewear's anti-reflective coating making defoggers less effective, but users have found that it does somewhat work on prescription lenses.
The best way to apply this spray is to spray both sides of the lenses and then take your fingers and rub the product into the lenses. After that, just give your glasses a rinse and shake off the excess water and you'll be good to go.
---
Cat Crap Anti-Fog by EK EKcessories Inc.
Cat Crap has been one of the long-time anti-fog brands for many years and has a pretty good reputation for being able to keep the fog away from your glasses and much more. Cat Crap comes in a spray as well as a paste which the company claims works equally effectively, but in my personal experience they both work well but the paste lasts a bit longer compared to the spray. If you use the spray, you will need to apply it every morning, keep in mind that if you clean your lenses with a different spray later on in the day you may reduce the effectiveness of the fog reduction.
Users have found success using this product on their rifle scopes and work well on a number of different types of goggles including swimming, snow sports, and safety goggles. Others found succeeding using it for cold weather motorcycle riding to help keep fog off of their face shields.
Apply Cat Crap is easy, simply take the balm and rub it onto your lenses and polish off with a microfiber cloth.
---
Anti-Fog for Glasses and Goggles by Z Clear Wax
The anti-fog wax that is made by Z Clear Wax is a compact lens cleaner and anti-fog that is safe for all types of lenses. It comes in a paste form and all you need to do is rub a little bit onto your lenses until it completely dries and polishes off with a microfiber or cotton cloth. The paste will need to be applied daily or if you use any other lens cleaner on your lenses the paste will have to be reapplied. This paste is designed to work on prescription lenses but keep in mind that it is a bit less effective on lenses with anti-reflective coating.
Customers have stated that you really only need to use a little bit of the product for it to be the most effective. If you happen to put too much you can use some warm water and dish soap to remove the paste and reapply. Users have had success using it with a wide variety of products including sunglasses, prescription glasses, swimming goggles, motorcycle helmets, and much more.
---
Fog Gone by Optix 55
This anti-fog spray by Optix 55 is one of the best if you need something that you can use fast on the go or even at home. Unlike other anti-fog products on the market, Fog Gone does not require you to wait for the product to dry before wiping it off. All you need to do is spray a small amount on, rub the area evenly with your fingers, and polish it off with a microfiber cloth.
Reviews for Fog Gone are mostly positive with most users finding that it works great on their goggles, facemask, eyeglasses, and even on the windshield of their car. Some users in Texas and South Carolina mentioned it did exceptionally well in the humid climates that they are in. There are a few users that mentioned that it didn't work on their car or glasses but did not mention the conditions that they were in.
---
Scope Dope Anti-Fog by EK Ekcessories
Here is another anti-fog made by EK Ekcessories that is designed to clean your lenses as well as reduce the amount of fog that they would get in quick temperature changes. The ingredients in Scope Dope are mild and is safe for all lenses and coatings including rifle scope lenses. Simply apply a bit of the paste on your fingers and rub it onto the lenses and use a microfiber cloth to polish it off to finish.
Most users have mentioned that the product does help with fogging on glasses, sports glasses, and rifle scopes. Some users were long-time users of EK EKcessories' Cat Crap and felt like this was a more improved version. This paste is perfect for use on rifle scopes, binoculars, helmet masks, safety goggles, eyewear, and much more.
---
Sea Drops Anti-Fog by Gear Aid
Sea Drops anti-fog and cleaner is another concentrate that is used as drops in which you apply to the lenses. The main difference between Sea Drops and many other anti-fog products is instead of polishing the product off with a cloth after it dries you simply just rinse the product off the lenses after you are done rubbing it onto the lenses.
Even though the product is designed for dive and snorkel masks Sea Drops works great on all glass and plastic surfaces and will work on eyeglasses, face masks, binoculars, and telescopes. Although the product states that it is not recommended for swim goggles many users have had success using them on their swim goggles. Other users have had success with motorcycle helmets and of course, divers has had great success with their diving masks.
---
Which Anti-Fog Product Should You Go With?
Which anti-fog product you ultimately end up going with will depend on a number of factors, but here are some things to consider when you are deciding on which product you're going to use.
Product Type – When it comes to anti-fog products, they come in a variety of different sprays, pastes/balms, or drops. Sprays have a tendency to wear off a bit quicker, but formulas are improving over time so they have gotten better. The balms and drops both generally last longer so you have to apply it less frequently.
Difficulty to Apply – How hard and how much time you will need to apply the anti-fog product should definitely be in your consideration. Sprays may need to be reapplied more frequently, but the process is generally much faster and quicker. Pastes/balms and drops may need some additional elbow grease to rub the product in or time to dry. Sometimes easier to apply might be easier to have on the go when you don't have the time, and products that need more time and elbow grease could be used at home.
How Long It Last – Who wants to have to constantly reapply the product? Of course, the longer it lasts on your glasses the less you have to reapply it the better. Keep in mind though, anti-fog products that last longer may be more difficult to apply or take more time. Maybe consider a bigger bottle option if you plan on using your anti-fog on a variety of things.
Cost – Even though anti-fog products generally are fairly inexpensive, if the product gets used up quickly and you constantly have to get new ones that could add up quite fast. See how many uses you get out of each bottle, there are some out there like the Fog Gone by Optix 55 that contains up to 800 pumps.
What You're Applying It On – Most anti-fog products can be used across multiple different applications such as swim goggles, snowboarding goggles, cameras, types of lenses, plastics, glass, etc. But you can never be too sure, you don't want to but something on your glasses that isn't compatible and potentially damages the coatings on your lenses. If you have an anti-reflective coating on your lenses ensure that the anti-fog product you are using is safe for anti-reflective coatings. At the very least see if someone else has already been the guinea pig and tried it on their glasses and has reported it safe.
What Causes Fogging On Glasses?
Fogging can be annoying and a hazard, but what causes your glasses to fog up?
Fogging happens when the water that is in the air (humidity) condenses onto the lenses of your glasses and essentially creates tons of tiny droplets of water that are stuck onto your lenses.
Fog happens when there is a big temperature difference between the temperature of the air and the temperature of the surface of your glasses. So when that warm and humid air from your breath or coming off the sweat on your face touches the cold surface of the lens the vapor turns into liquid form creating a bunch of tiny little droplets of water on your lens, fog.
How To Keep Glasses From Fogging
Having your glasses get foggy on you can be one of the most frustrating things to deal with and that is especially true if you live in a humid or cold climate. But you don't need to live in a humid or cold climate for your glasses to fog up, certain recreational activities or occupations can put you in environments where there is a drastic change in temperatures that can fog up your glasses as well. So how do you keep your glasses from fogging? Take a look at the tips below.
Anti Fog Coatings – There are a number of manufacturers such as Opticote that created a hard coating that is applied to your lenses by the lab and it helps eliminate the moisture that would cause the fogging. This coating is applied onto the lenses before the lenses are cut to fit your specific frames and can be applied to any plastic, polycarbonate, trivex, and high-index materials. Check your optical retailer for pricing and availability.
Pick Your Outfit Carefully – You may not realize it but your outfit could potentially cause you to fog up your glasses, especially if you are causing air to be trapped around your glasses from turtle necks, hoodies, or scarfs. If you must use a scarf, make sure to get one that still lets some air pass through.
Reposition Your Eyewear – Simply positioning your glasses slightly away from your face could create enough airflow to decrease or eliminate the amount of fog that you would typically get if you had your glasses closer to your face.
Put a dab of Shaving Cream – This has always been one of those life hacks you could apply shaving cream to any surface that fogs up and it will help reduce the fog and help you be able to see. You can use shaving cream on your bathroom mirrors, car windshields, face masks, and even your eyewear.
Use a Bar of Soap – Applying bar soap onto your lenses and polishing it off will help reduce the amount of fog on your lenses and your glasses will take longer to fog.

Don't Use Them – I know you need them to see, but if you have alternate options such as contact lenses, those might be better for you to use while you are doing activities where your glasses could potentially get fogged up. Obviously, if you do not wear contacts then this isn't an option for you.
Use a Headband – Using a band for your head to help reduce the amount of sweat that eventually forms on your face during physical activity and as a result, could reduce the amount of fog that would be building up on your lenses during those intense workouts. You don't need to be working out to be using a headband if you are in the kitchen cooking and your glasses get foggy, a headband could help here too.
Use Anti-Fog Products – As shown above, there are plenty of anti-fog products available on the market and these products will help your lenses reduce fog by locking the little water droplets that would cause fog from building up on your lenses.
Does Shaving Cream Work As Anti-Fog?
Shaving cream has always been my go-to when I want to keep the mirrors in my bathroom fog-free, but how well does it work on glasses?
It does work, but it's not my favorite.
There are different ways you will find all over the internet on how to apply shaving cream onto your glasses to help with fog. But the way that I found that worked the best was applying a thin layer of shaving cream to both sides of your lenses and letting it dry before polishing it off.
Shaving cream works by creating a thin transparent layer on your glasses that keeps water from beading up and creating fog.
My problem with it is all the white stuff your rubbing off the lenses gets stuck in between the frame and the lenses and creates another cleaning issue to deal with.
Also, I wouldn't use shaving cream if your lenses have an anti-reflective coating, you could damage the coating.
Does Baby Shampoo Work As Anti-Fog?
Baby shampoo has always been a good way to prevent fog from building up on your lenses.
There are two ways you could use baby shampoo as anti-fog. You could just use a few drops of baby shampoo and rub it directly onto your lenses and wipe it off without rinsing it.
Or you could put some baby shampoo in a spray bottle and dilute it with some water and use that as a cleaner for your glasses. The best thing about using baby shampoo and that it is already designed to be not irritating for your eyes.
Does Toothpaste Work As Anti-Fog?
I keep seeing recommendations to use toothpaste as an anti-fog remedy for glasses and I personally do not recommend this.
While toothpaste might be a good solution for use on your scuba mask or swim goggles to help with fog but toothpaste is far too abrasive for glasses. You're going to end up creating tiny little scratches all over your lenses, I would skip this one.
Don't Even Think About Saliva
Using your own spit is popular among scuba divers and swimmers as an anti-fog treatment but this is something I strongly don't recommend. Not only is it terribly unhygienic we are currently in the middle of a global pandemic for a respiratory illness and eyes are a possible transmission path for the coronavirus.
Even if we weren't in the middle of a global pandemic, there are tons of bacteria in your mouth and all of that bacteria should be nowhere near your eyes.
How Does Anti-Fog Spray Work?
The main purpose of anti-fog sprays is for them to prevent the condensation of all the little tiny water droplets on your lenses that become what is known as fog.
Nearly all anti-fog sprays and treatments work in one of two ways.
Surfactant – Also known as Surface Active Agents and works by lowering the surface tension of the water. This essentially prevents the fog from being able to condensate and stick to your lenses. Instead of sticking together since the surface tension is lowered, you get a nice thin layer of water that you should have no problem seeing through. Shaving cream, baby shampoo, and saliva all fall under this category of anti-fog.
Hydrophilic Surface – The other way that anti-fog sprays and treatments work is by creating a hydrophilic surface. Hydrophilic surfaces absorb water and spread the water in a thin even layer on top of the surface just like how surfactants.
Here is a super awesome video I found that gives a great quick explanation of how anti-fog spray works as well as what causes fog in the first place.
Final Thoughts
If you have glasses and frequently encounter fog you should try to resolve it as quickly as you can, fog can obscure your vision and create a hazardous situation. That is especially true for those that are dealing with fog when they are on a motorcycle or have fog on glasses that they are wearing for safety purposes.
Thank you all for stopping by Eye Health HQ, if you enjoyed the article don't forget to share it through your favorite social media channels. For more eye care tips, products, and deals, check out the other resources on this website to help you with all your eye care needs. Follow our social media channels to stay up to date with the newest articles.