Bear in mind that some of the links on this website are affiliate links. If you go through them to make a purchase we will earn a commission at no extra cost to you but helps support our website. Keep in mind that we link these companies and their products because of their quality and not because of the commission we receive from your purchases.
Wearing safety glasses while you are shooting whether it is at the shooting range, or out hunting is extremely important. Often an overlooked safety precaution, safety glasses can protect your eyes from things such as gunpowder blowback, ricochets, or hot cartridges that are being ejected from the firearm. It is very common to be hit in the face with a shell, even if you are not the one that is shooting.
This is why safety glasses should always be worn. But you don't have to wear those ugly ones you can get at your local Walmart. Here are some of the best Oakley shooting safety glasses available on the market.
Best Oakley Shooting Safety Glasses
I am sure you have heard of Oakley, it is a California-based company that designs, develops, and manufactures a wide range of sports gear including sunglasses, sports visors, snow goggles, watches, optical frames, and much more, also happens to design and manufacturers safety glasses that are shooting approved. Oakley shooting safety glasses are perfect for individuals who need a quality pair of shooting glasses, but still, want to look stylish at the same time. Below you will find some of the best Oakley shooting safety glasses available on the market today.
---
Oakley SI Ballistic Shocktube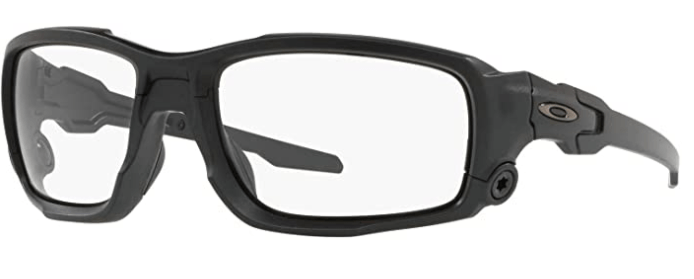 These are definitely one of our favorite pairs of Oakley Ballistic glasses and is great for someone looking for maximum impact protection. This frame is designed with an upper jaw piece as well as a lower jaw piece which allows you to have the best protection from anything that could be coming.
The thin temple arms make it easy for you to utilize various types of communication devices on your ears, or if you are someone that likes to use over-the-ear protection for the shooting range, you are able to do so. The nosepiece utilizes the no-slip Unobtanium which offers you a grip when you are sweating. The lenses offer you full protection from UV-A, UV-B, UV-C, and Blue light up to 400nm. The frame themselves is made out of Oakley's O-Matter which is chemical and impact-resistant and will hold up to the harshest treatment.
What we liked:
One of our favorite features of this frame is the super easy way for you to be able to switch out the lenses utilizing the included hex key. This allows you to switch the lenses between clear and dark lenses, or if your lenses get damaged you are able to easily swap them out without needing to change the entire frame. The frame is also designed with a three-point fit which allows the frame to keep the glasses in place when you are moving around.
Compliance:
Meets or exceeds ANSI Z87.1-2003/2010
Meets or exceeds MIL PRF 32432
---
Oakley SI Ballistic Crosshair 2.0
This frame takes a vintage aviator design and gave it the Oakley attitude. This frame puts a classic style into a durable ultra-lightweight frame made from C-5 alloy with a unique lens shape, and all-day comfort provided by sure-grip Unobtanium. This frame is designed with comfort as well as performance in mind using a three-point fit that will hold the lenses in precise optical alignment.
This frame is designed to be able to be worn with helmets, and a thin temple design makes it compatible with over-ear communication devices.
What we liked:
We liked that this frame is ultra-lightweight, but designed with three points of contact to help hold the frame in place and not mess up your optical alignment. This is even more important if you put a prescription lens into these frames. We also liked that this frame gives you that classic aviator look, but has just enough curvature on the front to help protect your eyes from the elements. If you like the all-black look, check the Amazon link below, Safety Glasses USA carries the gunmetal ones.
Compliance:
Meets or exceeds ANSI Z80.3-2008
High Definition Optics that meet optical standards contained in Clause 5.1.4. of ANSI Z87.1-2010
Meets High Mass Impact Test contained in Clause 6.2.2 of ANSI Z87.1-2010
Meets or exceeds the ballistic fragmentation impact standards contained in Clause 4.3.3.3.1 of MIL-PRF-31013
  Check Price on SafetyGlassesUSA
---
Oakley SI Ballistic Industrial Det Cord
This frame is the ideal and perfect blend of a pair of safety glasses that gives you ballistic protection but with the Oakley flair. This frame is designed with a rubberized Unobtanium nosepiece to be balanced and to stay on for individuals that are active. These lenses come with a built-in anti-fog coating to help you see as clearly as possible. These frames can be purchased with clear lenses, grey lenses, or prescription lenses.
The thin temple design of this frame makes it compatible with over-ear communication devices.
What we liked:
What isn't there to like about these frames? This frame takes the well-known Oakley look and created a heavy-duty military-compliant safety frame. This frame is curved in the front and has thick temples to protect your eyes from the elements. We especially liked this frame due to it being really close in resemblance to Oakley's Gascan frames. This frame is also available with a variety of different lens colors depending on your preference.
Compliance:
Fully compliant with ballistic standards of MIL-PRF-32432
Fully compliant with optical standards of ANSI Z87.1-2015
  Check Price on SafetyGlassesUSA
---
Oakley SI Industrial Ballistic M Frame 2.0
This frame was introduced a little over 10 years ago and was designed more for the field than for its looks. This frame is an upgrade from the original M frame providing a thicker and more rugged frame built to be stronger but also have a bit of style as well. Using Unobtanium at all contact points, this frame stays secured to your head even in wet conditions.
The lenses on these frames are made of pure Plutonite, which is Oakley's high-grade polycarbonate material. This lens material also blocks out 100% of all UV-a, UV-B, and UV-C, as well as harmful blue light.
What we liked:
What we liked about this frame was the fact that it was designed as a rugged frame, but has a nice semi-rimless wrapped-around lens design that gives you protection all the way around without any clunky added side shields. Another cool feature of this frame is the ability for you to interchange the lenses without the need for any tools. If you are looking for something with extreme durability, these are the frames for you.
Compliance:
Fully compliant with all ANSI Z87.1-2010 protection requirements
Fully compliant with MIL-PRF-31013 Vo Ballistics
  Check Price on SafetyGlassesUSA
---
Oakley SI Ballistic M Frame 3.0
This frame was designed to replace the 2.0 version that was introduced way back in 2006. This frame still holds all the best features from the 2.0 version but adds some major improvements for military and tactical personnel. The lens is designed to be closer to your face and coated with an advanced anti-fog coating to combat the problem of reduced airflow. The temples were also redesigned to be thinner to better accommodate over-the-ear communication devices.
The lenses on these frames are made of pure Plutonite, which is essentially a high-grade polycarbonate material. This Plutonite material gives you protection from harmful UV-A, UV-B, and UV-C.
What we liked:
Well, this frame is essentially a better version of the 2.0 right above it, so there is much to like about this frame. This frame gives you the same lightweight semi-rimless wrapped-around design with included side protection. The major difference of this frame is the thinning out of the temples which makes it easier to use under helmets. To aid in the thinning-out process the Unobtanium sleeves were removed, but to avoid the glasses falling off without the sleeves Oakley designed the temples with curves to assist in retaining it on your head.
Compliance:
Meets or exceeds the ballistic fragmentation impact standards of MIL-PRF-31013
Meets or exceeds the high mass & high-velocity impact requirements of ANSI Z87.1-2010
  Check Price on SafetyGlassesUSA
---
Oakley SI Industrial Tombstone Spoil
This is a frame that was designed by Oakley specifically for competitive shooting. Oakley worked with top marksmen in the industry to figure out what were the most problematic issues that they had when they used conventional shooting eyewear. The focus for the design of these glasses was on three specific areas: Field of Vision, Contrast/Clarity, and Lens Interchangeability. This frame gives you all three of those, providing you with 120 degrees of vision and a quick release for quick lens changes without leaving fingerprints on the lenses.
The lenses are made with Oakley's high-grade polycarbonate, Plutonite which gives you sharp vision at every angle. These lenses block out 100% of all UV-A, and UV-B, as well as harmful blue light.
The thin temple design makes this frame compatible with any over the ear communication devices you may be using.
What we liked:
This frame was designed by Oakley working with top marksmen to create the perfect pair of competitive shooting glasses and it truly shows in the design. We loved that this frame was designed to maximize on the clarity and wearing these frames truly gave you a wide field of vision that you would want for shooting. The wide field of vision combined with the rimless design gives you the sensation as if you aren't wearing any glasses at all.
Compliance:
ANSI Z87.1-2010 certified.
  Check Price on SafetyGlassesUSA
---
How Military and ANSI standards are different
There are generally two standards of eye protection that you will find in shooting glasses. One is provided by the American National Standards Institute (ANSI) and the other is a military standard. While most of the glasses that meet the military standard also meet ANSI standards, glasses that are ANSI standard oftentimes do not meet military standards. Here are the differences below:
ANSI Standard – This standard is oftentimes referred to as Z87, this test is done using a .25-inch steel ball traveling at 150 fps. ANSI standard is designed mainly for ricochet situations and will not come close to stopping anything traveling directly at it at high speeds. If the product is marked with a Z87+ then that means it has passed all the high-impact test requirements, and glasses that are marked Z87 without the plus sign mean these are products that are not rated for high impact.
Military Standard – This standard refers to MIL-PRF-31013, which is done using a .15-inch steel ball traveling at 650fps. These lenses go through much harder tests to be approved for the military standard. These lenses are designed to take much more impact, but still would not be able to take any head-on impact at high speeds. In addition to the impact safety requirements, military standard lenses must offer protection from harmful UV rays, be a good fit, as well as resistant to chemical wear, and protection from a variety of elements.
EN166 Standard – One of the lesser-known standards is the EN166 standard. This standard is usually for products that are in the European market. If you purchase a pair of safety glasses that were manufactured in Europe you might find it in this standard. The EN166 high-impact standard test uses a 0.86-gram 6mm steel ball going at the velocity of 190 m/s, which translates to about 623 fps. This means anything with the high-impact EN166 standard rating is more than adequate protection. The "A" certification standard will give you the best protection for Europe standards.
When you are in the market looking for safety glasses for shooting you should pick quality glasses that at least meet one of the two standards, remember accidents happen when you least expect it so at least with eye protection on you have one less thing to worry about. Check out this video below which explains Impact testing for Military and ANSI standards as well as no protection.
Should you use polarized sunglasses for shooting?
This is a question that often comes up when it comes to using sunglasses for shooting. This question ultimately depends on a number of factors such as where you are shooting, what equipment are you using, and what are the conditions. Many people ask if polarized lenses affect red dot sights, and in our experience they generally don't. The issues you will have will be if you are using any other electronic devices such as cameras, or GPS' that have screens.
Also, it depends on whether or not you are shooting indoors or outdoors. Polarized sunglasses would only be beneficial if you were shooting outdoors in bright sunlight, overcast conditions, or anywhere with reflective surfaces such as water, snow, concrete, or sand. If you are going to be indoors, or in low light conditions, it is best to use clear glasses as polarized sunglasses would make it difficult to see.
Why you should always use quality shooting glasses
Sure those inexpensive shooting safety glasses that you can get in a 5 pack at your local retailer might make you feel like your eyes are being protected, but why choose to protect the only two eyes you have with cheap safety glasses? High-quality safety glasses are designed with a couple of factors in mind, and all of these factors come together to provide you with the most effective protection for your eyes. These factors include the impact resistance of the lenses, how well it protects you from the elements, as well as the fit of the glasses. 
Impact Resistance – This is usually considered the most important factor in your safety shooting glasses. This is the ability for the glasses to be able to stop whatever it is that is heading towards your eyes. At the very least, high-quality shooting glasses should be able to limit the injury that you might have had if you weren't wearing safety glasses.
Protection from the Elements – This is another important factor for a good quality pair of shooting glasses. A good pair of shooting glasses should be able to protect your eyes from the harmful Ultraviolet (UV) rays from the sun, any dust or dirt particles that could fly into your eyes, as well as any liquids that may splash on you.
Fit – This may not be talked about that much, but the fit of your shooting glasses is extremely important. The protection from your shooting glasses may be compromised just from the gun recoil alone. If you are hunting or doing competition shooting you may have to jog, jump, sprint, roll, crawl, climb, or any other high-speed movement, and a good pair of quality shooting glasses should not be moving when you are doing any of those things. Shooting glasses should never be too loose or too tight, which could cause the glasses to fall off, or cause discomfort if too tight.
Remember, most of the time when shooting accidents occur often times these projectiles that are flying at your face are going at velocities much higher than what you would be able to see, which means you can not count on your reflexes to protect you so the job lies with your shooting glasses.
What lens color should you use for shooting
When you are picking your shooting glasses, you might be presented with a wide range of lens colors to choose from. Most of the time this is generally your personal preference, but certain colors can help reduce glare, provide better clarity in various light conditions, as well as help you pick up your targets easier by providing contrast.
Let's take a look at various different options you may be presented with.
Clear – This is generally the standard option for most shooting glasses. Many people prefer clear lenses as it does not create an aberration, or change colors you are seeing. Clear lenses are the best option when you are shooting in low-light situations. 
Yellow/Orange – Yellow and Orange lenses generally block out blue light and could diffuse haze on an overcast day. Yellow and Orange also bring out the orange color of targets and help give you better depth perception. These colors generally help on the trap and skeet ranges.
Amber – Amber lenses are extremely popular, they also block out blue light and work great in low-light conditions such as overcast days. The amber creates a high-definition contrast between colors, which would help you pick out your targets easier even on those gloomy days.
Blue/Purple – If you are shooting against trees or anything else that is green blue and purple lenses are fantastic for improving contrast against trees, bushes, or grass keeping your eyes focused on the target.
Gray – This is your traditional color of sunglass lenses. Gray helps reduce the amount of light that you are seeing, which creates a more balanced color tone. This color is generally ideal for bright conditions to help improve contrast and depth.
Brown – Brown lenses help bring out the contrast of the targets and work well in bright conditions to help reduce the strain on your eyes. Brown lenses are popular among hunters to help reduce eye strain and keep them alert.
Every shooter will have their own preferred color of lenses that they are the most comfortable wearing. Every person is different, and one color that might work for your friend might not work for you. it is best to try it out yourself to see how well it works out depending on where you are shooting. Always keep in mind what kind of lighting and landscape you are going to be shooting in and try to match the lens color up with the best one for your specific situation.
Final Thoughts
Remember accidents happen when you least expect it. It is better to be ahead of the situation by having your eyes protected with high-quality shooting safety glasses. Picking high-quality shooting safety glasses is not a matter of personal preference unless you are considering their style or lens color. The reason why you are looking into glasses to wear while you are shooting is to be able to protect your eyes in the first place, therefore picking out a pair that will do a good job at protecting your eyes from the dangers of shooting should be a priority.
What kind of shooting glasses do you currently wear? How do you like them? let us know below! if you have any questions or comments, don't hesitate to leave them below, and we will get back to you as soon as we can.
---
RELATED POST FROM EYE HEALTH HQ