Bear in mind that some of the links on this website are affiliate links. If you go through them to make a purchase we will earn a commission at no extra cost to you but helps support our website. Keep in mind that we link these companies and their products because of their quality and not because of the commission we receive from your purchases.
This post was most recently updated on May 26th, 2020
Working in the optical industry for the last 10 years I have a first-row seat watching the shift of the industry go from brick and mortar optical offices and retail locations to a boom in online optical retailers. Many of these retailers offer competitive prices not only in prescription eyeglasses but many times for contact lenses as well.
Some companies have even become hybrid companies, having walk-in locations that people can come in and try on glasses and talk to opticians. As well as having an online presence reaching out further than the limits of their walk-in locations.
One of these companies, Warby Parker. This company has been setting social media on fire lately with their glasses. Revolutionizing the online optical industry by offering a way for the customer to try on their frames before ordering them online. Say what? How do you ask? Let's dive right in and check out what they have to offer that makes them different from other online prescription eyeglass retailers.
Try on 5 Frames at Home FREE!
This is where Warby Parker sets itself from the rest of the pack. This is by far the most awesome part of the experience ordering glasses from Warby Parker. When you get to their website you have the option of taking a short quiz. The quiz takes you through various questions such as what frame fit you like, what material, what color, etc. If you want a more detailed post you can check out my Warby Parker Try at Home Review.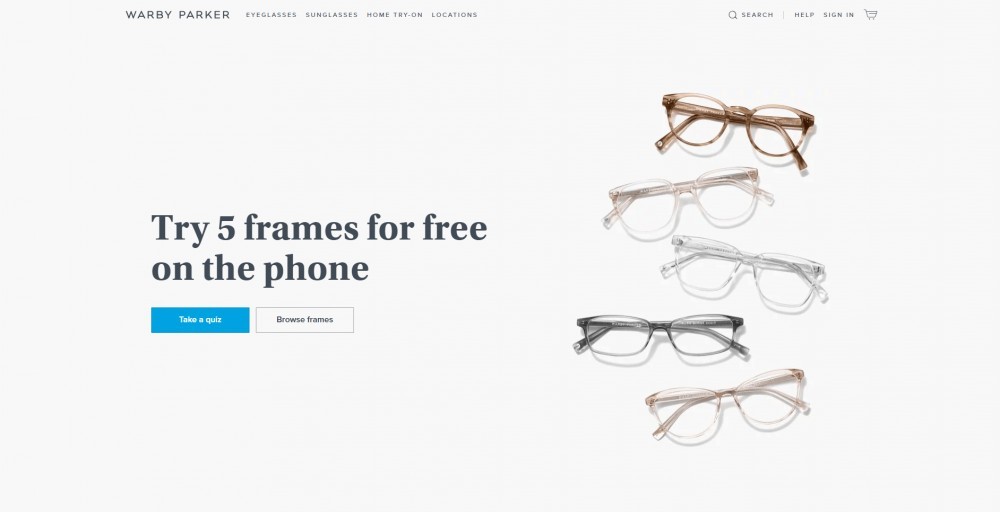 After you finish the quiz they show you a variety of frames based off of the answers that you selected on the quiz. You are then able to select 5 of these frames, and Warby Parker will package them all up in a nice box and ship them out to you. When you receive your glasses you then have 5 days to try them out at home, with your dog, in your pajamas however you choose. After the 5 days then you would send it all back. Postage is, of course, all prepaid. Amazing right?!
Prescription Glasses
Once you have your frame already picked you would be able to just go online and submit your order so they could get started on it, even before your try at home frames arrive back. The Process for ordering your glasses through their website is fairly straightforward. After you have your frame selected when you proceed you will be present with two options for lenses.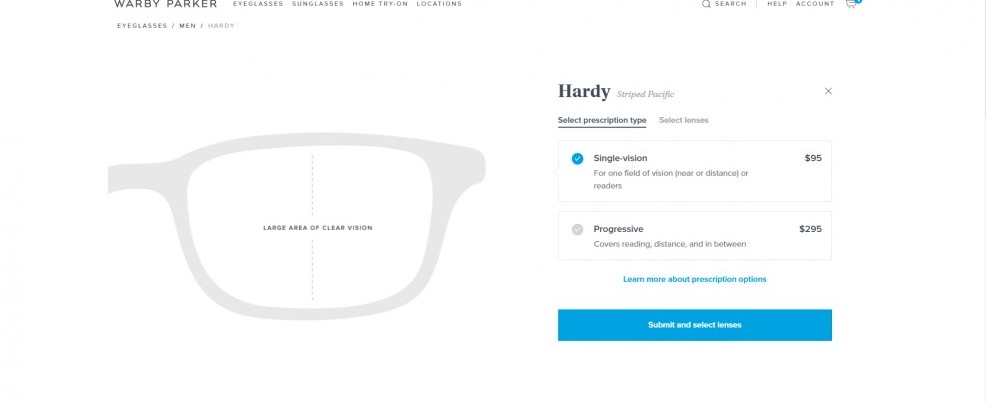 Single-Vision – Single-vision lenses are for anyone that is looking for only one field of vision. So you either need to be able to see far, OR near, but not both. These lenses run starting at $95 for the complete pair.
Progressive – Progressive lenses are for anyone that needs a prescription to see far as well as near. Sometimes progressive lenses are referred to as no-line bifocals or blended bifocals since you don't see the line of the reading area like you would in standard bifocal lenses. Progressive lenses start at $295 for the complete pair.
Notably missing on here are the standard bifocal lenses, therefore if you are a standard bifocal lens wearer there does not seem to be an option for you here on Warby Parker's website. If you do not wear a standard bifocal then we will be moving on.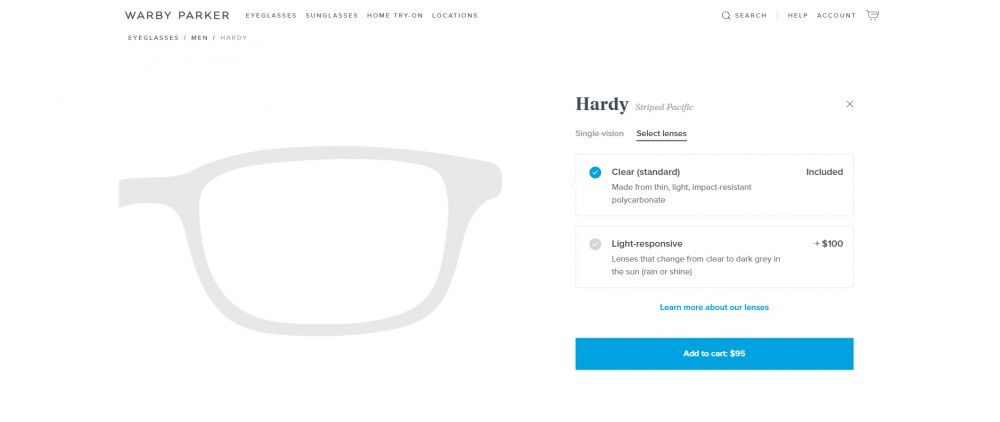 You have the option of adding light-responsive lenses to your glasses if you would like. Light-responsive lenses are normally known by their brand name Transitions. These lenses are clear when you are indoors, and they get dark when you are outside in the sun.
These lenses respond to UV rays both in direct and indirect light, the color and speed of the change of the lens will depend on a number of factors including the temperature, and UV index.
Lens Materials
The standard lenses that come with all the glasses that you get from Warby Parker are polycarbonate lenses with anti-reflective coating on it. Which are great lenses already, but if you do have a higher prescription and you would like thinner and lighter lenses, they have 1.67 hi-index for an additional $30 and 1.74 hi-index for an additional $130. Photochromic lenses that change when you are out in the sun can be added for an additional $100.
For most people, the standard polycarbonate lenses will be enough by providing a highly impact-resistant lens, scratch-resistant, and built-in UV protection.
All of Warby Parker"s lens comes with an included lens coating that is a scratch-resistant, superhydrophobic, and anti-reflective coating. This coating will help reduce the glare you get from car headlight, and street lights while driving at night time. As well as reduce the glare from fluorescent lights inside buildings.
What if You Don't Need Prescription Glasses?
Alternatively, if you don't need prescription glasses, but if you wanted some non-prescription glasses just for a fashion statement you would be able to do so as well. Warby Parker makes their non-prescription glasses in the same lens material as their prescription glasses.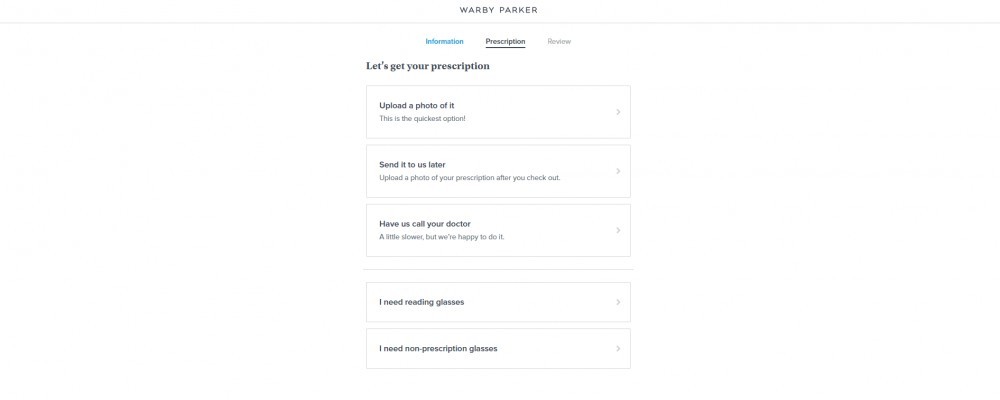 You can also order your glasses with a reading power magnification just like how the reading glasses you would find at your local store. The magnification power for the reading glasses can be selected from +0.25 up to +2.75. While I would've liked to see a bit higher range here for the magnification for reading glasses. The powers that are hard to find, and ones people are looking for the most are magnification powers of +3.00 and more, but regardless this is still an option if you wanted a quality pair of reading glasses.
Warranty & Returns
Warby Parker has a 30-day, hassle-free return or exchange policy if you are not happy with the glasses that you purchase with them. Warby Parker covers the shipping cost for your returns on every order.

Your glasses also come with a one year warranty for the scratches, so if you get any of those annoying scratches they'll replace your lenses within the first year. The frames themselves do not come with a warranty,
Check out this quick video from Warby Parker that shows how the company designs and creates their frames all in-house.
That sure is an amazing process from the design, to creating the acetate material it is a fascinating process.
Takeaway
Warby Parker is truly revolutionizing the industry by offering customers the ability to order their glasses online AND be able to try on the glasses that they would like at home. This is truly something that has never been done before, and I am interested in seeing how this is going to shake up the rest of the online optical industry. Will other online optical retailers follow in Warby Parker's footsteps and offer to try at home glasses? I guess we'll find out.
So what are you waiting for? Order your 5 FREE try on pairs of glasses from Warby Parker today and find out if their glasses are for you.
Have you tried Warby Parker glasses before? What did you think?
As always thank you all for reading, if you have any questions, comments, or concerns don't hesitate to leave a comment below and I will get back to you as soon as I can.
---
RELATED POST FROM EYE HEALTH HQ
---