Bear in mind that some of the links on this website are affiliate links. If you go through them to make a purchase we will earn a commission at no extra cost to you but helps support our website. Keep in mind that we link these companies and their products because of their quality and not because of the commission we receive from your purchases.
Last year I discovered that the largest American drug store chain, Walgreens sold prescription contact lenses. After a bit of research, I discovered that Walgreens has actually been in the contact lens business since 2011 when they acquired a company that included VisionDirect.com.
Walgreens operated VisionDirect.com all the way up until 2017 when Vision Direct got shut down and Walgreens rolled the contact lens retailer into their separate department on their own website.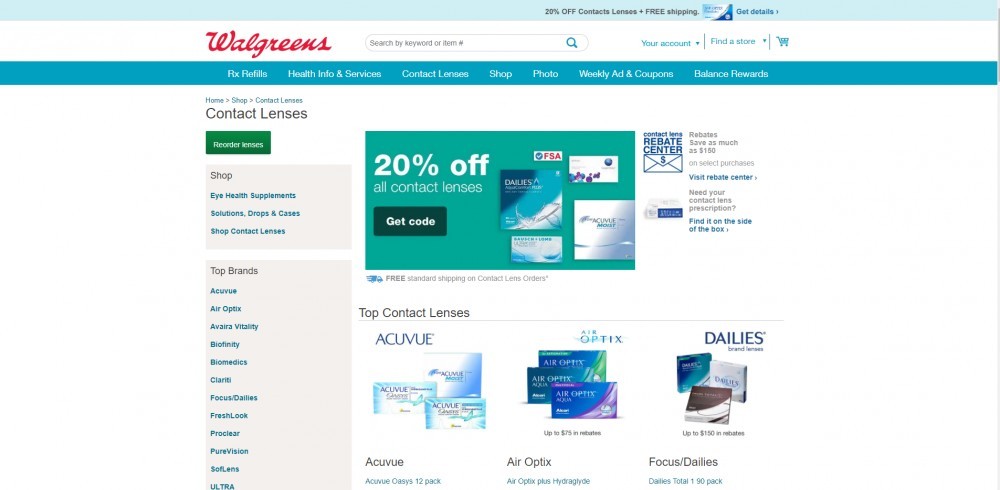 The one thing I noticed about the contact lenses from Walgreens was that the prices were generally more on the higher side when you compared it to many other online retailers. However, Walgreens from time to time will run great promotions just like the one you see in the image above, which helps bring down the price by as much as 20%. Here's the current promo code above..
Even though that deal is great, right now I have an even better promotion code that can save you an additional 5%. Using this 25% off brings the prices of the contact lenses over at Walgreens down to one of the best prices you can find online for many brands.
I have no idea how long this promotion is going to last so take advantage of it while you can.
Just with any reputable online contact lens retailer, you will need to have a current prescription to be able to order your contact lenses through Walgreens. If you already have a current prescription you can enter your prescription, and your doctor's information and Walgreens will validate your prescription with your doctor's office. If you don't have a copy of your prescription, it's no problem, just get your prescription from your boxes and Walgreens will verify it with your doctor's office.
After you have your prescription or the boxes from your prescription, you would simply find the contact lens brand that you are prescribed, enter in the prescription and measurements for the contacts as written on your prescription, as well as the doctor's information, and Walgreens will take it from there. If you include your doctor's fax information it could speed up the verification process.
Brands they carry
At Walgreens, you will find your common contact lens types such as color, daily, weekly, monthly, multifocal, toric, and vial contact lenses.
From there they carry the top brands that you will find out on the market today including Acuvue, Air Optix, Avaira, Biofinity, Biomedics, Clariti, Ultra, and much more. They carry a smaller selection when compared to other online contact lens retailers, but as I have mentioned in other reviews of websites that carry smaller selections, selection more than likely won't factor. Most doctors only fit the best brands of contact lenses and the chances you are wearing a brand that is out of the normal top brands is fairly rare.
One type of lenses that you won't find at Walgreens are Rigid Gas Permeable (RGP) lenses, but they are not the only ones that do not carry RGP lenses.
Does Walgreens accept vision insurance?
Walgreens does not accept vision insurance, and can not directly bill with your vision insurance provider. However, if you do have vision insurance and still want to purchase your contact lenses on Walgreens.com you can still do so and submit your invoice to your vision insurance provider for reimbursement.
If you have a Flexible Spending Account (FSA) or a Health Savings Account (HSA), and you have a card that is affiliated with Visa or MasterCard you would be able to utilize those health savings cards at Walgreens.com to make your prescription contact lens purchase.
Shipping Cost & Time
Walgreens currently only services the United States and does not ship orders internationally. Walgreens offers free standard shipping with all their contact lens orders without an order minimum. Standard shipping will get to your houses anywhere between 7-10 business days.
If you need your contact lenses quick you can have your contact lenses overnighted for $19.95.
Return policy & customer service
This is where Walgreens truly shines, they have one of the best refund policies available out of all online contact lens retailers out there. Walgreens does not have a time frame in which you are allowed to return contact lenses as long as the boxes are unopened, unexpired, and undamaged. The contacts must also be currently carried and sold by Walgreens.
This is completely amazing because I can't even count how many times I would order an annual supply at my local Walmart and still have contact lenses left by the time my prescription changed again. This would've given me the ability to exchange any unused and unopened boxes for my new prescription.
Price match guarantee
Walgreens, unfortunately, does not offer a price match guarantee, but that promo code I mentioned above should help with that situation.
Conclusion
Take advantage of that 20% off promo "DEAL20" because I don't know how long it is going to last. Don't forget to check Walgreen's rebates page to see if your contact lens brand is offering any rebates, you might be able to get additional money back.
Walgreen's amazing return policy combined with their amazing promo code makes them a great place to make your prescription contact lens purchase.
Thank you for stopping by Eye Health HQ, if you enjoyed the article don't forget to share it through your favorite social media channels. Your support is appreciated! If you have any questions, or comments don't hesitate to drop a comment below and I will get back to you as soon as I can.
RELATED ARTICLES FROM EYE HEALTH HQ: