Bear in mind that some of the links on this website are affiliate links. If you go through them to make a purchase we will earn a commission at no extra cost to you but helps support our website. Keep in mind that we link these companies and their products because of their quality and not because of the commission we receive from your purchases.
A few weeks ago a new online optical retailer by the name of Hip Optical popped up on my radar and so I wanted to check them out and give my thoughts to all of you. Hip Optical is another eyewear brand that is looking to disrupt the eyewear industry by providing eyewear at a more affordable cost, all while being a socially responsible company and do good for the world.
Hip Optical was founded 2018 by co-founders Michael Campbell, William Campbell, and Eric Scarfo who all saw that one fo the biggest issues with prescription eyewear was that it was way too expensive and at times poorly designed. They wanted to provide everyone with high-quality eyewear and deliver this high-quality eyewear at a groundbreaking price and a fraction of the cost of major optical retailers.
Hip Optical Review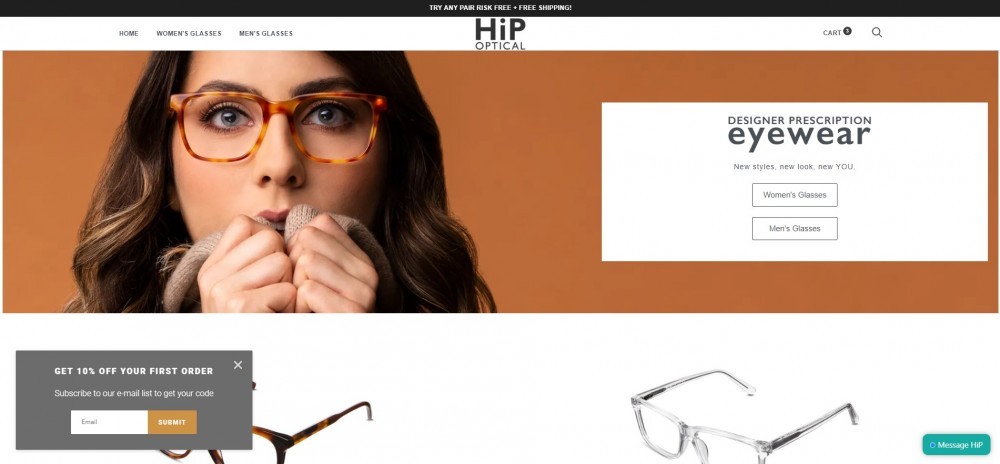 If you have been following the world of eyewear, not too long ago it was revealed that eyewear brands that are owned by Luxottica could have markups that are often nearing 1000%. Over at Hip Optical, standard acetate plastic frames start at around $77 and that comes included with single vision lenses in thin, impact-resistant, and lightweight polycarbonate, with all the standard coatings including anti-reflective, UV protection, and scratch-resistant.
Hip Optical Frames
Even though Hip Optical doesn't have the largest selection of frames, I really enjoyed browsing through their selection of frames. Their frames are very skillfully designed and have many unique color patterns, using many colors that are generally not seen on eyewear such as light blue and green hues.
There are even some frames that have a tri-color pattern or two-toned where it starts dark on the top and lighter on the bottom. All of the frames available at Hip Optical thus far is crafted from hand-polished acetate and comes with spring-loaded stainless steel hinges.
Whenever you find a frame that you might like, if you click on the frame you will be brought to a page where you will find more information on the frame such as its material, the frame size, frame fit, and any other details you may need.
If you are current glasses wearer, to ensure a perfect fit, you can take your existing pair of glasses and compare the measurements to glasses you are planning to purchase to find one with a great fit.
Hip Optical Lenses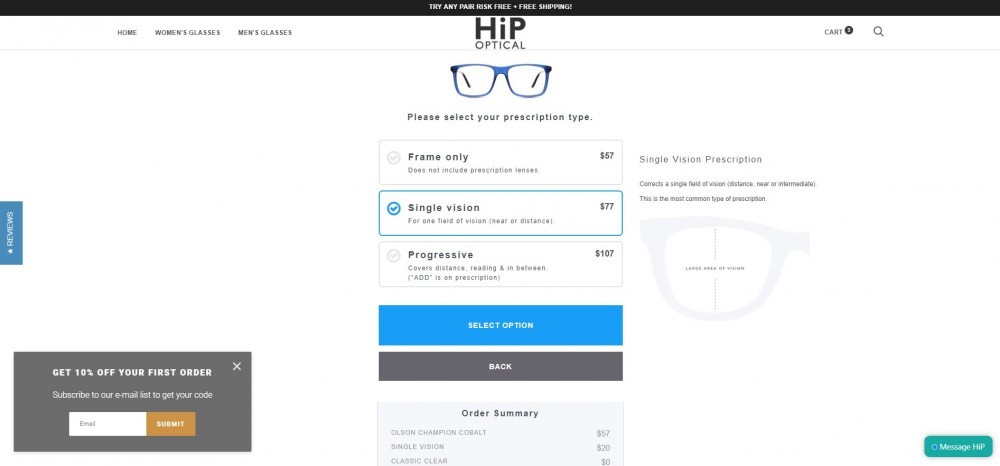 When they were saying that they are going to provide high-quality eyewear at groundbreaking prices they really weren't kidding. As I mentioned above acetate frames start at $77 which includes single vision lenses for use either for near or for distance. This is a polycarbonate lens, that includes your UV Protection, scratch-resistant coating, and anti-glare coating.
If you do not want the prescription lenses you have the option to purchase the frame only for $57.
For those of you who need progressive lenses, you can get progressive lenses with all the same standard coatings for $107 including your frame.
Lens add-ons and upgrades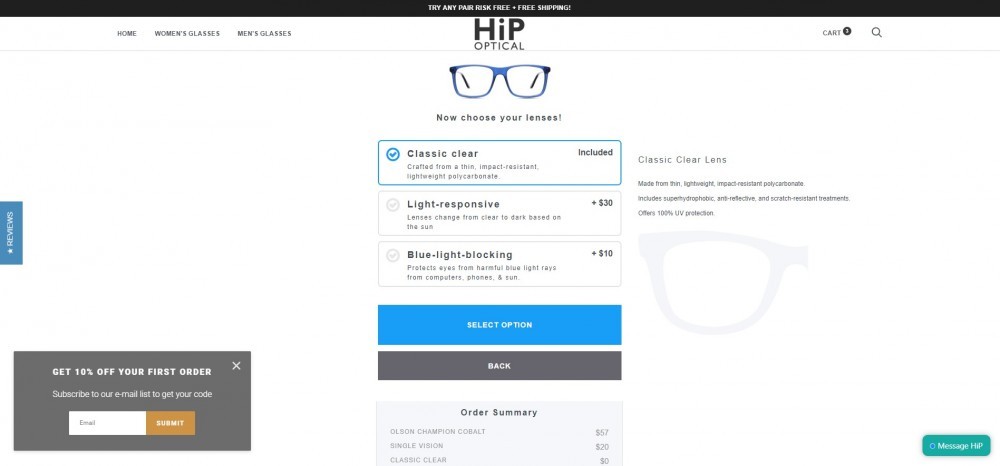 If you are someone who likes photochromic lenses, you know, the ones that turn dark when you go outside in the sun and revert back to clear when you are indoors. You can add photochromic lenses to your glasses for an additional $30. Photochromic lenses can be beneficial by reducing the harsh glare from the sun and make it more comfortable for your eyes outdoors, especially if you have light sensitivity.
If you are someone that spends a lot of time in front of digital devices such as computers or tablets, to help combat the symptoms of digital eyestrain you can get blue-light blocking lenses through Hip Optical for an additional $10.
Shipping Cost & Time
At Hip Optical, they don't believe in paying for shipping, and therefore all orders from them come with free standard shipping.
The prescription lenses are manufactured here in the United States and therefore progressive lens orders generally take 7 days or less and single vision orders could be there in 5 days or less.
Currently, there doesn't seem to be an option for expedited shipping, but hopefully, that will be an option in the future for those that may need their glasses in a hurry.
Return Policy & Warranty
Hip Optical has a very flexible hassle-free return policy in which you can return or exchange your glasses for up to 30 days for any reason.
If you decide that you are going to keep your glasses, they offer a one-year scratch guarantee on the lenses in which they will replace your scratched lenses within the first 12 months for free.
Purchase a pair, donate a pair
It makes me happy to see that there are more and more companies that are showing that you can be a profitable company, but still be a socially responsible company by helping out the world in need.
Being able to see is one of the most important things when it comes to learning, working, even to just do day-to-day activities that you enjoy, and yet one-third of the world's population does not have access to quality vision services.
There are people around the world that need eyewear but are unable to afford the eyewear, even at the low prices that you see today.
Hip Optical has partnered with Restoring Vision who is a non-profit organization that is fully dedicated to helping those that do not have access to glasses get the glasses that they need. Each pair that you purchase from Hip Optical, they donate a pair of glasses to someone in need.
Hip Optical Glasses
Thanks to the folks over at Hip Optical and their quick production and turn around time I was able to get my hands of a couple of pairs of their glasses with my prescription in them fairly quick.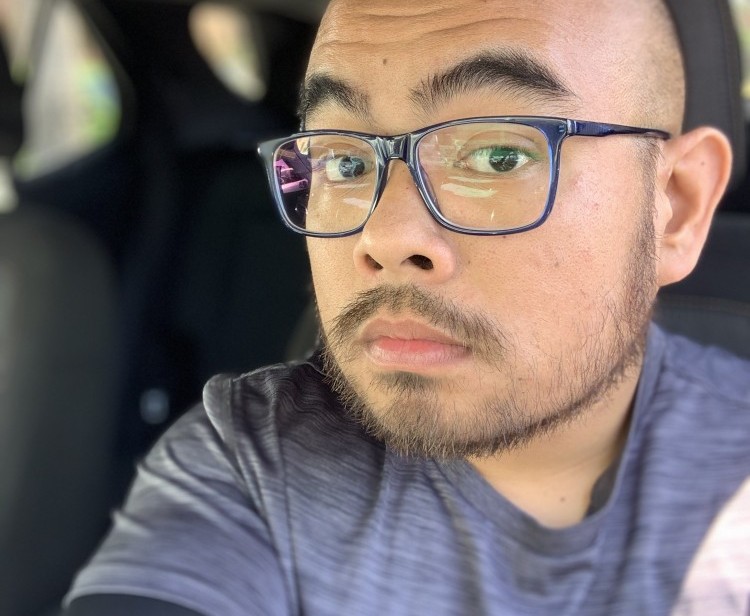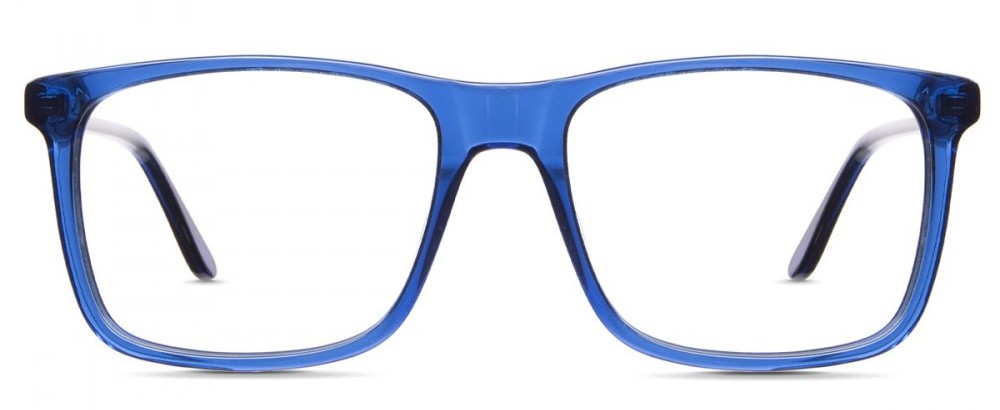 The pair of glasses that I am wearing to the right is Olson is Champion Cobalt. As mentioned above, the glasses game with anti-reflective coating and were very comfortable to wear right out of the box.
All of their glasses come shipped in and is included with a free foldable magnetic case that can be folded flat to make it easier for you to carry it around when your glasses are not in it. A standard microfiber cleaning cloth is also included with each pair of glasses.
Ordering Glasses Online
When ordering glasses online there are a few things that you should always keep in mind. Here are some helpful tips if you were to place an order with Hip Optical, or quite honestly any online retailer.
Have your prescription ready – It would just be easier if you had a copy of your prescription ready, Online retailers like Hip Optical have options for you to send it in later, or they could even contact your eye doctor for you and get your prescription. You would have to be able to provide the information about your doctor's office for them to contact. BUT, it would just be easier if you just had a copy of your prescription right in front of you. At least that way you can double verify the values that you are entering and ensuring that it matches your prescription.
Have PD measurement – This is also known as your pupillary distance, this is the distance between your eyes measured in millimeters. This measurement could come in two forms, a monocular PD which is the measurement for each eye individually, or binocular PD which is the measurement for both eyes together. The monocular PD is more precise, but the binocular PD would work fine as well if you are only doing single vision lenses. Keep in mind that if you have a stronger prescription, it is generally recommended to do monocular PDs. You will generally be able to get your PD measurement from the doctor's office in which you got your eye exam at. If not, you can always have a friend measure it for you. There are plenty of instructional videos online that guides you the entire way.
Understand frame measurements – If you are ordering glasses online, you MUST understand how frame measurements work, this is how you will know that the frames are going to fit well. Eyewear measurements are always listed in the following format "55-18-140". The first measurement is the horizontal measurement of one lens or also known as the eye size. The second measurement is the distance between the two lenses, or also known as the bridge. The last measurement is the measurement of how long the arm or temple of the glasses is, or also known as temple length.
What other people are saying about Hip Optical
Ever since launching they have plenty of positive reviews with many customers loving their glasses! Take a look at some reviews below.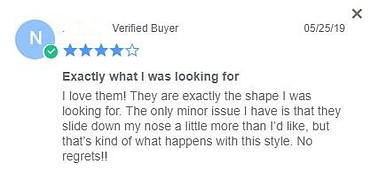 My favorite frames from Hip Optical
There are so many frames that I just absolutely love from Hip Optical. They use some of the most beautiful acetate color combinations to make these frames. Check out some of my favorite frames below.

Riddle From $77
I really just love how this frame has three tones of colors starting with really dark at the top, a crystal grey in the middle and crystal on the bottom. It is available in two variations.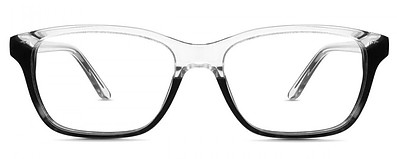 Irwin From $77
When you think of hip and cool this is how I imagine a frame would be. This two-toned pattern frame comes in three different variations in cool tone colors and is just a simply cool looking frame. 


Ulett From $77
I really specifically like this frame in this Castaway blue color. I really love how it starts with a dark blue and goes to a light crystal blue and a really light blue crystal on the bottom. This is one slick looking frame and comes in three different color tones, the Slumber green is pretty sweet too. 


Pawar From $77
As you can see I really like the blue frames from Hip Optical. This frame has some sweet color combinations on the top part and a sweet cool blue on the bottom. If you are looking for some extra pop to your style this is a good one. This frame is available in three different color tones. 


Ledford From $77
This is one awesome two-tone frame. That crystal in the middle takes away at some of the boldness in the middle and the dark edges really pop and is a really cool look. If you look at the virtual image on the website you can see how it is a really interesting look but can be pulled off. 


Eslinger From $77
I mean how can you not love that color combination? The two other colors are definitely not are awesome as this Aquastone color. Everyone loves a good looking cat-eye frame and these are the perfect ones.


Glunt From $77
They sure do know how to make two-toned frames look very unique and striking. This Indigo blue is a nice one, but the Peppermint green variation of this frame is pretty awesome looking too.
---
Hip Optical Promo Codes
Hip Optical has generously provided the readers of Eye Health HQ an exclusive promo code to get 15% off your an entire order using promo code "EYEHQ"
Final Thoughts
Hip Optical is the real deal, with their groundbreaking pricing, fast turn around time, and high-quality eyewear they are definitely a great place to buy your prescription glasses online. Don't forget to keep up with your eye exam at least once every two years, when you get an eye exam your doctor not only checks your vision correction but your overall eye health as well.
OTHER REVIEWS AT EYE HEALTH HQ: