Bear in mind that some of the links on this website are affiliate links. If you go through them to make a purchase we will earn a commission at no extra cost to you but helps support our website. Keep in mind that we link these companies and their products because of their quality and not because of the commission we receive from your purchases.
Previously on here, I have talked about places that you could go to buy your prescription glasses online using your VSP vision insurance, how to order glasses online with insurance and how to order contacts online with insurance.  Today, we are going to talk about places that you could go purchase your prescription glasses if you have EyeMed as your vision insurance.
If you want to buy glasses at a place that doesn't accept EyeMed online but you still want to be able to use your insurance benefits you are able to do that as well. I'll talk a bit about how you could do that as well.
To save you some time, I have made a guide of all the online eyewear providers that accept EyeMed directly on their website. Check them out below.
EyeMed Online Providers
In the past, purchasing prescription eyewear online using your vision insurance benefits wasn't possible unless you paid out-of-pocket and submitted your itemized receipt to your vision insurance provider for reimbursement.
Today, there are some online retailers that allow you to utilize your insurance benefits directly on their website. The amount that your insurance would cover is deducted, leaving you with only your out-of-pocket expenses.
This isn't something that is available with all online retailers and vision plans.
But, if you have EyeMed, you have plenty of options to pick from compared to some other vision insurance plans. That is one of the perks of being with the largest vision insurance provider, take a look below at all of the websites that accept EyeMed vision insurance online.
Lenscrafters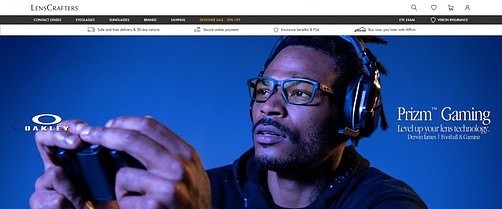 Most of us have heard of Lenscrafters, or seen their stores at our local malls. But Lenscrafters has an online presence as well, and you could use your EyeMed insurance to purchase prescription glasses or contact lenses right on their website.
You could access your benefits and see exactly what EyeMed would cover on your pair of glasses. Then, you would browse through Lenscrafters selection of eyewear to pick your frame. As you are browsing, you will be able to see the out-of-pocket expense for any of the items you are considering. This leaves you with no surprises on the price when you are ready to checkout.
You will find the world's leading brands in Lenscrafters vast frame selection, which gives you a lot of freedom to explore all your options and find out which shapes and color fits best for you. You could also use your EyeMed insurance benefits for prescription contact lenses if you prefer.
Target Optical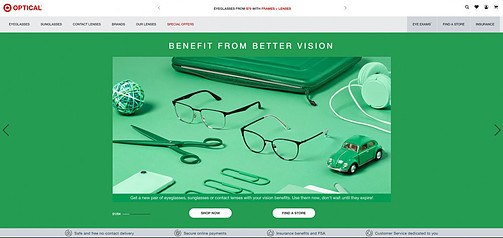 Another online website that accepts EyeMed directly on its website is Target Optical. Just like the Lenscrafters website you could use your EyeMed insurance to purchase your prescription glasses or contact lenses right on their website.
The amount that would normally be covered by your insurance benefits gets deducted from your total. That leaves you only paying your out-of-pocket expense just like if you were to walk into your local optical shop and utilize your benefits.
At Target you will find frames from a selection of exclusive designers, some fabulous fashion brands, and other leading lifestyle brands.
If you wear prescription contact lenses and you would prefer to use your EyeMed benefits towards your contacts, you could do that at Target Optical as well.
Ray-Ban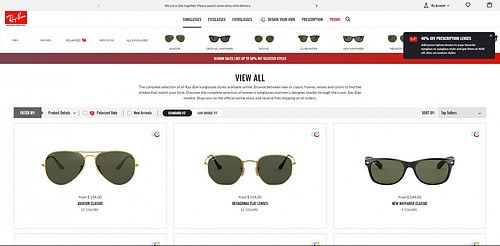 For those of you that are fans of Ray-Ban glasses, and you have EyeMed as your vision insurance you're in luck. If you are purchasing your Ray-Ban's with a prescription, you could utilize your insurance benefits directly on Ray-Ban's website as well!
Just like at the other online retailers that accept EyeMed, the amount that you would normally be covered on your glasses would be deducted from your Ray-Ban order, leaving you to pay only the out-of-pocket expenses.
Purchasing your prescription glasses directly from Ray-Ban is always a good way to guarantee that the product is 100% original and authentic. Ray-Ban also has some great prescription lens color options that you will never be able to find anywhere else.
You aren't just limited to getting sunglass lenses for your Ray-Bans, they also offer most of the standard clear lens options you would find anywhere else with anti-reflective coating and blue-light filtering.
Contacts Direct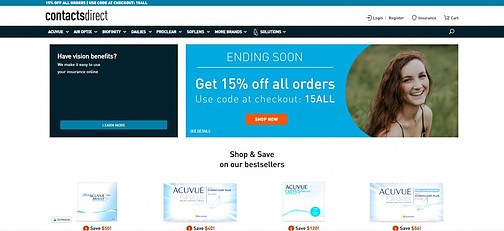 If you mainly wear prescription contact lenses and you need a place to buy your contacts while utilizing your EyeMed, Contacts Direct is a great option.
I have personally used Contacts Direct in the past with EyeMed, and I have had plenty of family and friends with EyeMed utilize them as well. Just like the other online retailers that accept EyeMed, Contacts Direct makes it super simple for you to utilize your EyeMed benefits to purchase your glasses by deducting the amount you would be covered from your total before you pay.
After you have used up your insurance benefits for the year, Contacts Direct is still a great place to purchase contact lenses and if you're not using insurance you could take advantage of their offers since you generally aren't able to combine those with insurance benefits.
Glasses.com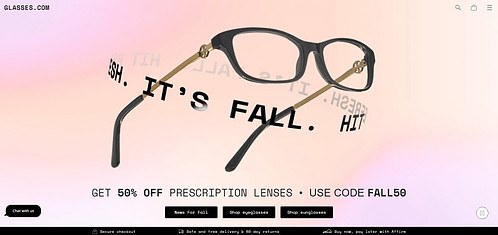 The last website I will give you on this list is Glasses.com. I am personally not the biggest fan of this website since they redesigned it, but you can find some really cool frame styles here.
Like the rest of the websites on this list, you are able to utilize your EyeMed vision insurance benefits directly on the website. Just like the name of their website suggests they only offer glasses and do not offer contact lenses. But if you are looking for some timeless frame styles you should definitely stop by glasses.com and check out their selection.
Can you use FSA/HSA with your EyeMed insurance online?
If you have an FSA (Flexible Spending Account), or HSA (Health Savings Account) and they have provided you a card that is affiliated with VISA or Mastercard you could definitely utilize this along with your EyeMed insurance.
Using your FSA or HSA is a great way to take care of the out-of-pocket expense that you have leftover after EyeMed takes care of their part.
All you would need to do to utilize your FSA or HSA is to enter the card number in when you are checking out to pay for your remaining balance.
Don't forget to save the receipt that you are provided, most FSA and HSA providers will want you to submit in an itemized receipt to show that the expense was for a health-related expense.
Use EyeMed online with out-of-network providers
If you happen to not like any of the websites above that directly accept EyeMed you could still utilize your EyeMed online at other out-of-network providers, it would just take a couple of extra steps.
Using your EyeMed insurance with an out-of-network provider is fairly simple. First, you would choose a provider, and find your frames and lenses as usual. The difference starts when you go to pay for your order. Instead of EyeMed's part being deducted from your total, you would have to pay the entire total upfront.
Now I know some of you are thinking that you don't want to pay the entire total upfront. But think about this, you might go to the website, or your doctor even that accepts EyeMed directly and you find yourself a $300 pair of glasses, the insurance pays $150, you pay $150, great.
On the other hand, you could go to an out-of-network provider and find yourself a pair of glasses for $170. Although you have to pay that entire $170 upfront, you still will be able to get some money back.
Any provider will give you a copy of your itemized receipt upon request. You would take the itemized receipt and submit it to your insurance provider for reimbursement.
Keep in mind that you could always check with your insurance provider and your specific plan to make sure you have out-of-network benefits. While most plans do. there are a few out there that don't have out-of-network benefits and you are locked into going with an EyeMed provider.
Also, the examples I provided are just examples and that isn't how the math works out every time. It obviously depends on your specific EyeMed plan, some pay more, some pay less. If they cover your entire pair of glasses at the provider then by all means, why pay out of pocket at an out-of-network provider. But since all plans are different, it is good to shop around If you are looking to save money and your EyeMed plan doesn't cover all of your glasses in-network.
Final Thoughts
Well, there are your options if you are looking to use your EyeMed online. Of course, you could essentially utilize any online provider if your vision insurance plan has out-of-network benefits, and you're willing to pay for it upfront.
Thanks for visiting Eye Health HQ, if you have any questions or comments feel free to leave them in the comment section below, or utilize our contact form.