Bear in mind that some of the links on this website are affiliate links. If you go through them to make a purchase we will earn a commission at no extra cost to you but helps support our website. Keep in mind that we link these companies and their products because of their quality and not because of the commission we receive from your purchases.
Online shopping is nothing new, and buying your prescription eyewear online isn't anything new either. But to be able to utilize your vision insurance benefits to purchase your eyewear online is definitely something new and worth looking into.
If you don't know how to order contacts online with insurance don't worry, many of these retailers make the process super simple. Not only does this save you a trip to your local optical shop, but many online retailers actually have much better pricing than you would find at your local retailer due to the lack of overhead cost. Best of all, you will be able to use your vision insurance benefits, which will save you money overall.
How To Order Contacts Online With Insurance
If you have vision insurance benefits and you want to be able to use those benefits to purchase your contacts online there are more options than ever to do so. But before you get started, there are a few things that you will need before you try to make your purchase online.
What You Need To Order Contacts Online
Ordering prescription contacts online is a much easier process compared to ordering prescription glasses. The first thing that you will need to order your contacts is a current copy of your contact lens prescription. This copy of your prescription will have to be valid and unexpired. In the United States, contact lens prescriptions generally expire one year from the date of your eye exam.
Aside from that, you may or may not need your vision insurance card or information. There are certain vision insurance providers that do not send out insurance ID cards, and if that is the case most of the time it can be found with some basic personal information such as name, zip code, and date of birth.
I Know My Contacts Strength, Why Do I Need A Valid Prescription?
Contact lenses have been considered medical devices by the U.S. Drug and Food Administration since 1976. Even though you are making your purchase with an online retailer, these online retailers still have to comply with regulations.
Since contact lenses are actually physically sitting on your eyes, your eye doctor needs to ensure that your eyes are healthy enough to wear contact lenses. Wearing a contact lenses without proper guidance from your eye doctor could be a significant health risk.
Where Can You Order Contacts Online With Insurance
Once you have your prescription and insurance information ready you are now ready to order some contacts online with those insurance benefits. There are tons of online retailers that sell prescription contact lenses but not all of them accept vision insurance benefits online. No need to worry though, we took the time to find all of the online retailers that accept insurance so you don't need to figure it out on your own. Take a look at them below.
Eyeconic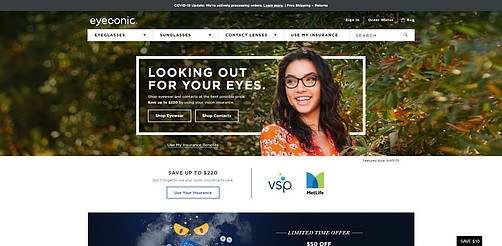 If you are one of the many people that have VSP, Cigna Vision, or Metlife vision insurance benefits Eyeconic is a great place to look for your eyewear. Eyeconic is actually owned and operated by vision insurance company VSP, therefore if you have VSP for your vision benefits it is super simple to use those benefits for your prescription eyewear right on Eyeconic's website. Eyeconic initially started as an online retailer that was exclusive to VSP members, but over the years they have expanded and now allow anyone to purchase on their website, even if you don't have insurance and want to buy glasses without it.
You aren't limited to just buying prescription contact lenses from Eyeconic, if you wish, you could use those insurance benefits for prescription glasses as well on Eyeconic's website. Keep in mind that most vision insurance benefits only cover prescription contacts OR glasses, generally not both. There are some vision insurance benefits plans that cover both, or even two pairs of glasses but it isn't very common. The best way to know what your insurance benefits will cover is to call them directly or take a look at your insurance benefits guide.
Eyeconic accepts VSP, Cigna Vision, and Metlife insurance directly on their website, which means if you have any of those insurance providers you will be able to have your benefits applied, leaving you with only the out-of-pocket expense. You can find out more on Eyeconic's insurance page.
Contacts Direct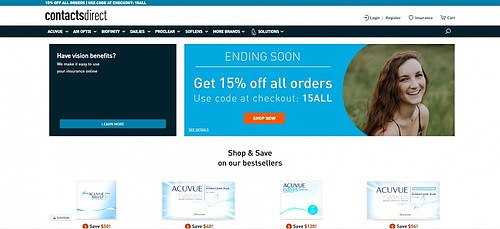 Just like Eyeconic, Contacts Direct has vision insurance companies that they work directly with which allows you to apply your vision insurance benefits directly to your order. Contacts Direct is operated by Luxottica, which you may know from their retail stores such as Lenscrafters, Target Optical, Pearl Vision, and more.
Unlike Eyeconic, Contacts Direct only offers prescription contact lenses and doesn't offer glasses. When it comes to contact lenses, they offer a wide variety of different brands and even have some brands such as MyDay and Biomedics that you won't find at every prescription contact lens retailer.
Contacts Direct accepts vision insurance online from Eyemed, Aetna, Blue View Vision, Superior Vision, Humana, and more. The process on Contacts Direct is super simple as well. All you need to do is pick out the contact lenses that you have been prescribed by your eye doctor, enter some personal questions to link your insurance benefits, and all you pay is your out-of-pocket expense. You could head over to Contact Direct's insurance page to find out more.
Target Optical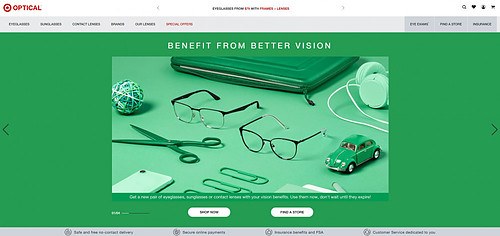 I am sure most of you are familiar with the giant retailer Target. One thing that isn't commonly known is that some Targets have an optical center. Even less known is the fact that they accept vision insurance directly on their website. This essentially means that you will be paying less out-of-pocket overall and you don't have to leave your home.
With Target Optical you could use your vision insurance benefits to purchase prescription contact lenses, but you could also purchase prescription glasses with those insurance benefits if you choose to do so.
Target Optical accepts a wide variety of vision insurance plans which include Humana, Aetna, Eyemed, Ameritas, and many more. You could find the full list of plans that are accepted on Target Optical's insurance page.
Lenscrafters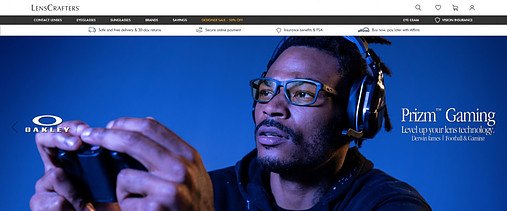 If you have been utilizing eyewear for a while you are sure to have heard of Lenscrafters. You can generally find their retail stores in places like shopping malls. If you don't want to go to the mall, Lenscrafters accepts many vision insurance plans directly on their website.
Just like some of the other retailers on this list, at Lenscrafters, you aren't going to be limited to just purchasing contact lenses. They also offer a wide variety of prescription glasses as well, and you could utilize your insurance benefits to purchase glasses as well. The cool thing about Lenscrafters is they recently started allowing you to place orders online and pick them up at your local Lenscrafters store for no additional cost.
Lenscrafters accept vision insurance from most benefits providers including Aetna, Humana, Eyemed, and many more. You can find the full list of insurance plans that are accepted right on the Lenscrafters insurance page.
1800Contacts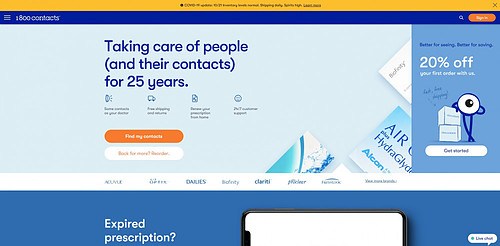 1800Contacts is one of the most well-known online contact lens retailers out there. They have been in the business for a while and at one point were teamed up with Walmart, providing their customers with a way to get prescription contact lenses from their local Walmart Vision Centers. At one point in time, 1800Contacts was a publically traded company but the last year they were a public company was 2006, and has since become a private company.
More recently they have even given you the ability to apply your vision insurance benefits online if your insurance provider is in their network. All you need is to have your name and date of birth and 1800Contacts will look up your benefits for you and your benefits will be automatically applied when you head to the checkout.
There are only a few vision insurance providers that 1800Contacts works directly with. 1800Contacts in-network partners include Davis Vision, Superior Vision, Anthem, and Blue View Vision. In order to know for sure if your plan is accepted you could head over to 1800Contact's insurance page to see if your plan is accepted.
What If Your Vision Insurance Is Out-Of-Network?
If you don't see your vision insurance plan in-network with any of the retailers above you could still take advantage of your vision insurance benefits, it would just take a bit longer. All reputable online retailers will provide you with an itemized receipt that you would be able to submit to your vision insurance provider for reimbursement.
The reimbursement process for many vision insurance providers has improved over the years. Some have made it even more simple and let you submit your itemized receipts online through their website making the process super simple.
Keep in mind that generally in-network and out-of-network benefits are different, so if you use your insurance with an out-of-network provider the amount that you are reimbursed would generally be less than the amount that you would've gotten if you used your benefits at an in-network provider. Although, most of the time this is offset by the price difference.
Using your benefits at an in-network provider might pay more, but the cost for the items might be higher as well. They might reimburse you less when you use your benefits out-of-network but the cost might be less as well.
Here are some retailers that are super affordable, and will provide you with an itemized receipt if you need to submit it to your insurance for reimbursement.
Can You Apply Promotions, Rebates, or Coupons With Insurance?
Generally, promotions, rebates, and coupons are not able to be combined with your vision insurance benefits. If your insurance provider is out of network, since you are paying out of pocket you could take advantage of the deals. You could then still submit your itemized receipt to your insurance provider and be reimbursed for what they would've covered.
Even if your insurance provider is in-network, technically you could do this as well, you would just have to pay for the entire amount out of pocket and submit your itemized receipt. If you are able to fork out the money ahead of time you could have some additional savings.
Can You Use FSA/HSA For Prescription Contact Lenses Online?
Absolutely! Prescription eyewear is a great way to utilize those unused funds left over on your Flexible Spending Accounts and Health Savings Accounts. If you have extra funds in one of those accounts you could use your FSA or HSA card to pay for the out-of-pocket expenses that are left over after your insurance benefits are applied.
As long as your FSA/HSA account is partnered with a major credit cards company such as VISA or MasterCard you shouldn't have any issues utilizing those funds online. Keep in mind many FSA/HSA providers will require you to validate your purchase which can be done with an itemized receipt from the retailer you purchased from.
Is It Safe To Use Your Vision Insurance Benefits Online?
It is definitely safe to use your vision insurance benefits through these retailers that accept them online. All of these companies are reputable companies, and some even have physical retail locations.
They can generally locate your vision insurance plan with just a few basic questions and generally not questions with overly sensitive information. It really isn't much different than when you go to a retail location, they would ask you basic questions and look your plan up through the internet to figure out what you are covered.
Final Thoughts
If you have vision insurance benefits, it is worth looking at a few of those websites mentioned above to see if your insurance is accepted there. If your insurance is accepted at multiple online retailers you could shop around to see which retailer would offer you the best price.
If you want to take advantage of any promotions or coupons, use one of the out-of-network retailers that have more affordable prices then you would just have to pay for it out-of-pocket and request an itemized receipt from the place you purchased from and submit it for reimbursement.
If you have any questions about using your insurance to get contacts online feel free to leave a comment below, or if you would rather send an email you could use the contact form on the page.