Bear in mind that some of the links on this website are affiliate links. If you go through them to make a purchase we will earn a commission at no extra cost to you but helps support our website. Keep in mind that we link these companies and their products because of their quality and not because of the commission we receive from your purchases.
Buying prescription contact lenses online is nothing new, but for people with vision insurance benefits such as VSP there used to be no options if you wanted to buy your contact lenses online and utilize your benefits unless you wanted to pay for them upfront, and get reimbursed.
Today, there is a website called Eyeconic that not only lets you order your contacts online, but if you have VSP, you can apply your benefits directly to your order and only pay your out-of-pocket expenses. Let me show you how easy the process is.
If you are someone with vision insurance benefits, you probably want to be able to utilize those benefits on your prescription contacts, or glasses and pay as little out-of-pocket as possible. After all, isn't that why we have insurance?
Eyeconic is an online eyewear retailer that is operated by VSP themselves and allows you to apply your vision insurance benefits directly to your contacts (or glasses) order online. They make the process extremely painless and after you enter in some information to find your coverage you're off to the races. Take a look below for a step-by-step guide on how to utilize your VSP benefits online to buy your contacts.
Buy Contacts Online With VSP Insurance at Eyeconic
To get started, head over to Eyeconic's website at www.Eyeconic.com. From the homepage if you take a look at the top navigational menu you will see one that says "Use My Insurance", when you click on that, you will get a small pop-up window that asks you to select your vision insurance carrier.
Eyeconic not only could utilize VSP vision insurance benefits, but if you have Metlife or Cigna vision you could utilize your benefits on Eyeconic as well. For this example, I am going to select VSP.
Once you select the vision insurance carrier you want to use you are going to be present with a screen that will ask for some information to verify your vision insurance plan. Usually, this information will include your first and last name, date of birth, and your member ID number. Once you get all that entered in you will be back at the home screen, but if you look at the top navigational bar you can see under the benefits tab your name will be there. From here you would head to the "contact lens" tab and find your brand of contacts.
Once you find the brand of contact lenses you are prescribed all you need to do is fill in all of the values for the prescription. You will want to grab your copy of your contact's prescription and copy over all of the values you see. Keep in mind that with contact lens prescriptions you are generally prescribed a specific brand of contacts and you must get what you are prescribed. Once you get the prescription values entered in and select how many boxes you want you can click the button that says "Add to Bag".
Once you get the contacts added to your cart you will see how much your contact lenses are going to cost you after Eyeconic deducts what VSP would pay for your contacts. From here, all you need to do is complete your checkout, and you are all set.
As you can see in the photo, my specific VSP plan pays $200 towards my contact lens cost. Your specific VSP plan may cover more, or they may cover less towards your contacts. For me, my out-of-pocket expense is only $44.80 for a whole entire annual supply of contacts. Of course, the cost of your annual supply ultimately depends on what brand of contact lenses you are prescribed.
How to Read a Contact Lens Prescription
Here is a breakdown of all of the information on your contact lens prescription. When you are placing your order, you would copy over all of the values into their corresponding boxes, but if you wanted to know a bit more about what all these numbers on your prescription mean, take a look below: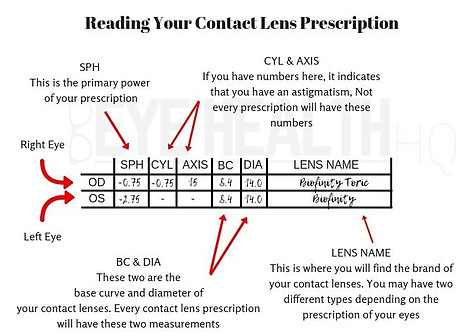 OD – This is the abbreviation for "Oculus Dexter", which is Latin for "right eye".
OS – This is the abbreviation for "Oculus Sinister", which is Latin for "left eye"
SPH – This stands for "sphere", and the number indicates the strength of the prescription that is needed to correct your vision. If you are nearsighted, this number will have a minus (-) sign in front of it. If you are farsighted, this number will have a plus (+) sign in front of it. This number is a unit measure known as diopters.
CYL – This stands for "cylinder", and is also measured in diopters. If you have values in this column that means you have astigmatism, which means the shape of your cornea isn't quite spherical and is a bit more irregular shaped, like an American football.
AXIS – If your prescription has a value in the CYL column, it must have something in the Axis column. This number is a unit measured in degrees and is the direction that the lens needs to be in order to correct your astigmatism. This number will always be a value between 1 and 180.
BC & DIA – Whenever you have a contact lens prescription, you will always see a base curve (BC) and diameter (DIA) measurement. This measurement is in millimeters (mm) and they indicate the size of the specific contact lenses. Some contact lens brands have multiple sizes available for their contacts. Pay close attention when copying these values over when you are ordering your contacts online, selecting the wrong size could result in contacts that are too tight or loose on your eyes.
Lens Name or Brand – Every contact lens prescription will have a brand attached to it. Because contact lenses come in a range of different sizes, you will be fitted with a specific brand that is a good fit for your eyes. This is usually determined during the exam and fitting.
ADD – This isn't always on every contact lens prescription. But if you are someone that also needs vision correction for near vision as well as distance vision you may be wearing a multi-focal contact lens which allows you to see both fields of vision. In that case, you will see an "Add" value on your contact lens prescription as well.
Other Options to Order Contacts Online With VSP Insurance
If you don't want to utilize Eyeconic to purchase your contact lenses, maybe you found your contact lenses at a better price elsewhere, whichever the case, you do have other options. BUT, more than likely you won't be able to utilize your benefits directly to your order. In most cases, you would have to pay out of pocket, and request an itemized receipt so you could submit it to VSP for reimbursement.
It is also important to keep in mind that when you utilize your VSP benefits out-of-network, most of the time your out-of-network benefit is a substantial amount lower than what you would get going in-network with Eyeconic or a VSP provider.
I always tell anyone that has VSP and would like to buy contact lenses that they are better off utilizing an in-network provider like Eyeconic with their benefits because even with their higher prices, you still pay less. I'll show you an example with my benefits below.
Is Going Out-of-Network Worth it?
I am going to crunch the numbers of purchasing an annual supply of Biofinity XR contacts In-network vs out-of-network:
In-Network Example with Eyeconic – If you recalled from the above ordering guide, my Biofinity XR contacts came to a total of $244.80 which makes each box of contacts $61.20. VSP gave me $200 of contact lens benefits, which left me with $44.80 out of pocket.
Out-of-Network Example with ACLens.com – AC Lens which generally has the most affordable contact lens prices out there has my Biofinity XR contacts at $48.99, this makes my annual supply cost $195.96. At first, this sounds like a great deal as I would be saving about $50, but when I go out-of-network VSP would only reimburse me back $105 for my contacts. This means if you crunch the numbers, $195.96 – $105 so after they reimburse me, my out-of-pocket expense was $90.96.
As you can see, it might have been cheaper to buy your contact lenses at AC Lens, but with VSP giving you less of a benefit when you go out-of-network you end up paying more for the contacts.
This is why I always tell anyone who has VSP and wears contacts, use up your benefits with an in-network provider like Eyeconic first and get the least amount of boxes that would use up all of your benefits. Then after that, if you still need to order more then go shopping around for the best price.
If you still want to purchase out of network, you can head over here to VSP's website where you can submit your claim for reimbursement.
Can You Buy Glasses Online With VSP?
If you would rather utilize your VSP benefits for glasses instead of contacts you can do that also! If you head to the top of the page and click on "eyeglasses" and then select men's, women's, or kid's eyeglasses and then you will be provided with the selection of frames, and how much they cost after your VSP insurance covers their part.
The price you see in red is the price that you would pay out-of-pocket if you choose those frames. That price includes the frames along with single vision polycarbonate lenses. If you want to add things like anti-reflective coating, photochromic, upgrading the lens material, or progressives you are going to have to pay a bit more for those.
Can You Use FSA/HSA for the out-of-pocket expense?
You absolutely can use your FSA or HSA card to cover that leftover out-of-pocket expenses Eyeconic didn't cover and put those flexible spending dollars to good use. These are pre-tax dollars you set away for healthcare expenses and prescription eyewear is a perfect place to utilize some of these dollars.
Final Thoughts
Well, there you have it if you have VSP vision insurance and you want to buy contact lenses online Eyeconic is a great place to be able to apply your benefits directly to your order and only pay your out-of-pocket expense.
As I showed above, there isn't a benefit to going out-of-network to utilize your contact lens benefit just because the contact lenses are cheaper. Plus you have to pay upfront and submit for reimbursement, who wants to do that?
As always thanks for stopping by EyeHealthHQ, if you have any questions feel free to leave a comment below or utilize the contact form.