Bear in mind that some of the links on this website are affiliate links. If you go through them to make a purchase we will earn a commission at no extra cost to you but helps support our website. Keep in mind that we link these companies and their products because of their quality and not because of the commission we receive from your purchases.
I still remember the days when everyone was still skeptical about making purchases on that thing called the internet. Today, billions of dollars of purchases are made on the internet every year and prescription glasses are one of those many items.
While being able to purchase prescription glasses on the internet is not a new thing, but being able to use your vision insurance benefits to purchase those glasses on the internet is a new thing. The other day I talked about where you could use your insurance to purchase prescription contact lenses online, today, we're going to take a look at where you could safely purchase your prescription glasses online using your VSP insurance.
Buy Glasses Online With VSP Insurance
Having vision insurance benefits can be a great way to save money on your prescription eyewear. In the past, if you wanted to use your vision insurance benefits, you would have to visit one of your local optical retailers to process that claim for you.
With advances in technology, you can now use your insurance benefits online at Eyeconic and use your benefits directly onto your order so you only have to pay the out-of-pocket expense.
Can you use VSP online?
One of the more popular vision insurances out there today is VSP or also know as Vision Service Plan. If you have VSP and you were planning on purchasing your prescription glasses online then you are in luck. A few years ago VSP developed a website called Eyeconic that was originally developed exclusively for its members.
Today, Eyeconic is no longer just an exclusive website for its members, but they are the only site in which you can purchase your prescription glasses with your VSP insurance in-network. What does it mean when your insurance provider is in-network?
Eyeconic is in-network for VSP
The way vision insurance works online is pretty much the same way that vision insurance works if you were to go visit your local optical retailer. Whenever you have an in-network provider that means that provider is one that has a contract with the vision insurance company to give services to its members at generally a pre-negotiated discounted rate.
Keep in mind that not all VSP plans will be eligible for use on Eyeconic's website. Most plans will be accepted with no issues, but there are always a few that have specific plan requirements and you can only go where your plan states.
If you are ever in doubt, you can just use the lookup tool to check to see if your policy is covered at Eyeconic.
Use VSP Insurance Online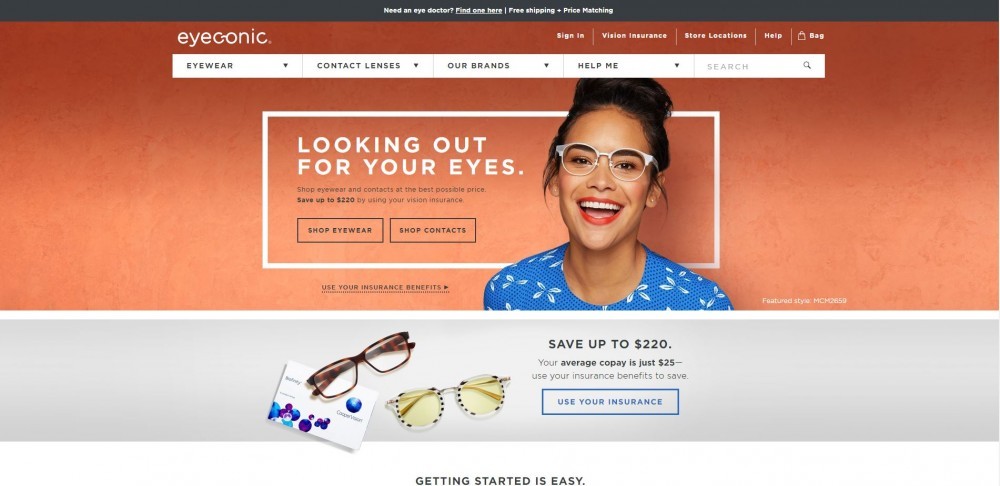 Whenever you are ready to make your purchase, you would just simply head over to Eyeconic's website to make your purchase. Eyeconic's website is very simply designed, which makes it quite easy to navigate to where you need to head to.
If you are going to be using your VSP insurance, you would simply navigate towards the bottom of the homepage to the little box that says "Use Your Insurance".
That link leads you to a page where you would select which insurance you have. Aside from accepting VSP, Eyeconic also accepts Metlife and Cigna Vision insurance as well. Whenever you are ready, you would just select your insurance provider and click "Connect Now"
From there a little window will pop up where you will enter a few personal details to help Eyeconic be able to locate your vision insurance plan. You will need to know the information of the primary insurance holder's information to be able to look up the policy. If you are a VSP member, alternatively you could just sign in to your VSP account, for Metlife and Cigna members you will still have to enter the primary member's insurance information to look up your plan.
After you have your plan pulled up, Eyeconic's website automatically applies your insurance benefits to whatever you are planning on purchasing.
Eyeconic Glasses
Eyeconic has a fairly decent selection of frames for you to pick from, it may not be one of the largest selection of frames, but it's decent. They have a little over 1500 frame models for you to pick from, but one thing that I particularly liked about Eyeconic is the fact that a majority of the styles that they offer also come in more than one color. Being able to select
between frame colors is always a plus when deciding on frames.
When you are looking at and trying to make a decision on which frames to go with, it may be helpful to filter through the frames using the provided filter tool. At Eyeconic you can refine your selection of frames by new arrivals, age, gender, brand, size, color, shape, rim type, material, progressive available, nosepads, and price. Making a decision on frames online can be a daunting task due to the large selections available online so it will be helpful to narrow down your choices a bit and eliminate any selections that you already know for sure would not work for you.
Lens Options
Once you figured out which frame you were going to purchase before you can move on to the next step and add the frame to your cart you will have to select what type of lens you need. This will generally be based on what type of prescription you need, but here are your choices.
Single Vision – This is generally the most common type of lens for anyone under the age of 40. This type of lens has a single power throughout the entire lens. The most common are single vision lenses that are used for distance to see far, but your doctor can also prescribe you single vision lenses for computer or reading power as well. Single vision lenses in polycarbonate are included with the prices of the frames that you see on the website.
Progressive – This type of lens has three power ranges throughout the lens and can be used to see distance, intermediate (computer), as well as reading. Progressive lenses do not have a visible line and have a seamless blend between your distance, intermediate and reading powers.
Non-prescription – For those individuals, who just want to wear glasses for a fashion statement, or for those who want to just get blue-light filtering lenses to help reduce digital eye strain from using electronic devices this is what you can do. You still get the same polycarbonate lens, just no prescription.
Lens Materials
After you figure out what type of lens you will be purchasing, next will be deciding on which lens material you will be going with. Eyeconic offers three types of lens materials for you to pick from. Depending on your prescription you could potentially benefit from one of the lens upgrades. Here are your options.
Polycarbonate – Polycarbonate lenses are included with the purchase of your frame and are a great choice for lenses. Polycarbonate provides you with a scratch-resistant lens, a thin and strong material, a high-impact resistant material, and comes with a built-in 100% UV protection.
Trivex – Trivex lenses provide you with a lens material that is lighter than polycarbonate, and provides you with slightly better visual clarity when compared to polycarbonate. Trivex has a comparable impact and scratch resistant to polycarbonate but comes included with an anti-reflective coating if you upgrade to it.
High-Index – High-Index lenses provide you with the thinnest, and lightest lens currently available. This type of lens material is generally for those who have stronger prescriptions and want the thickness of the lenses less noticeable. The high-index lens is still impact-resistant but does not have the same safety properties as polycarbonate and trivex lenses have. High index lenses, however, are the most scratch-resistant lenses and are offered by Eyeconic with an anti-reflective coating as well as UV protection.
After you figure out which lens material you will go with, you will have the option to put optional add-ons onto your lenses. These add-ons are not for everyone but ultimately depends on your lifestyle, occupation, and things that you do for fun.
Optional Lens Enhancements
There are a few optional enhancements that you can add to your lenses. Depending on which lens material you pick there may be more or fewer choices for you at this step since some materials already come with anti-reflective coating included. These lens enhancements are definitely not required for you to be able to see out of your glasses, but it could provide some benefits depending on your specific lifestyle.
Anti-Reflective Coating – Here at Eyeconic, the only lens material you will need to add an anti-reflective coating to is the polycarbonate since the trivex and the high-index lens packages already come with anti-reflective coating. This coating helps reduces reflections and glare to provide you with better visual clarity.
TechShield Blue – The TechShield Blue anti-reflective coating is a lens enhancement that helps reduce blue-light that emits from digital devices which could help reduce digital eye strain. This coating is great for anyone that spends a lot of time working or doing recreational activities in front of digital screens such as televisions, computers, tablets, and smartphones.
SunSync light-reactive – If you are looking for photochromic lenses that will darken when you are outside in the sun and turn back to clear when you are indoors this is your option for those.
As mentioned before, these enhancements can be beneficial, but not necessary for the basic functionality of your lenses.
Final Thoughts
If you are looking for a safe place you can purchase your glasses online using your VSP, MetLife, or Cigna vision benefits this is definitely your place. Even if you are looking for a place to buy your contact lenses using your insurance you would be able to do that here at Eyeconic as well.
The process is simple, easy, and all you have to pay is the amount that you owe for any out-of-pocket expenses that may come up as you are placing your order and of course your copay. Visit Eyeconic to see how much your VSP can save you on glasses today.
Thank you for stopping by Eye Health HQ, if you have any additional questions feel free to drop a comment below!