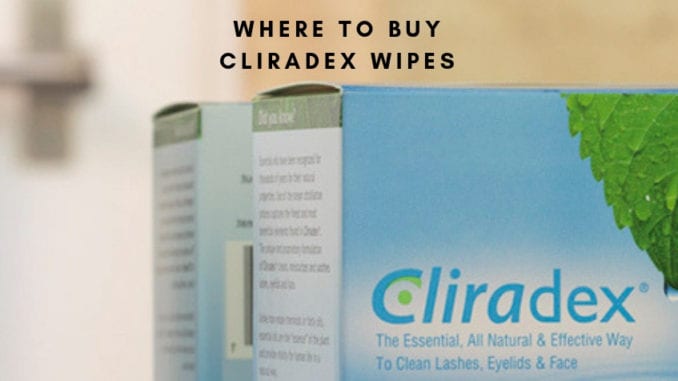 Original Article Published: 11/11/18 | Updated: 2/17/19
Where to buy Cliradex wipes
Cliradex is not the easiest product to find in stores, and the number of online retailers that carry Cliradex is also very limited. With that being said there are a couple of different ways that you can get your hands on Cliradex.
The first way is to purchase Cliradex through your eye doctor. On the Cliradex website, there is a find a doctor tool, which you can use to find any local doctors offices that carry Cliradex.
If you do not have a doctor that sells Cliradex locally, you can always make your purchase online. One place you can purchase Cliradex wipes is through Amazon. You can check the current price here. 
The good thing about getting Cliradex through Amazon is the fact that it is eligible for Amazon Prime, therefore you can get fast two-day shipping. Don't have Amazon Prime? Amazon is currently offering a free 30-day trial for Amazon Prime to people who want to check it out.
Another place you would be able to find Cliradex wipes online is through their official website.
On Cliradex's website, you will find the eyelid wipes, the foam cleanser, as well as both of them packed up in a starter kit where you get the wipes as well as two bottles of the foam cleanser.
Cliradex Promotions
Cliradex isn't exactly the cheapest product out there, but as effective as the product is for the conditions it treats it really isn't too bad. The good thing is that Cliradex from time to time will run various different promotions in which you can take advantage of to save some money. Below you will find the current promotions ran by Cliradex.
HAPPY WORKPLACE EYE WELLNESS MONTH PROMOTION:
20% off 2 products plus FREE SHIPPING CLICK HERE & USE CODE: FRESHEYES
How to use Cliradex eyelid wipes
Using Cliradex eyelid wipes are extremely simple, each towelette comes individually packaged similarly to how a hand towelette or alcohol pad is packaged.
First thing is first you have to make sure that you wash your hands, and dry them with a lint-free towel before attempting to open the packet. After you open the package and get the towelette out, the towelettes are packaged folded in half so you would have to unfold it.
After that, you would close your eyes, but just close them lightly and try not to squint your eyes. You would start by cleaning your eyelid, and move outwards to the surrounding facial areas, repeat for your other eye. It is important to make sure that you do not get any of it into your eyes.
Note that when you use these wipes for the first time you might feel a cool, slighting burning, menthol feeling. From personal experience, this burning feeling will be much less after you use the product a few times. The burning feeling will generally go away after a couple of minutes if this feeling happens to not go away, or you have an allergic reaction, immediately stop using the product and contact your doctor as soon as possible.
If you feel like the wipes are still too strong for you after a few uses, we recommend trying the foam cleanser, which is lighter and less harsh than the wipes.
Still confused on how to use the eyelid wipes? Check out the video below from Cliradex on how to use their products.
If you have eye conditions such as dry eyes, irritation, Blepharitis, or a Demodex mite infestation, you may have been recommended by your doctor to use Cliradex wipes. These eyelid wipes help relieve symptoms from those eye conditions and are designed to be a deep cleanse for your eyelashes and eyelids, but these wipes can be used on your face as well. Cliradex manufactures two types of cleansers, a towelette wipe, as well as a foam cleanser.
Both the wipes as well as the foam cleanser are very effective at controlling Demodex mite infestations, and relief you from the irritation those mites may be causing. Below we are going to break down the main component inside Cliradex, as well as show you where to buy Cliradex wipes so you can get relief as soon as possible.
---
Don't have time for all the details? The best place to buy Cliradex Wipes is through their official website. 
---
Main Ingredient: 4-Terpineol
Also referred to as Terpinen-4-ol, this component is one of 15 main components that is in Tea Tree Oil. In a study that was published to the National Center for Biotechnology, researchers were trying to figure out which active ingredient within Tea Tree Oil that was responsible for the killing effect of Demodex mites.
What they found was that out of all the components of Tea Tree Oil that they tested, they found that 4–Terpineol was the only ingredient within Tea Tree Oil that was not dose-dependent for its killing effect of Demodex mites.
What are Demodex Mites?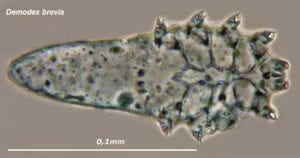 Demodex mites are microscopic mites that are a part of a community of microorganism that lives within and on the human body. For many of people, Demodex mites do not generally cause any issues and are harmless, however, if there are too many Demodex mites on your eyelashes, or skin this could cause issues such as red skin, rough texture to the skin, burning sensation, and eye irritation. There are two species of Demodex mites that are commonly found on humans.
Demodex Folliculorum – This species of mites are generally found in your hair follicles usually on your face, but they can also be found on your eyelids in the meibomian glands. These mites feed on your dead skin cells, oils, and hormones that build up there.
Demodex Brevis – This is the other species of Demodex mites that are found on humans. The key difference between Brevis and its counterpart, folliculorum is the location where the mites can be found. While folliculorum generally stay around your face, Demodex Brevis can be found all over your body. These mites feed off sebum that is present in the glands that are attached to hair follicles underneath your skin, therefore oily skin can lead to Demodex Brevis mites.
The thought of microorganisms living on your face can be quite alarming, it is a lot more common than you might think, and because they are naturally occurring, they tend to be more common in older individuals more so than children.
Why are Cliradex wipes so expensive?
There should be no price placed on eye health. While these wipes might seem expensive at roughly $40 a box for a 24-day supply. There is no product on the market today that is made with 4-Terpineol like Cliradex is, and many people that have tried Cliradex, have had great success with relieving the symptoms of the eye conditions that they are trying to get relief from.
By comparison, a 30-day supply of Ivermectin cream that is used to treat Rosacea will run you $320. Therefore $40 is nothing in comparison.
Final Thoughts
Cliradex wipes offer you a small convenient and effective way to relieve symptoms of dry eyes, blepharitis, Demodex and will provide you with relief from itchy, or irritated eyelids. Many people find that the relief comes only after a couple of uses, but it will vary from person to person. What are you waiting for? Get relief today, VISIT THE CLIRADEX WEBSITE HERE!
How are Cliradex's products working for you? Let us know below! If you have any questions or comments don't hesitate to leave them below and we will get back to you as soon as we can.
---
RELATED POST FROM EYE HEALTH HQ
---