Bear in mind that some of the links on this website are affiliate links. If you go through them to make a purchase we will earn a commission at no extra cost to you but helps support our website. Keep in mind that we link these companies and their products because of their quality and not because of the commission we receive from your purchases.
Summer is almost here and it is time to start pulling out those sunnies so you can make sure your eyes can be protected from that harmful UV rays coming from the sun. Technically you shouldn't just be pulling your sunglasses for the summer and you should be wearing them all year round. 
Although during the summer due to the earth's axis the sun's rays are a bit more intense. Which means it is even more important to wear those sunglasses.
If you already wear prescription glasses it might be a bit difficult to put a pair of regular sunglasses on top of them. But don't worry, all is not lost there are other options available to you. Your first option and the option that I definitely recommend the most is to get a pair of prescription sunglasses. There are plenty of retailers online that offer affordable prescription sunglasses.
Your other option, the much more affordable option would be to find something that could fit over your prescription glasses.
Sunglasses That Fit Over Prescription Glasses
These sunglasses are designed to be an affordable alternative to purchasing prescription sunglasses. Specifically designed to be able to be worn directly over your current prescription glasses.
These sunglasses are usually found in a variety of different shapes, sizes, colors, and lens options. The lenses will give you 99-100% protection from the harmful UV rays, some lenses even com polarized to help reduce glare as well.
So where can you find these fit over sunglasses?
Occasionally you can find some local retailers that offer these types of sunglasses but oftentimes their selection can be quite limited. Luckily the internet solves that problem, below you will find some retailers that have some of the best selections of sunglasses that can fit right over your prescription glasses.
Amazon.com
What doesn't Amazon have? is the real question. Amazon does have one of the best selection of fit over sunglasses and you can find them in all kinds of designs and styles that you are sure to find something that suits your personal style here. One of my personal favorites from Amazon is a pair that folds up to a size smaller than your fist, more on that later.
If you are an Amazon Prime member you can take advantage of that new 1-day shipping that Amazon will be providing their Prime members. If you are not a Prime member, you can try it for 30-days free. Take a look at some of my favorite fit over sunglasses from Amazon below.
Mr. O Folding Fit Over Sunglasses with Polarized Lenses
One of my favorite pairs that Amazon carries is this pair that completely folds up. If you have used these types of sunglasses before you understand that they can be quite bulky to carry around. This pair allows you to be able to fold it up and put it into the included leather case for easy travel and storage.
Duco Fit  Over Sunglasses with Polarized Lenses
This is another one of my favorite fit over sunglasses from Amazon. This pair is available in the sizes large as well as medium and is also available in a variety of different colors. The glasses are made from TR90 which is a thermoplastic material that is extremely flexible, durable and lightweight.
Mr. O Fit Over Sunglasses with Polarized Lenses
One of the more streamlined looks available when it comes to fit over sunglasses. These sleek frames come in a matte black and are much less bulky than your traditional fit overs. This frame is made from durable nylon, is super lightweight, and is designed to not only give you protection from the sun but also any wind, dust, and pollen from the sides.
Walmart.com
Walmart is another great website to find a large selection of fit over sunglasses. They offer a wide variety of sizes, shapes, and color. There are certain models that you could even order for pick up the same day if your local Walmart carries them in stock. If not Walmart does offer free 2-day shipping on many of their products so you wouldn't have to wait too long to get them. Take a look at my favorite model from Walmart.
LensCovers Wear Over Polarized Sunglasses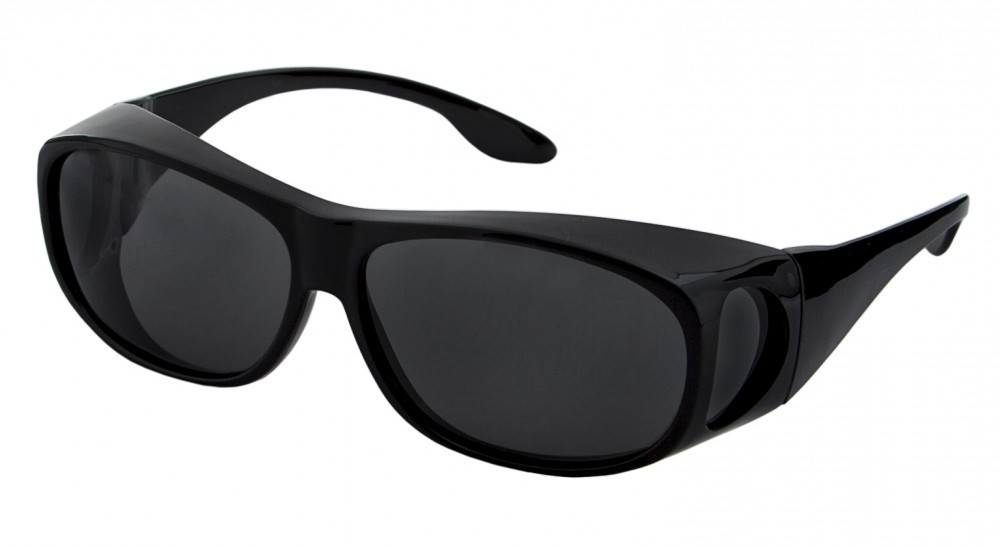 These are one of my favorite fit over sunglasses that Walmart carries. These glasses are designed to give you protection from the sun from all directions and are available to be purchased in a variety of different sizes including extra small, small, medium, large slim and large therefore you should be able to find a size that should fit over your prescription glasses comfortably.
SafetyglassesUSA.com
Another online retailer that carries a nice selection of fit over sunglasses is Safety Glasses USA. This Veteran owned company mostly carries top of the line safety glasses however you will find a great variety of fit over sunglasses. While they do have a nice selection of fit over glasses that are ANSI certified for safety, some of the fit over sunglasses are not ANSI certified and should not be used as industrial safety eyewear. Always be sure to check for the ANSI certification if you are looking for fit over sunglasses you could use for work.
Haven Malloy OTG Sunglasses with Polarized Lenses
These are definitely one of my favorite fit over sunglasses on the market. These glasses are designed with a more modern design giving you a wide viewing area with superior levels of comfort. Haven makes a variety of different styles of fit over sunglasses and has many different sizes to be able to give you the best sun protection with unbeatable quality.
Why sunglasses are important
The number one most important benefit of wearing sunglasses is that they act like sunblock for your eyes. Everyone knows what happens to your skin when you spend a day outdoors without putting on the proper sunblock. Those exact same UV rays that create sunburns on your skin could potentially cause or lead to serious conditions, some of which are not treatable. Therefore having the proper eye protection when you are outside is extremely important.
You don't only protect your eyes whenever you wear sunglasses though, your eyelid has very sensitive tissues that need to be protected from harmful UV rays. Leaving your eyelids exposed to UV rays could give you a higher risk of developing eyelid cancer.
Final thoughts
Anytime you are outdoors you should have your eyes protected by sunglasses. It doesn't matter if it is cloudy outside or if the sun is out and shining bright, even on overcast days UV rays are all around you. If you ever wonder how strong the UV is currently for your area you can always check the UV Index that is provided by the EPA.
What are your thoughts on these fit over sunglasses? HAve you used them before? Let me know in the comments below!
If you enjoyed the article, don't forget you can support us by sharing the article through your favorite social media channels using the buttons below. Thank you for all your support.
---
RELATED POST FROM EYE HEALTH HQ