Bear in mind that some of the links on this website are affiliate links. If you go through them to make a purchase we will earn a commission at no extra cost to you but helps support our website. Keep in mind that we link these companies and their products because of their quality and not because of the commission we receive from your purchases.
Ray-Ban has always been my brand of choice when it comes to prescription sunglasses. I generally need wider than average frames, and not all but some Ray-Bans offer a wider fit and they were always comfortable. Not only that Ray-Ban has some styles that are iconic to the brand.
Best thing of all is that their styles are timeless, and you can match them up with nearly any outfit. Whether you are looking for an aviator or a wayfarer style frame, Ray-Ban has got you covered.
What I never liked about getting prescription Ray-Ban sunglasses was the price tag that accompanied them at my eye doctor's office. Often times I would shop around locally at various different optical shops around town to find which specific Ray Ban model frame I liked the best. After that, I would take that model number online and search for a better deal than what I found at the stores.
Buy Prescription Ray Ban Sunglasses Online
More often then not I would find the Ray Bans I wanted online at a fraction of the cost. Of course, you must be careful of counterfeit frames, but that is why you should only be purchasing from reputable online retailers. Over the years of researching and purchasing prescription ray ban sunglasses online, I definitely know which online retailers I can depend on for my sunglasses, take a look below.
SmartBuyGlasses is my go-to place when it comes to prescription Ray-Ban sunglasses. They offer a huge selection of Ray Bans that are RXable and ready for you to put your prescription into them, with over 300 different Ray Bans to choose from, you are sure to find a frame that will complement your style.
For the prescription lenses if you decide to go with a non-polarized lens you can get the standard lenses from SmartBuyGlasses for free if you decide to upgrade to polarized lenses you can get those for $148.
All glasses from SmartBuyGlasses come with a 24-month warranty that covers any manufacturers' defects.
---
FramesDirect is another retailer that has a  quite a few Ray Bans for you to pick from. They don't carry as many as SmartBuyGlasses but they have a selection of a little over 100 Ray-Ban frames that you are able to put a prescription into.
The one thing about FramesDirect is that the retail cost of their lenses is quite expensive. But for the past 3 or 4 months, I have visited their website and they have had this 60% off lenses promotion running, it was a Halloween sale, then it became a Thanksgiving sale, and then Christmas. Therefore I am going to list the promotion price since it doesn't seem to be ending anytime soon.
If you decide to go with non-polarized lenses you can get them for $54, and if you go with the polarized lenses they will run you about $82.
FramesDirect offers a 1-year warranty on the frames and lenses that covers any manufacturers' defects.
---
Another good choice to take a look at if you are looking for prescription Ray-Ban sunglasses is GlassesUSA. They carry just a little under 100 different Ray-Ban styles that you can put your prescription lenses into. They have a neat new In-Home Try-On program in which you can select 2 pairs of glasses from all of their styles and they will send them to you with your prescription in them and you have 14 days to try them on and keep them or send them back.
As far as your prescription sunglass lenses if you stick with non-polarized lenses you can get them for $29, if you decide to go with polarized lenses you can get those for $118.
GlassesUSA has a 1-year manufacturer's warranty, but you can purchase an extended warranty that adds an extra year as well as cover accidental damage and prescription changes.
---
I like to check Coastal just to see what Ray-Ban styles they have. While they don't carry as huge of a selection they have a little less than two dozen Ray-Ban sunglasses that you can put a prescription into. They generally carry a healthy combination of new Ray-Ban styles along with some of the classic Ray Bans that they are known for.
Over at Coastal for the prescription lenses you can get non-polarized standard lenses for $50, if you want standard polarized lenses it would run you about $85 and $130 for thinner lenses.
Coastal offers a 1-year warranty for all manufacturing defects on the frames, lenses, and coatings.
---
This is normally a place that I visit just to check if they have any promotions going on. Their prices are generally on the higher end almost as much as if you were to walk into your local retailer to get your glasses. They have a fairly decent selection of Ray Bans though with about 60 or so frames that you can put a prescription into. One thing I will have to say about Eyeglasses.com is that they have a huge selection of all kinds of different lenses from various manufacturers.
For the lenses, if you go with a standard non-polarized lenses it will cost you about $74, If opt to go with polarized lenses then they will run you about $144.
Eyeglasses.com doesn't really have a clear warranty stated, except for it is covered by a manufacturers warranty for any defects.
---
Glasses.com is one of many websites owned and operated by Italian eyewear giant Luxottica. They have about a little over 20 different Ray-Ban styles that you can put a prescription into. They basically carry the most popular styles of sunglasses including the wayfarer and clubmaster styles.
For the lenses, if you go with non-polarized lenses it will cost you $99, and if you decide to go with polarized lenses they will be $159.
They offer a 1-year warranty for manufacturer defects, but if your frame gets damaged within the first year you are able to purchase a frame for 50% off.
---
Target Optical is just another one of Luxottica's many brands that they operate under. Target Optical has a little bit of a bigger selection than Glasses.com with a little over 30 Ray Bans you can put a prescription into. Target Optical is one of the few places that you are able to utilize your vision benefits online if you have a plan that they accept.
As far as the prescription lenses go Target Optical does not offer a non-polarized prescription lens but if you go with a standard plastic polarized lenses they will cost you $130, and polycarbonate polarized lenses for $210. They also have authentic Ray Ban prescription lenses for $310.
Target Optical offers a 1-year warranty on the frames and lenses for manufacturer defects as well as failures from normal wear and tear.
---
Everyone knows who Lenscrafters is, they are usually known for their expensive prices but their retail locations do provide some exceptional customer service. It is no surprise that there is a decent selection of 30 or so Ray Bans available on their website as they are also another brand of Luxottica.
As far as the lenses go, they carry a Ray-Ban non-polarized lens that starts at $214, and if you want polarized lenses it will cost about $274.
Lenscrafters offers a 1-year protection plan that covers regular wear and tear, as well as accidents but you have to purchase it.
---
How to buy prescription sunglasses online
In the past making a purchase for prescription eyewear online may have seemed like a risky thing to do, but today in 2019 there are tons of reputable online retailers that can provide you great service without that $500+ price tag you might find that some of your local optical retailers.
Many retailers even offer home try-on programs so that you could try on frames before you make your purchase. There are
some retailers such as GlassesUSA and Liingo Eyewear that will actually send you two complete pairs of glasses with your prescription already fitted into them so you get the full experience with your home try-on and you just get charged for what you don't send back. So if you decide you didn't want them you could just send them both back and you wouldn't be charged.
But, whenever you are ready to place your order for your prescription sunglasses online there should be a couple of things that you should be somewhat familiar with and have ready beforehand so you don't need to stop to figure out these things once you get started.
Prescription – This is an important one because there will be no reputable retailer that will sell you glasses without first verifying that you have a valid and current prescription from your eye doctor. If you haven't had an eye exam within the past 2 years then it is time to get a new exam, if you already have had an eye exam done then you should be able to request for a copy of your prescription from your eye doctors office. If your doctor's office refuses to give you a copy of your prescription you can kindly remind them that it is the law for them to give you a copy of your prescription. There is nothing that requires you to purchase your eyewear at the same place that you did your eye exam at.
 Know your PD – This is a very important measurement for your glasses and you will not be able to place your order without knowing this measurement. It is called the pupillary distance and is the distance from the center of one pupil to the center of the other pupil in millimeters. You can get this measurement one of two ways. You can request for the measurement from the doctors office in which you did your exam with, most of the time this measurement is taken at every eye exam. Or, you can measure it yourself with the help of a friend. You can check my other article to find a video on how to measure your PD.
Know what frame you want – This is a rather important step in purchasing your glasses online. You getting to this page means you have your selection narrowed down to a brand such as Ray-Ban which is a start. With designer eyewear, I have always recommended anyone who was thinking about purchasing online to find a local retailer that might carry the frame that you are interested in so you can try the frame on. It is honestly hard to really truly know how a frame looks on you without trying it on first. Once you try out the frame somewhere then you can go online and look for it to see if you can save some money.
Ray-Ban Sunglass Styles
There is one thing that Ray-Ban has done particularly well over the years is to consistently take their classic styles and revamped them throughout the years to consistently build the brand. It is especially credited to Luxottica for reviving the brand after a slight decline in the 90s. Here are some of my favorite styles.
Wayfarer
Amin [CC BY-SA 4.0], from Wikimedia Commons
This is is a classic style that has been manufactured by Ray-Ban since 1956. The Wayfarer This style has gone through quite a few ups and downs as far as popularity over the years. I personally am not a huge fan of the classic wayfarer style, I just can't get over the tilt in the front. I am however a huge fan of the redesigned new wayfarers, I had a pair of transition prescription glasses in a new wayfarer and loved it. My prescription is not the stronger side and the lenses fit amazingly inside those frames.
The Wayfarer style has been one of the most popular frames when it comes to having cameos in many popular Hollywood movies, showing up in movies such as Risky Business, and The Breakfast Club.
Aviators
By Rich Niewiroski Jr. – http://www.projectrich.com/gallery, CC BY 2.5, Link
The Aviator style was originally developed by Bausch & Lomb back in 1936. They are also known as "pilot's glasses". and were originally developed as a means for pilots to protect their eyes while they were flying. This is the style that is second to no one, this is the most popular design.. With a big contrast in difference than Wayfarers, Aviators give you a thinner more flexible frame with a wider lens that has a slight convex to give you as much protection from light as possible.
Aviators are one of my favorite styles when it comes to sunglasses, I am more the square aviator frames though, as the teardrop shape is more ideal for smaller faces.
Clubmaster
The Clubmaster frame is not as popular as the Wayfarers or the Aviators but the design is generally more popular among people who put prescription lenses into their Ray Bans. This browline style gives off that retro 50s look and is popular among people trying to achieve that vintage look.
I personally like Ray Ban's Clubmaster design because the lenses are smaller but the frame is designed wide enough to where it can complement any head size as well as face shape.
Round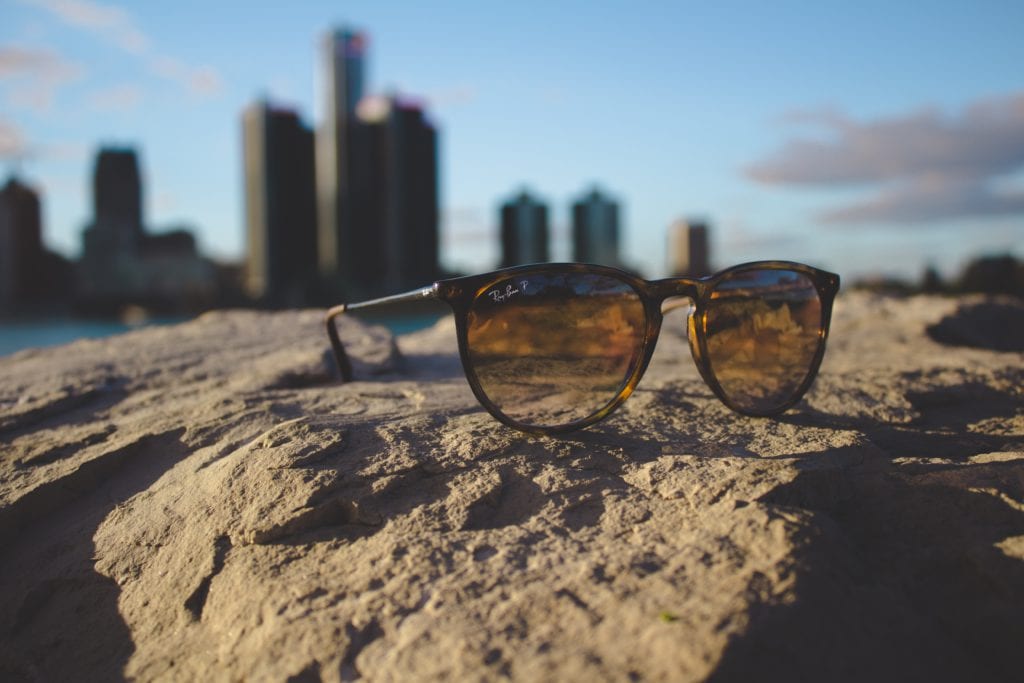 The round Ray-Ban style makes you think of the legendary musicians that rocked them such as John Lennon. This design is often worn by men and women and is a thin frame with large oval lenses. I personally like the round frame style, but haven't been able to find any that fit me, this style just screams retro.
Prescription Sunglass Lenses
After you have your frame picked out, you're going to have to decide what kind of prescription lenses you are going to go with. There are a number of different options for sunglasses and it all has to do with what your planning on using them for. If you are just looking for the cheapest prescription sunglass lenses then you can just go with the least expensive option that is offered. If you care what kind of lenses you get then you will usually have quite a few options to pick from.
Standard Tinted Lenses – This will usually be the most basic lenses that you will be able to get. These lenses will most of the time be standard CR-39 plastic with a tint, and UV protection coating. Even though this is the most basic set up you can get, this will still give you adequate protection from the sun's harmful UV rays. You will be able to find these lenses in polycarbonate, and high-index materials as well.
Polarized Lenses – Polarized lenses are always a great option when it comes to sunglasses. Polarized lenses can reduce the glare that you would otherwise be dealing with that is reflecting off of horizontal surfaces such as large bodies of water or the ground. This, in turn, provides you with better clarity and reduced eyestrain. 

Polarized Lenses With Anti-Reflective Coating – Premium prescription sunglass lenses come with backside anti-reflective coatings. The backside is the side that is facing your eyes, and on dark glasses will cause reflected light and glare which can be distracting. Having the anti-reflective coating on the backside will reduce and minimize those distracting reflections.
Whichever type of lenses you end up deciding to get will depend on your budget, and what you are using them for. Polarized lenses and non-polarized lenses each have their pros and cons. Most of the time, polarized lenses will be the most beneficial, with the exception of a few careers such as pilots who should not be wearing polarized lenses.
Final Thoughts
Finding your perfect pair of prescription Ray-Ban sunglasses online is easier than ever. With the more affordable prices maybe you might be able to find multiple pairs to complement different outfits or for different occasions. Overall find a frame that fits comfortably, and gives you enough protection from the UV rays.
Which Ray-Ban design is your favorite? I would love to hear from you, drop me comment below!
---
OTHER POSTS YOU MAY LIKE FROM EYE HEALTH HQ