Bear in mind that some of the links in this post are affiliate links and if you go through them to make a purchase I will earn a commission at no extra cost to you. Keep in mind that I link these companies and their products because of their quality and not because of the commission I receive from your purchases.
Polarized sunglasses have become more and more popular, mainly due to more people understanding the benefits of utilizing a polarized to protect their eyes from the bright glare from the sun. Even with safety glasses, polarized lenses are growing in popularity.
Best Polarized Safety Glasses
The reason for this growth is due to polarized lenses ability to adequately reduce glare while providing you with better clarity than a non-polarized pair of sunglasses. This is great for individuals who work in environments where they may be exposed to bright sunlight such as construction.
It is definitely not limited to individuals who work and need safety sunglasses, individuals who participate in recreational activities such as motorcycling, boating, shooting, even fishing could benefit from polarized safety glasses. So where can you find the best polarized safety glasses? Read on and find out more.
What are polarized lenses
Polarized sunglasses have long been used by people who spend time around large bodies of water such as boaters, or fishermen who use polarized glasses to help reduce the glare from the surface of the water near them. This could help boaters see through the surface of the water to navigate their boat safety, and fishermen to be able to see the fish in the water. 
Whenever light enters our earth's atmosphere there are a couple of things the light could do, it could either be absorbed, scattered, or reflected. Some light waves reflect vertically, and some reflect horizontally. The light waves that reflect horizontally produce the strong, annoying, and at times dangerously intense glare. Polarized lenses have a filter that blocks horizontally produced light waves, which reduces glare, and increases the visibility, and clarity of your vision.
Lenses that are only tinted with UV protection will give you protection from the harmful UV rays from the sun, and the dark lenses make dealing with the glare more comfortable. However, the tinted lenses alone do not block out the glare you would get from light reflected off horizontal surfaces and you would still have to deal with the glare even if it isn't as intense.
Polarized Safety Glasses
If you are in an environment where you need to wear safety glasses and it is outdoors, you should consider trying out a pair of polarized safety glasses. After all, you are wearing safety glasses to protect your eyes, and any glare that obscures your vision can be dangerous. Below you will find some of the best polarized safety glasses available on the market today.
Under Armour Big Shot Storm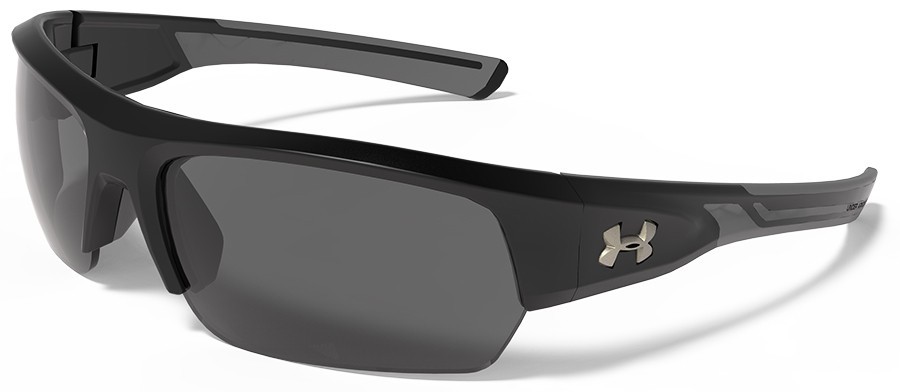 Frame Fit: Large/XL | Safety Rating: Meets or exceeds ANSI Z87.1 safety standards
These Under Armour safety sunglasses use a flexible material called ArmourFusion, which is Under Armours patented technology that combines Titanium metal and Grilamid plastic to give you a frame that is extremely durable but provides an extremely lightweight and comfortable fitting frame. You don't need to worry about the light frame slipping off of your face as it uses a three-point fit with rubber nose pads and temples that are specifically designed to ensure the frame is secure and stays in place. The lenses use Under Armour's ArmourSight technology, which is a military-inspired impact-resistance lens made by Zeiss that gives you up to 20% more undistorted peripheral vision and is up to 10 times stronger than standard polycarbonate lenses.
Wiley X AirRage

Frame Fit: Small/Medium | Safety Rating: Meets or exceeds ANSI Z87.1-2015 and CE/EN166
Wiley X is an industry leader when it comes to safety glasses and this pair is one that is designed for you to take on anything that can be thrown your way. A part of the Climate Control Series and includes Wiley X's patented removable facial cavity seals that have soft foam to block out any fine dust, debris, wind, pollen, as well as any peripheral light that may cause irritation to your eyes. Wiley X's frames are designed using a Triloid Nylon material, which makes them nearly indestructible, and will be able to withstand the harshest environment you can wear them through. The lenses for these glasses use Wiley X's Filter 8 polarized lens technology which combines eight layers of technology to eliminate glare and give you unmatched clarity. The Filter 8 technology includes a hydrophobic coating to repel water, as well as an anti-reflective coating to reduce distracting reflections on your lenses. That technology is combined with their patented Selenite polycarbonate material, which is shatterproof and one of the world's most impact resistant lens materials.
Edge Overlord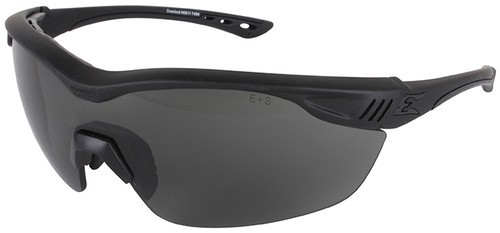 Frame Fit: Wraparound | Safety Rating: Meets or exceeds ANSI Z87.1 +2010, CE/EN166, and MCEPS GL-PD 10-12
This is a pair of safety sunglasses for those who want to take safety to a whole new level. Designed with feedback from a tactical Special Operations Group, these ballistic-rated glasses are made to cover any issues that could arise for operators who typically work in constantly changing and unpredictable environments. The frame is made with a flexible and extremely durable TR90/Nylon compound material that increases grip as it becomes moist or warm. These glasses also come with 4 lenses altogether, polarized smoke lenses, clear, tiger's eye, and a polarized G-15, which can be changed out quickly depending on what environmental conditions you are in. The two non-polarized lenses include the military grade anti-fog called Vapor Shield, which completely blocks out fog.
Bolle Hustler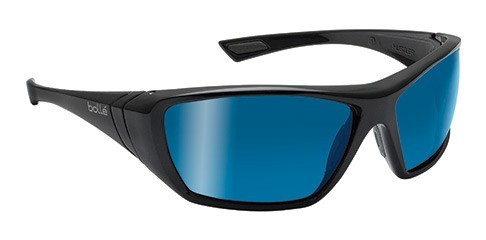 Frame Fit: Medium/Large | Safety Rating: Meets or exceeds ANSI Z87.1-2010, CAN/CSA Z94.3-07, and CE/EN166
If you are looking for a pair of safety sunglasses that combines style with protection, but don't want to bust the piggy bank open to get one, these Bolle Hustler glasses are for you. Designed with a high contour design with an anti-fog to provide you with a wide viewing area that is distortion free and superior optical clarity,. The flash blue mirror polarized lenses help repel heat and reduces glare to provide you with the most comfortable viewing experience. The nose pads and temples are designed with non-slip rubber to provide comfort and hold the frames in place. Lastly, the 2.2mm thick polycarbonate lenses provide you with protection from any debris that may be coming your way.
Wiley X Valor Black Ops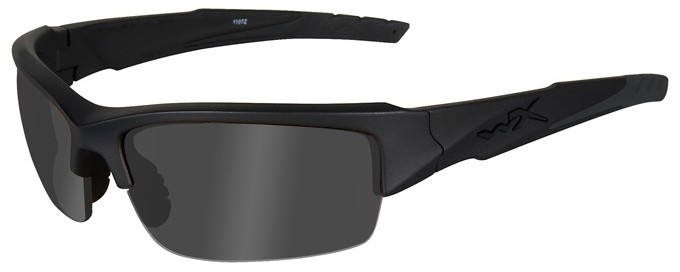 Frame Fit: Medium/Large | Safety Rating: Meets or exceeds ANSI Z87.1-2015, CE/EN166, and CL-PD 10-12 MCEP
This frame is a part of the popular Changeables Line, which has lenses that can be quickly changed out to adapt to any environment you are in. This frame is a ballistic rated frame which means it provides superior impact protection and exceeds standard ANSI ratings. The polarized smoke gray lenses give you maximum glare protection without distorting any colors, and the T-shell scratch resistant coating resists scratches in the harshest environments. Whether you are using them to go to the shooting range, out hunting, or going out for a day at the beach these glasses will give you great protection no matter the environment.
More Polarized Safety Glasses | SafetyGlassesUSA.com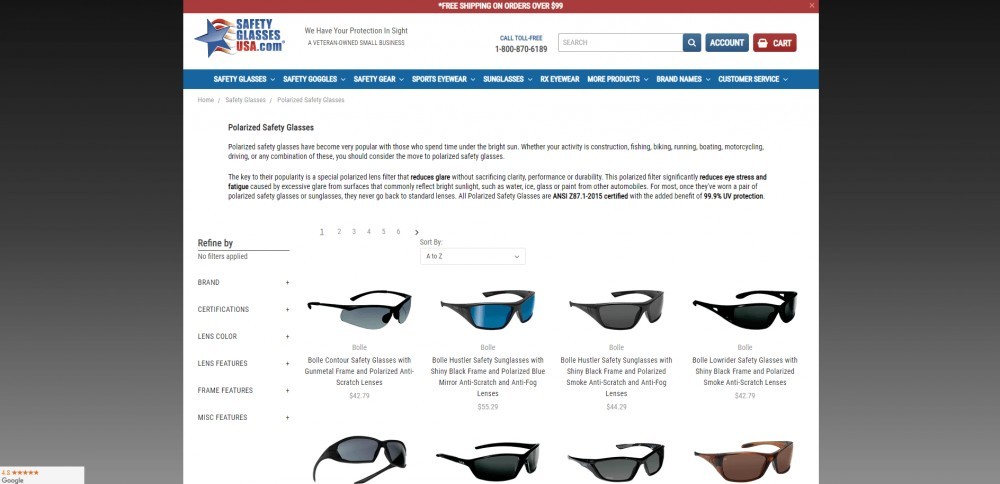 VISIT SAFETYGLASSESUSA.COM
Even though we provided you with a list of some of the best polarized safety glasses from some of the top brands in the market, there are dozens of quality polarized safety glasses out there and there is no other place that carries a more complete selection of them than SafetyGlassesUSA.com.
This Veteran-owned business is a leading online retailer for all kinds of safety glasses, from shooting safety glasses all the way to safety goggles for the workplace, to military-grade safety glasses. Carrying over 50 brands of various safety frames and over 2000 styles of safety and sports eyewear. Even though they are an international distributor for their products, their presence is not only on the internet and they have a showroom for their local community in Three Rivers, Michigan.
Final Thoughts
Remember if you are participating in an activity where you should be wearing safety glasses, or you are required to wear safety glasses make sure you wear your safety glasses. Many eye injuries that happen could be prevented if the proper safety equipment was worn when the accident happened. At the very least, having the safety glasses would help reduces the severity of the damage. No one thinks they need safety glasses, but why take the risk? You only get two eyes, and your eyes can not regenerate if something were to happen.
Remember to make sure that your safety eyewear is in good shape and fit properly, and replace them if you see anything damaged or they have become too loose to stay on properly. Also, do not fully trust those safety glasses that you can buy at your local department store that comes in a pack of 3 for $10, those safety glasses are the bare minimum and may not give you the protection you need if a serious accident were to happen as they generally do not fit as snug as they should.
Do you wear safety glasses? If so what kind do you wear? We'd love to hear from you.
If you have any comments, or questions don't hesitate to ask them below and we will get back to you as soon as we can.
---
RELATED POST FROM EYE HEALTH HQ
Follow Eye Health HQ on Social Media