Bear in mind that some of the links in this post are affiliate links and if you go through them to make a purchase I will earn a commission at no extra cost to you. Keep in mind that I link these companies and their products because of their quality and not because of the commission I receive from your purchases.
Summer is back again and it is time to pull out those sunglasses again. Realistically though you shouldn't be waiting until summer to bring those sunglasses out because your eyes need protection from the sun all year long regardless of the season.
Best Aviator Sunglasses For Men
Today, we are going to take a look at one of the most timeless looks when it comes to sunglasses, the Aviator. Originally, these sunglasses were designed by Bausch & Lomb for the military pilots in 1936, thus the name aviator.
These glasses feature the classic G-15 green tempered glass lenses which only transmitted 15% of incoming light. Even though these glasses seem relatively flat in the front, the lenses are actually designed slightly convex to help cover the entire range of the human eye and block out as much light as possible. Eventually, when these aviator sunglasses were released to the public, they were trademarked as "Ray-Bans".
Today, you can find aviator-style glasses from an endless number of brands, they all draw inspiration from the same military classic, with the teardrop shape, and that double or triple bridge design. Here are some of the best to pick from.
Warby Parker Raider
Raider is a vintage-inspired frame that features CR-39 scratch-resistant lenses that block 100% UVA and UVB and are polarized to give you the best clarity. The frames themselves are crafted from hypoallergenic stainless steel with hand-polished cellulose acetate for the temple tips. This frame comes is available from Warby Parker in a regular fit as well as a larger wide fit. The best part about these is the no scratch guarantee offered by Warby Parker in which they will replace your scratched lenses for free within the first 12 months, even if you purchase them without a prescription. Starting at $145
Randolph Engineering Aviator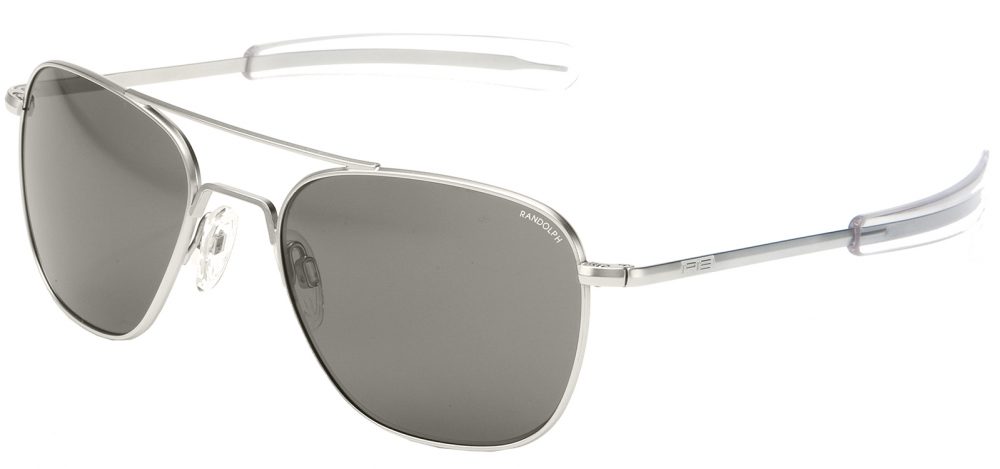 Bausch and Lomb may have had the first military contract to make aviator sunglasses for their pilots, but Randolph Engineering took over that role afterward and they did not disappoint. Their flagship aviator frame is built up to the rigid military-spec standards and has been the standard-issue aviators for the military since 1978. These aviators are designed and for the toughest conditions and are one of the best choices for everyday use.
Ray-Ban Aviator Classic
This is the frame that started it all, the iconic Ray-Ban aviator. The Aviator Classic is a frame that has the same original drop-shaped lenses with that convex design to give you the full range of vision. The lenses include the classic G-15 lens that absorbs up to 85% of visible light and blocking out most of blue light. These lenses have always been known for its high level of clarity, comfort, as well as protection.
Persol 649 Original
This frame is a great alternative to those who like the aviator style look but dislike glasses with nosepads. Persol glasses come with their Meflecto stems which were the world's first spring hinge which helped eliminate the pressure on the head from the temple arms of the glasses and provided a better fit. This specific model still utilizes the Persol Victor Flex bridge that is flexible and can be seen with the 3-notches in the bridge.
Ray-Ban Blaze Aviator
This frame is a new twist on the classic Ray-Ban aviator. The Blaze Aviator takes the classic aviator shape with a bolder double bridge and a flat lens set on top of the frame in a lens-over-frame construction. The lenses include the iconic polarized Green Classic Lenses by Ray-Ban.
Christian Dior Aviator Sunglasses
This pair of Christian Dior aviator sunglasses brings a modern twist to a classic Dior. This wide aviator frame features a full-frame with a shiny blue metal finish and a unique textured detailing on the bridge as well as the temples. The frame is built with spring hinges and clear acetate earpieces for extra comfort.
Ray-Ban RB4125 Aviator
This frame is also another great alternative for anyone who dislikes glasses with nosepads. This frame brings a contemporary twist to an aviator-style frame. It features large teardrop lenses that are joined in the middle by a double nose bridge to give you a stylish looking frame that also gives you great protection against the harmful UV rays from the sun.
Gucci Foldable Aviator
Gucci has always been a brand that is great at being innovative and original in their designs while still providing great quality and value for their customers. This foldable aviator by Gucci is no different. This frame features premium cellulose acetate, ultra-lightweight titanium, and durable stainless steel. This frame includes CR-39 plastic lenses that have been coated with a superhydrophobic and anti-reflective coating to provide you with top-notch clarity.
Maui Jim Aviator
Maui Jim doesn't really need an introduction, they have always been known to have one of the best sunglass lenses on the market. Their PolarizedPlus2 Technology provides you with unmatched glare protection, UV protection from all angles, manages blue light, and sharpens color to give you unmatched color, clarity, and contrast. The frames themselves features MauiFlex memory metal which remembers the fit and shape of your face.
Ray-Ban RB3606 Aviator
This frame is a more modern twist to the original aviators. This frame provides you with softer curves than the traditional teardrop with more bold brows and a double bridge to top it off.. Featuring steel temples with rubber to provide you with the most comfortable fit.
Why are Aviator Sunglasses Popular?
Aviator sunglasses have been worn throughout history by various different celebrities and music artist but the sunglasses first became popular in what is now one of the most iconic photos, General Douglas MacArthur was spotted wearing a pair of these frames when he landed his plane on a beach in the Philippines. When the media got wind of this photo it was widely spread throughout press outlets and became the symbol of American heroism during this time period. After World War II, there was an established connection between aviator-style sunglasses and the military and hence the "aviator" name.
Later on in the 1950s, there were stars like Marlin Brando who wore aviator sunglasses in The Wild One's movie which depicted a rebellious tough eye vibe. After that, the style got a huge boom in popularity when Paul McCartney and Ringo Starr were pictured wearing them. Popularity does go down for a bit after this ( You can more than likely blame this on John Lennon's round frame look).
Aviator sunglasses had a resurgence in the 80s when Freddy Mercury sports a pair for the album cover of Mr. Bad Guy in 1985.
After that aviator sunglasses were fully cemented as a popular style after Tom Cruise and Val Kilmer sported aviator glasses in the hugely popular Top Gun film.
Finally today, aviator sunglasses continue to be depicted as a symbol of American heroism, most recently by Brie Larson in Captain Marvel, and Chris Evans in Captain America. If you are wondering which pair my man Steve Rogers is wearing in that photo, it is this pair listed 2nd on my list.
Final Thoughts
There is truly no other style out there that is a timeless, masculine style like aviator sunglasses. Warby Parker, Ray-Ban, Persol, and Gucci are some of the endless brands that have designed their own aviator sunglasses and the style continues to thrive to this day.
If you need prescription sunglasses, check out where the best places are to find prescription sunglasses online.
Thank you for stopping by Eye Health HQ, if you have any further questions feel free to drop a comment below and I will get back to you as soon as possible.
OTHER POSTS YOU MAY LIKE FROM EYE HEALTH HQ