Bear in mind that some of the links on this website are affiliate links. If you go through them to make a purchase we will earn a commission at no extra cost to you but helps support our website. Keep in mind that we link these companies and their products because of their quality and not because of the commission we receive from your purchases.
I hadn't heard of Warby Parker up until a few months ago. I needed a backup pair of glasses and I was looking through some of the popular online retailers like Zenni and Coastal when one of my colleagues told me she just ordered her home try-on set from Warby Parker, which is an online eyeglass retailer that has a program that allows you to be able to try on the frames that you are interested in before actually purchasing them. Wait, what? You mean I can place an order for frames I want to try and this company sends the frames to me to try before I make my purchase? What an innovative way to sell glasses online, I was quite intrigued I had to find out more.
Warby Parker Glasses
Before I heard about Warby Parker, one of the biggest issues with buying prescription glasses online, in my opinion, was the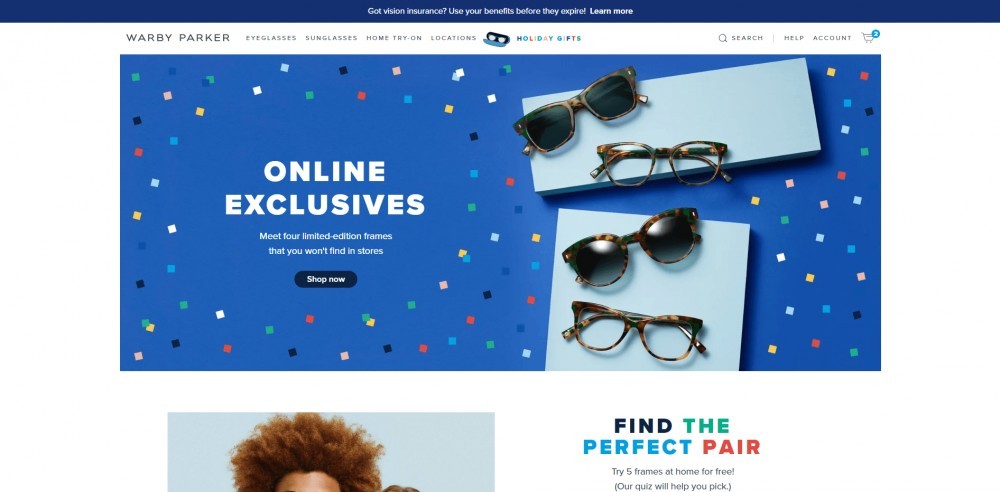 fact that you weren't able to try on the frames before making your decision. The measurements for eyewear is a bit more complicated than purchasing something such as a t-shirt. Even then sometimes a large shirt from one retailer might not be the same as a large from another.
Warby Parker designs and manufactures all of their frames in-house, therefore, it is even more important for you to be able to try on the glasses since unless you live near a Warby Parker retail location, you won't be able to try these frames on anywhere else.
Warby Parker Home Try-on Program
Warby Parker's home try-on program is one of the major contributing factors in its success. If you are ready to try on some frame, how this works is on Warby Parker's website there is a quiz that you take. The quiz goes through a few basic questions to find out if you are looking for men or women's frames, what your frame fit is, the frame shape you like, frame colors, and how long its been since you got your last eye exam.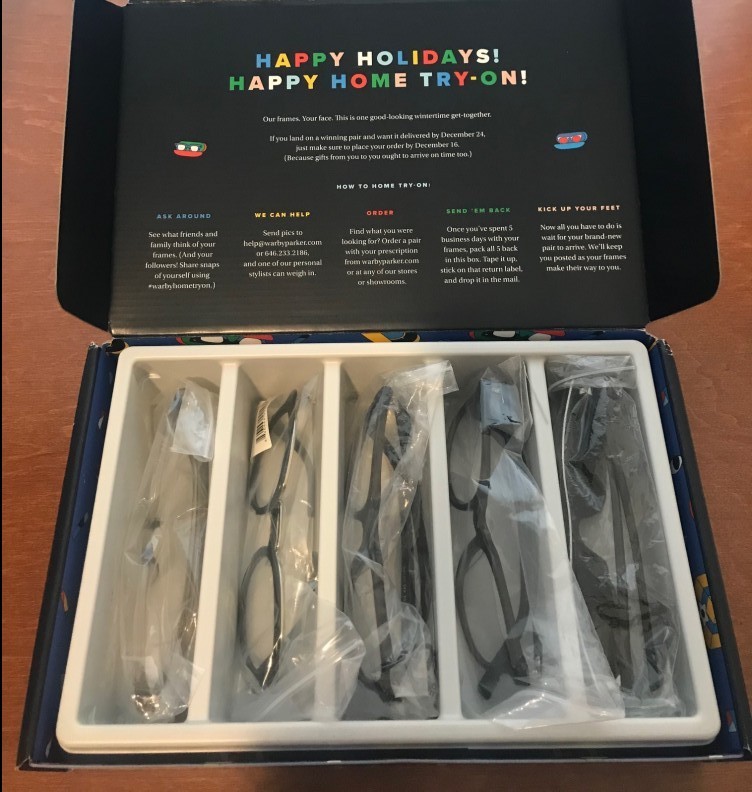 After you go through the quiz you will be presented with a variety of frames based on your answers to the questions on the quiz. From there you can either pick out 5 frames that you want to try from your quiz results, or you can just browse all of the home try-on frames and make your selection from there. After you have your frames picked out you would submit your order, and wait for the amazing people at Warby Parker to pick, pack, and ship your try-on frames to you.
Since finding out about Warby Parker I have ordered 3 sets of frames from them and it feels like every time I do it my home try-on frames seem to get there quicker and quicker every time but it could just be me, on average it takes about 2-3 days.
After your home try-on frames arrive at your house, you have 5 days to try them on, take pictures, post it on social media for opinions, or ask some friends, whichever you decide you have the 5 days to do so. Anyone that has ever tried out eyeglass frames before knows that sometimes you might like how a certain style looks, but you might not like how it looks once you try them on.
You can check out my full review here: Warby Parker Home Try-on review.
After you are done with your try on frames, shipping them back is extremely easy. I just put all the frames back as they were shipped to me. I took the prepaid shipping label that was sent with it, slapped it on the box, taped the box shut and dropped it off at my local post office. If you aren't near a post office, you can always drop it into your mailbox to be picked up.
Warby Parker Frames
I have to say one of the things I was really impressed with when I received my first set of home try-on frames is the fact that Warby Parker's frames felt extremely sturdy. The frames felt like they were well made, and the acetate on the plastic of the frames did not feel like it was a cheap plastic compared to what you might find at some other online retailers. The hinges on the frames felt sturdy and well designed.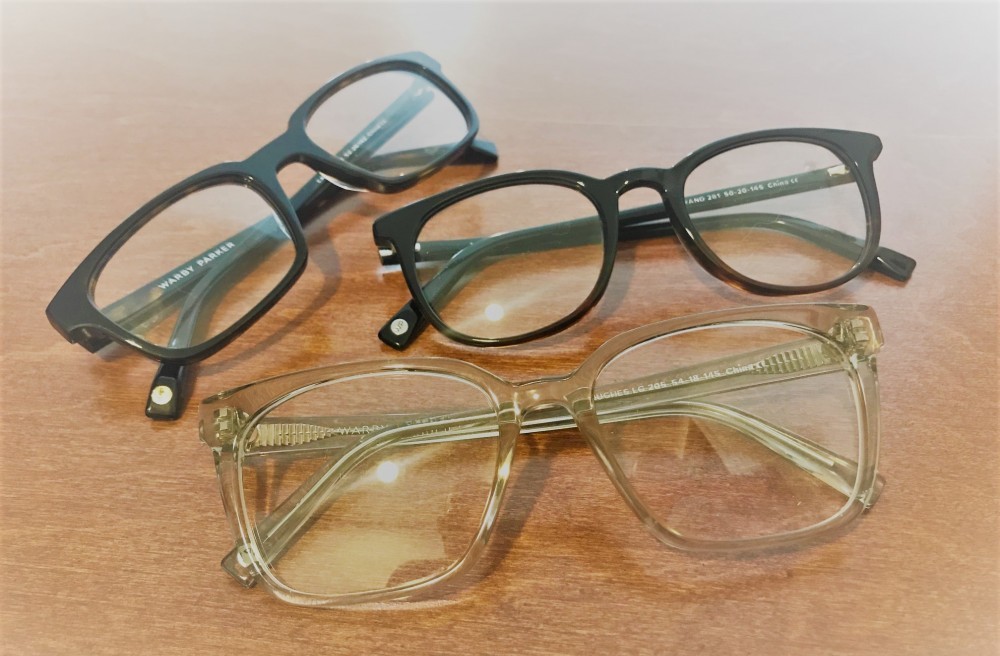 Warby Parker uses premium acetate for their frames sourced directly from Italy. Digging into it deeper, I found out that Warby Parker uses the same manufacturer that eyewear giant Luxottica uses to manufacture their designer eyewear at, which explains the quality of the frames.
Lens Options at Warby Parker
Warby Parker makes buying lenses for your glasses on their website a very simple process. Most of their glasses start at $95. That price includes the frames, single vision polycarbonate lenses, as well as an anti-reflective coating. That will be the price for you if you only need glasses for distance OR reading, want just non-prescription reading glasses, or just want non-prescription glasses for your chic look. If you are someone that needs prescription glasses for distance as well as near, Warby Parker offers a no-line progressive bifocal for an additional $200.
Light responsive lenses that turn dark when you are outside in the sun can be added to your single vision or progressive lenses for an additional $100, and your lenses can be upgraded from polycarbonate to high-index lenses for an additional $30. If you are looking for blue light blocking lenses you can purchase them at Warby Parker for an additional $50.
Buy A Pair, Give A Pair
Since Warby Parker opened they their mission has always been to help people across the world find affordable eye care. One of the ways that they help address this issue is through their Buy A Pair, Give A Pair program in which every pair of glasses that are purchased through Warby Parker, they distribute a pair through non-profit VisionSpring which is their primary partner for the program.
Through this program, VisionSpring gets glasses to people in over 50 countries across the globe. Many people in these developing counties are not able to effectively work due to the severity of their vision impairment, and these glasses are the first pair of glasses they have ever received. Some of the glasses go directly to school-age children where teachers would first notice if a child has any vision problems. Check out the video below by Warby Parker about their buy a pair, give a pair program.
Final Thoughts
As the second-largest online retailer for eyewear, Warby Parker has done a magnificent job bringing high-quality eyewear at affordable prices. My overall experience with Warby Parker was great, and I am quite impressed with how far they have gotten since they first opened 8 years ago. After 3 home try-on rounds with different frame styles, I think I am finally ready to place my order so stay tuned for an overall review with the prescription lenses.
Want to try on some frames yourself? Visit WarbyParker.com and find your perfect frames.
Have you checked out Warby Parker? I would love to hear from you drop a comment below! If you have any questions feel free to reach out through the comment section or the contact form and I will get back to you as soon as I can.
---
MORE AWESOME POSTS FROM EYE HEALTH HQ
---