Bear in mind that some of the links on this website are affiliate links. If you go through them to make a purchase we will earn a commission at no extra cost to you but helps support our website. Keep in mind that we link these companies and their products because of their quality and not because of the commission we receive from your purchases.
This week Warby Parker took another leap in the eyewear industry and just reveled their own brand of contact lenses. For years customers have been asking Warby Parker when they would make contact lenses, and now they have delivered.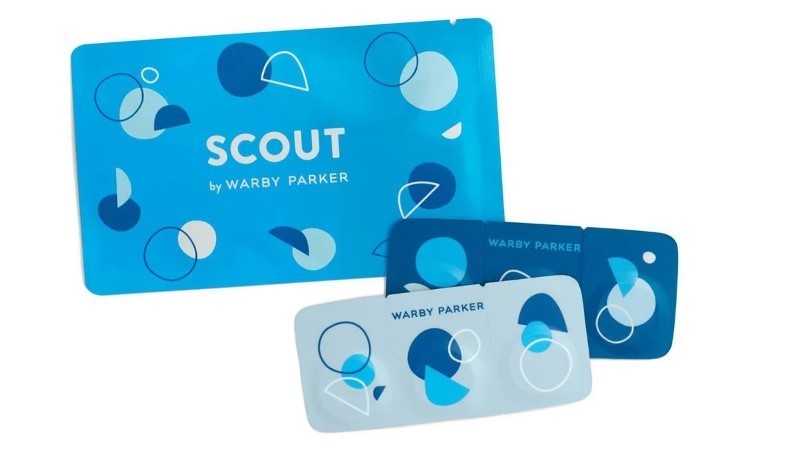 But being Warby Parker they didn't just launch any kind of contact lens, they launched a contact lens that is not only comparable to your leading brands of daily contact lenses but also utilized a flat pack to help you be able to store and travel with them better, and also uses much less plastic than your standard contact lens packs.
Not only that, these flat packs are designed so that the outer surface of your contact lenses are always facing up, so you only touch the outer surface and never touch the inside surface. This helps reduce the chance of any contaminants that are on your fingers transferring over to the inner surface of your contact lenses. Introducing, Scout.
Warby Parker Scout contact lenses
Neil Blumenthal the co-founder and co-CEO of Warby Parker mentioned that it was essential for them to make a product that was going to be affordable, comfortable as well as high quality. To make Scout, Warby Parker partnered with Japanese company Menicon who is the first and largest contact lens manufacturer in Japan and has been in the business since 1951.
The contact lenses themselves are made out of a material that is super-moist and is resistant to drying to give you that continued comfort throughout the day. For those technical folks, the contacts are made out of hioxifilcon A, and have a 57% water content along with a 25 Dk/t oxygen permeability.
Using CentraForm technology, the edge of the Scout contact lenses are designed to reduce friction between your eyelid and the contact lenses. This means, there will a lesser chance of you being able to feel the contact lenses in your eyes providing comfortable all-day wear.
As a company that really prides itself in being carbon-neutral they really put a lot of thought into these contacts, the flat-pack used for Scout contains 80% less plastic and the container that holds your Scout contacts is made entirely of contents recycled during the manufacturing process.
How much do Scout contact lenses cost?
Scout daily contact lenses are going to only come in 90 packs which cost $55 each. Therefore, if you were looking to purchase a 3-months supply (one box for each eye) it would come out to $110. That comes out to less than $1.25 per day, that is if you wear your contact lenses every single day. Which is comparable in price to some leading brands such as Acuvue, Dalies and Clariti daily contact lenses as well as other direct to customer brands such as Hubble.
If you purchased an entire year supply of Scout it would only come out do $440, which is on the lower end when it comes to daily contact lenses. While daily contact lenses are more expensive than bi-weekly or monthly contacts to purchase, if you are cleaning your bi-weekly or monthly contact lenses the correct way, the amount of money you save from not having to purchase contact lens solution basically makes it so the cost annually would be nearly the same.
Warby Parker also gives you an option to get a 6-day trial-pack for $5 with the approval of your eye doctor. Warby will, in turn, provide you with a $5 credit that you can use on any future product purchases. This reminds me of Warby Parker's home try-on program for their glasses in which you could order 5 frames to try them out at home for free.
Scout contact lenses prescription range
Currently, Scout is only available for those who have spherical prescriptions. This means if you have astigmatism and need toric lenses or use multi-focal contacts you aren't able to get Scout (for now). But since Warby Parker is striving to be your one-stop eyewear solution, they also offer most leading brands of contact lenses such as Acuvue and Biofinity.
For those with spherical prescriptions, the prescription range for Scout is from -10.00 to +4.00.
Scout Flat Pack
The packaging for the Scout contact lenses is honestly one of my favorite aspects of these contacts. If you have worn contact lenses before, you understand how hard it could be to fish your contact lenses out of the packaging whenever you opened a new set of contacts.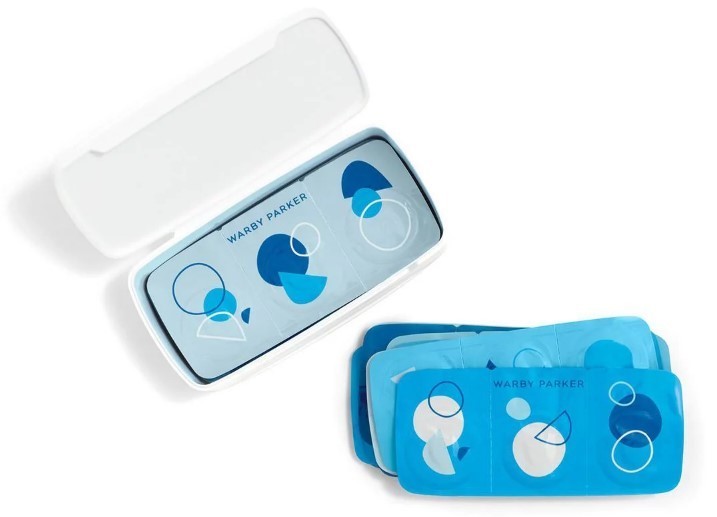 The Scout Flat Pack is specifically designed for you to be able to easily open it and easy for you to take the contact lens out without touching the inner surface of the lenses. Microorganisms that transfer over dirt and oils on your fingers can be easily trapped on the inner surface of the contact lens and continue to be trapped between the lens and your eye potentially leading to an eye infection. Since the Flat Pack is designed so the outer surface is always facing up, this drastically reduces the chances of any contaminates getting trapped into your eyes and is a much healthier option for your eyes.
Another problem with using daily contact lenses that the Flat Pack fixes are the amount of space it takes to store a 90 pack of contact lenses. The Flat Pack utilizes 80% less plastic and comes in at about 1mm thick making it easier for you to not only save space storing them but also makes it easier for you to travel with them as well.
Final Thoughts
After nearly a decade of being in the eyewear industry, Warby Parker finally introduces contact lenses and I couldn't be more excited (even though my prescription is out of range for Scout). I do love that instead of just offering their own brand they also offer a wide range of third-party contact lens brands that some contact lens wearers are already comfortable with.
Hopefully, in the future, Warby Parker will continue to expand its Scout brand and also offer contact lenses for those with astigmatism or multi-focal lens. For now, this is a great step in the right direction for the company since they are looking to be your one-stop-shop for all of your eyewear needs. In the meantime, you can still order your favorite contact lens brands through Warby Parker.
How do all of you feel about Warby Parker introducing their own brand of contact lenses and other contacts overall? Drop a comment below!
As always thank you for stopping by Eye Health HQ.