Bear in mind that some of the links on this website are affiliate links. If you go through them to make a purchase we will earn a commission at no extra cost to you but helps support our website. Keep in mind that we link these companies and their products because of their quality and not because of the commission we receive from your purchases.
GUNNAR Blue Light Glasses
GUNNAR Optiks was founded in 2007 and is a California based company that specializes in eyewear that is treated with their patented technology that helps protect your eyes from digital eye strain. Their glasses are designed to eliminate eye strain while providing you with better color contrast, comfort, as well as focus. Their glasses are designed for anyone that spends extended periods of time looking at computer or television screens.
Statistics show that nearly 70 percent of U.S. adults experience digital eye strain due to the increased usage of digital devices and many do not know how to lessen discomfort. With technology here to stay, we must be more proactive about the amount of time that we are spending on our digital devices, but sometimes it is unavoidable as 43 percent of adults work in jobs that require prolonged use of a digital device. Wearing blue light blocking glasses such as those from GUNNAR Optiks could help reduce the amount of blue light you are exposed to and help reduce eye fatigue and discomfort throughout the day.
What is Blue Light?
Blue light is a color that is a part of the visible light spectrum. The visible light spectrum is a small part of a much larger electromagnetic spectrum and As you can guess by the name, the visible light spectrum is the part that we are able to see. The visible light spectrum consists of violet, indigo, blue, green, yellow, orange, and red.

Blue light is on the end of the visible light spectrum where the wavelengths are shorter, but they pack much more energy than the red on the opposite end of the spectrum which has longer wavelengths but less energy. Studies have shown a relationship between exposure to the blue end of the light spectrum, and serious long-term damage to your eyes
Blue light is actually all over the place, the sun is the largest source of blue light, the natural form of blue light from the sun helps regulates your body's natural sleep/wake cycles that is known as your circadian rhythm. The blue light that is concerning is the blue light coming from artificial sources such as smartphones, computers, tablets, and flat-screen televisions.
Even though the sun provides the largest source of blue light, the reason why digital devices are concerning is due to the extended period of time that people spend on these devices, and the close proximity these devices are to your face.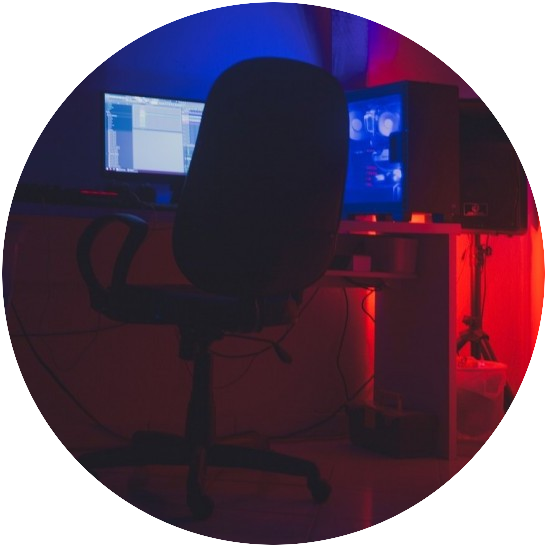 GUNNAR Blue Light Glasses
GUNNAR has developed advanced technology that is designed specifically designed to reduce computer eye strain, help improve your comfort and focus, as well as protect your eyes from the harmful blue light.
Their patented lens technology offers a distortion-free, ultra-light lens with properties not found in other inferior lens materials. Everything from the lens design, curve, material, tints, and coatings are specifically designed to provide you with the best vision you can possibly get, which results in less strain on your eyes.
GUNNAR Blue Light Protection Factor
GUNNAR glasses come in a range of different levels of Blue Light Protection Factors (BLPF). This is a scale that measures and grades the level of protection that you are getting from blue light as well as UV light. There isn't truly a one size fits all here, and ultimately the level of blue light protection you are going to go with will depend on your occupation, preference, and how much blue light you want to block out. Below I have listed the different levels of Blue Light Protection Factor that you can get with Gunnar glasses.
Crystalline | BLPF 10, Blocks 10% of Blue Light – This is the lens that comes with the least tint on it and is designed for anyone that is looking to protect their eyes from blue light but still needs to be able to work in true color. People such as graphic designers, video/film editors, and creative visual artist who require an equally balanced color spectrum. This lens blocks 10% of blue light and 100% of UV light.
LIquet | BLPF 35, Blocks 35% of Blue Light – This it the lens that is the most balanced lens, the Liquet lens is the in-between option for individuals who want better blue light protection, than the crystalline lens, but still want color balance. This lens blocks 35% of blue light and 100% UV light.
Amber | BLPF 65, Blocks 65% of Blue Light – This lens gives you the best contrast enhancement, reducing screen glare and nearly eliminating most of the harshest part of the color spectrum. This Amber-tinted lens blocks 65% of blue light and 100% of UV light.
Outdoor | BLPF 90, Blocks 90% of Blue Light – This is Gunnar's sunglass lens designed to protect your eyes outdoors, but still lets you get the benefits of blue light for your circadian rhythm. This lens blocks 90% of blue light and 100% of UV light.
Keep in mind coatings that you can get from your local optical retailer that blocks out blue light on average only blocks out anywhere between 10-25% of blue light.
GUNNAR Frames
The frames that are available from GUNNAR are designed specifically with high curves so that the lens could sit close to your face, keep air currents that would dry your eyes out, and raise the humidity.
Check out this video from the CEO of Gunnar talking about their curved frames and lenses design and its benefits.
As you can see from the frame shown in the video their frames have more of a curve for extra comfort for its user. While Gunnar doesn't have a huge selection of frames, they have a little bit of every style so you're sure to find something to suit your taste. Let's take a look at a few of the popular frame styles.
ATTACHÉ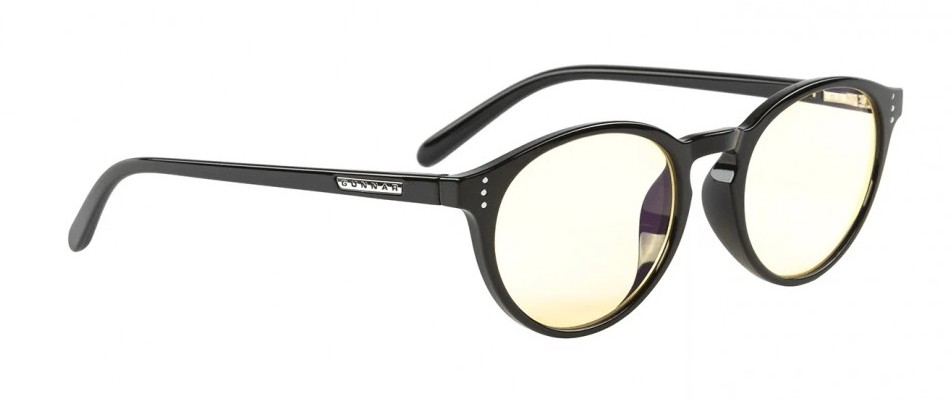 This is a frame for anyone who is looking for a sophisticated look that brings a modern flair to a classic style. This round design still has a curved frame to give you a better fit and viewing experience.
Frame Size: 49-19-140
Material: Nylon
Fit: Medium – Large
Style: Computer
Price: CHECK PRICE HERE
VERTEX

This is a frame designed for gamers, but anyone can rock this contemporary design. The design of this frame provides an ideal harmony with your eyes, face, and digital device. This wide frame creates an unobstructed panoramic field of view.
Frame Size:  54-16-135
Material: Polycarbonate
Fit: Medium – Small
Style: Gaming
Price: CHECK PRICE HERE
RPG Designed by RAZER

This is a frame that is designed by no other than Razer, and yes that is the same company that manufacturers all of that high-end computer gaming hardware. This light magnesium-aluminum frame is a lightweight design, intended for comfort and durability. The wide lens gives an expansive view ideal for gamers. You don't need to be a gamer to wear this sporty frame and can be used for any occasion.
Frame Size: 62-17-120
Material: Aluminum – Magnesium
Fit: Medium – Large
Style: Gaming
Price: CHECK PRICE HERE
GUNNAR Reading Glasses
GUNNAR also carries reading glasses at different levels of magnification. The range of the powers depends on the style of the frames you decide to go with. GUNNAR makes 3 different styles for you to pick from. They all come with GUNNAR's amber tinted lens that gives you the best protection from blue light. Take a look at the details for each one below.

PHENOM

Frame Size: 55-18-134
Style: Computer
Fit: Medium – Large
Material: Aluminum – Magnesium
Power Range: +1.00 to +3.00
Price: $99
VERTEX

Frame Size: 54-16-135
Style: Gaming
Fit: Medium – Small
Material: Polycarbonate
Power Range: +1.00 to +3.00
Price: $49
HAUS

Frame Size: 53-15-140
Style: Computer
Fit: Medium – Small
Material: Acetate
Power Range: +1.00 to +2.00
Price: $99
GUNNAR Promotions (Updated 4/8/2019)
Currently, GUNNAR is running a couple of different promotions depending on what you are looking to get.
COUPON CODE SCRIPT – This promo code also gives you 20% off your prescription lenses.
What are you waiting for? Get your GUNNAR glasses and protect your eyes today!
Takeaway
If you are looking for some high-tech glasses to protect your eyes from blue light, GUNNAR Optiks definitely brings along that frame quality as well as patented lens technology to safeguard your vision from digital devices.
Technology isn't going anywhere, so we must be able to adapt with it and GUNNAR Optiks has done a wonderful job bringing a solution to an ever growing problem as a true pioneer in the industry.
Would you try GUNNAR glasses? Why or Why not? Let me know below!
Thank you all for stopping by at Eye Health Headquarters, if you have any questions, or comments, don't hesitate to leave them below and I will get back to you as soon as I can.
---
RELATED ARTICLES FROM EYE HEALTH HQ: